Who could forget the sci-fi classic, Battlestar Galactica?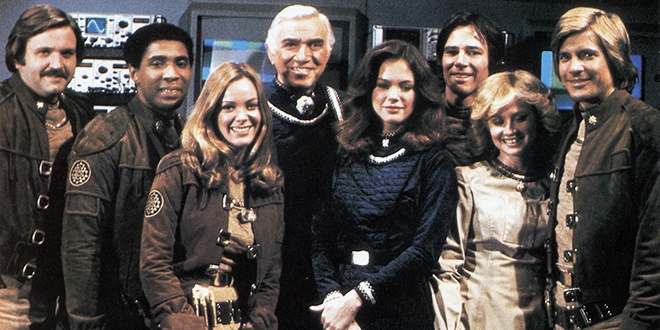 Loved by fans worldwide, it ran for the 1978–79 season on ABC before being cancelled.
Created by Glen A. Larson, the classic sci-fi TV show starred Lorne Greene, Richard Hatch and Dirk Benedict. A-Hollywood talent like Lloyd Bridges, Ray Bolger and Fred Astaire all made a special guest appearances on the show.
Battlestar Galactica ranks at number ten on our Top 10 TV Shows Of The '70s.
Do you remember this intro?
There are those who believe that life here began out there, far across the universe, with tribes of humans who may have been the forefathers of the Egyptians, or the Toltecs, or the Mayans. Some believe that there may yet be brothers of man who even now fight to survive—somewhere beyond the heavens!
On September 17, 1978, the full 148-minute pilot premiered on ABC.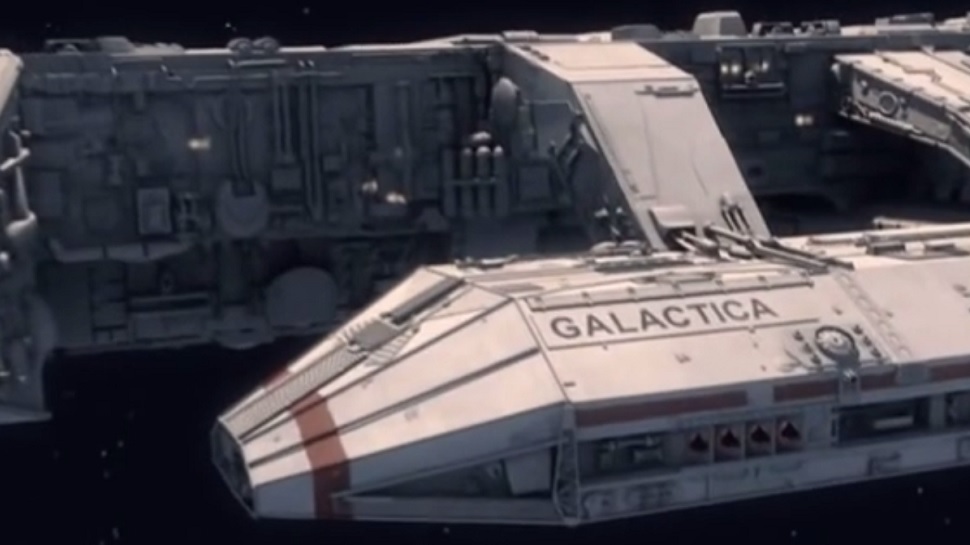 See more '70s Nostalgia
The story takes place in a distant star system where the Twelve Colonies of Man were reaching the end of a thousand-year war with the Cylons, warrior robots created by a reptilian race. A sneak attack took place on their homeworlds by the Cylons, carried out with the help of a human traitor, Count Baltar (John Colicos).
Protected by the last Battlestar named Galactica, the survivors fled in any available ships. The Commander of the Galactica, Adama (Lorne Greene), led this "rag-tag fugitive fleet" in search of a new home. They began a quest to find the long lost thirteenth tribe of humanity that had settled on a legendary planet called Earth. However, the Cylons continued to pursue them relentlessly across the galaxy.
It was compared to Star Wars, but it was truly unique.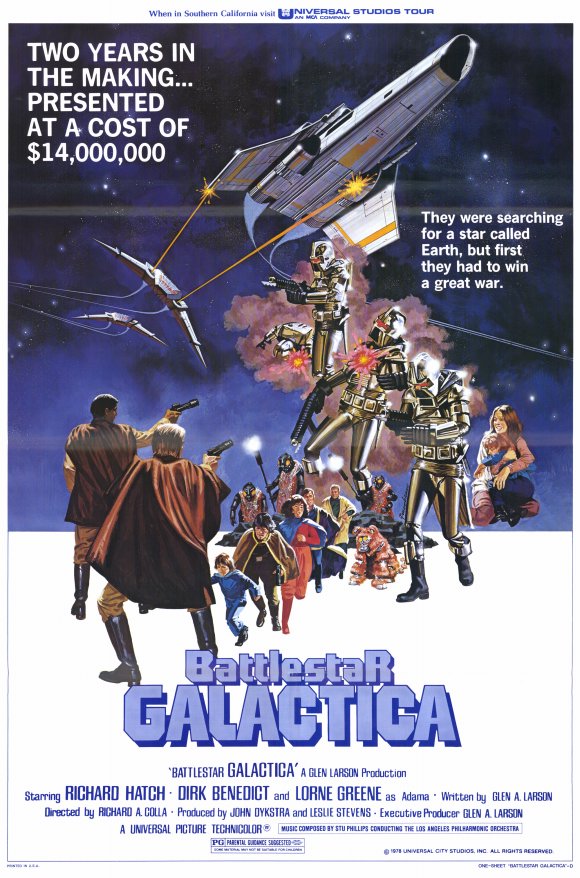 See more '70s Nostalgia
Did you know that In 1978, 20th Century Fox sued Universal Studios (producers of Battlestar Galactica claiming it had stolen 34 distinct ideas from Star Wars?
20th Century Fox's copyright claims were initially dismissed by the trial court in 1980, but the case was later "resolved without trial."
Starbuck became the face of an unlikely male role model.

See more '70s Nostalgia
Lieutenant Starbuck was my childhood hero. He was a Viper pilot, gambler, womanizer and smoker of cigars. He was involved in relationships with Lieutenant Athena and Cassiopeia, and his best friend was Captain Apollo.
Later in life when I met Dirk Benedict, I learned that he survived a prostate tumor believed to have been cancerous. That definitely qualifies him as a real-life hero.
Merchandise could be found everywhere.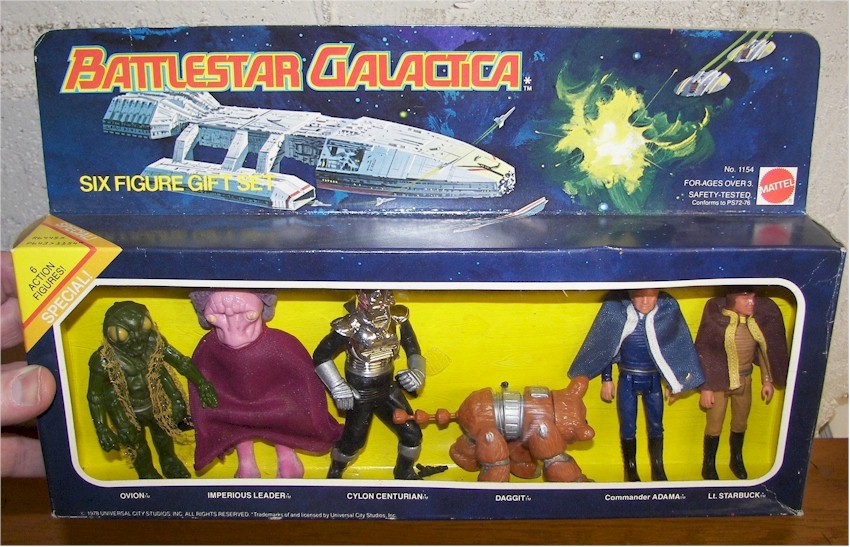 See more '70s Nostalgia
Mattel capitalized on the success of Star Wars action figures and released two series of action figures. The first series included six figures: Commander Adama, Lieutenant Starbuck, Daggit, Imperious Leader, Ovion, and Cylon Centurion. The less common second series included four figures: Baltar, Lotay, Lucifer, and Cylon Commander.
There was also board games, puzzles and a 13″ Cylon Centurion to collect.
Popular posts like this
Then tragedy struck.

See more '70s Nostalgia
On December 25, 1978, 4-year-old Jeffrey Warren put the nose of a Mattel Colonial Viper ship into his mouth where the missile discharged and got stuck in his larynx. This led to Mattel putting warning stickers on existing warehouse inventories. This was the first public acknowledgement of a safety concern with the Battlestar Galactica toys. Just a toddler, Jeffrey Warren died on December 31, 1978.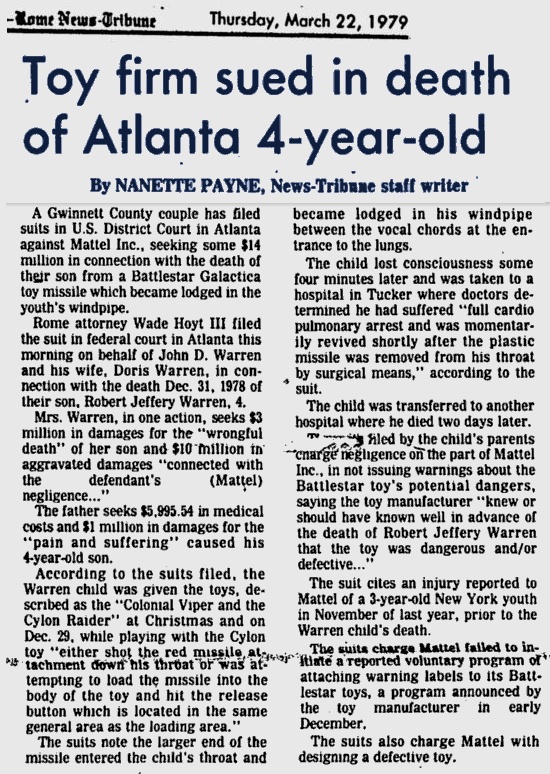 See more '70s Nostalgia
On January 11, 1979, news of the death was coupled with an announcement from the CPSC that Mattel was instituting a missile recall program. Newspaper announcements in 10 major cities carried the message urging parents to either dispose of the missiles or mail them back to Mattel in exchange for a Hot Wheels car.
In mid-April 1979, ABC executives cancelled the show.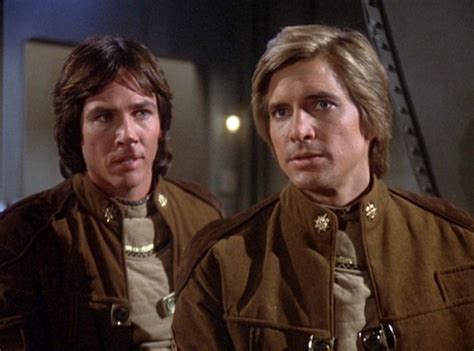 See more '70s Nostalgia
This led to viewer outrage and protests outside ABC studios, and it even contributed to the suicide of Edward Seidel, a 15-year-old boy. Because letter writing campaigns in favor of restoring cancelled television programs were uncommon in 1979, it prompted ABC to re-think their reasons for canceling the show. After some deliberation, they contacted Glen A. Larson to see about reviving the series, albeit in some modified and less expensive format.
The series got a spin-off in 1980.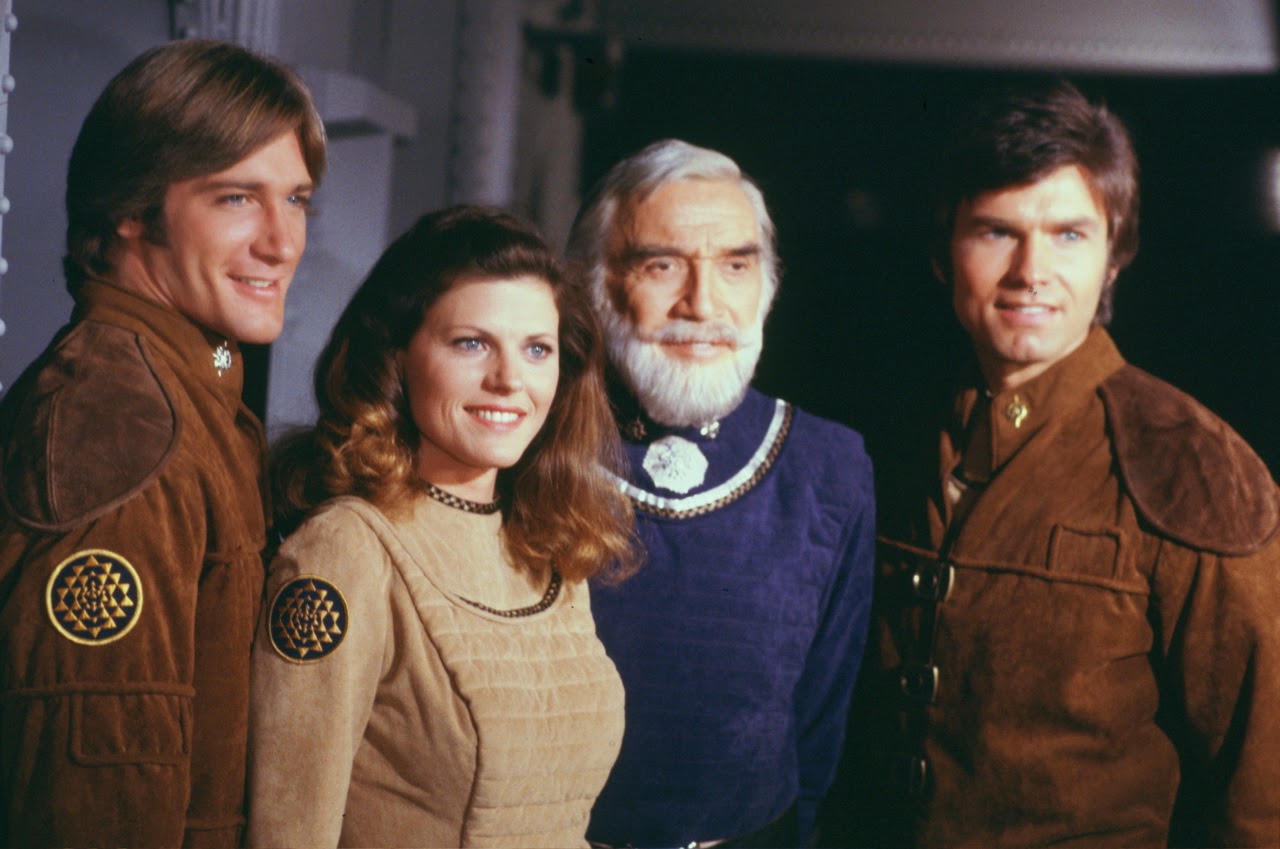 See more '80s Nostalgia
Galactica 1980 is a spin-off from the original Battlestar Galactica television series. It was first broadcast on ABC in the United States from January 27 to May 4, 1980. The program was poorly received during its run and was cancelled after only ten episodes, many of which were multi-part stories. The final episode shown was "The Return of Starbuck", which featured a guest appearance by Dirk Benedict from the original series.
"Battlestar Galactica: The Second Coming" sparked a revival in 1999.

Co-created, co-written, executive produced and co-directed by Richard Hatch who starred in the original series as Captain Apollo, the pilot film was conceived to convince Universal Studios, the owner of the Battlestar Galactica franchise rights, to greenlight a new project based on this concept.
Richard Hatch was able to get many stars from the original series including John Colicos (Count Baltar), and Terry Carter (Colonel Tigh, now President of the Quorum of Twelve) to appear in the film. Hatch himself also reprised his own role of Apollo (now Commander of the Fleet).
Battlestar Galactica was re-imagined in 2003 and becomes a massive success.
In 2003, Ronald D. Moore and David Eick developed a re-imagining of the 1978 Battlestar Galactica television series created by Glen A. Larson. The series first aired as a three-hour miniseries on the Sci-Fi Channel, and ran for four seasons thereafter, ending its run on March 20, 2009.
The series features Edward James Olmos and Mary McDonnell, and garnered a wide range of critical acclaim, which included a Peabody Award, the Television Critics Association's Program of the Year Award, a placement inside Time's 100 Best TV Shows of All-Time.
After 40 years, I am still a fan of Battlestar Galactica.
Fleeing from the Cylon Tyranny, the last Battlestar Galactica leads a ragtag fugitive fleet on a lonely quest… a shining planet known as Earth.
Want more nostalgia?
Enjoy these articles.
Popular posts like this
Comments
comments