Claudia Wells is best known as Jennifer Parker, Marty McFly's girlfriend in the 1985 film Back to the Future.
She also starred in short-lived series Fast Times, a TV adaptation of the 1982 film Fast Times at Ridgemont High (Wells played Linda Barrett, portrayed by Phoebe Cates in the film).
Claudia was gracious enough to do an interview with us: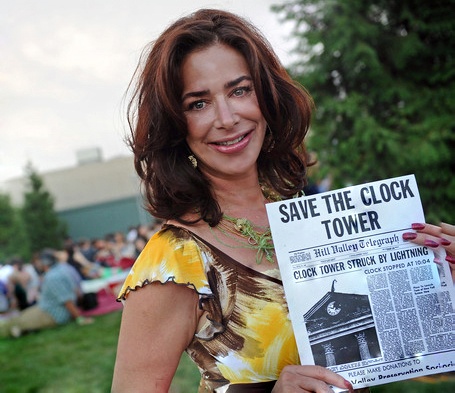 1. You began your film career with 'Back To The Future'. Can you tell us how you landed the role of Jennifer Parker?
CW: Well, by the time I auditioned for Back to the Future, I'd already starred in six TV series, and a ton of episodes, and movies of the week, and Schoolbreak Specials, commercials. I'd done opera in San Francisco. I was very, very blessed that, that was my first film. I screen tested prior, in the months prior, I screen tested for Gremlins and Goonies and Young Sherlock Holmes. Those are all Amblin films and it got down to me and one or two other girls for each of those roles. By the time I walked in for Back to the Future, I was in the same building and I wasn't nervous or uncomfortable or anything, because I just figured I'd end up screen testing and not getting the part.
I actually only had one audition for the film. And that was it. There was no call backs or anything. My first audition that I went in was with Steven Spielberg and Bob Zemeckis and Bob Gale and Neil Kaplan, Kathleen Kennedy and I think Frank … Can't remember his last name, but it was with all the producers of the movie, and my audition lasted for about two and half hours, and I read with a guy who was on his 11th call back, for Back to the Future, to play Marty.
They ended up making him drummer in the band scene, so he still got to be in the movie, which I thought was pretty cool, and the audition was amazing. It was just a lot of fun and talking, and Steven Spielberg kicked out the camera man, and said, he couldn't have a camera, a camera man unless he was behind the camera. He videotaped the whole entire thing. We did the scene from, the parking lot scene, at the dance between Marty and his mom, Lorraine. And, I had not read the script. I was not been told anything about the story. I just knew I was auditioning for Jennifer. That's all I knew. I just really had fun. I just had an amazingly great time. It was very relaxed and easygoing. And then, I found out three weeks later, I think, that I had the part. And, that actually was when Eric Stoltz got the part for Marty. So, I was Jennifer from the very start.
2. How excited were you to work with Michael J Fox?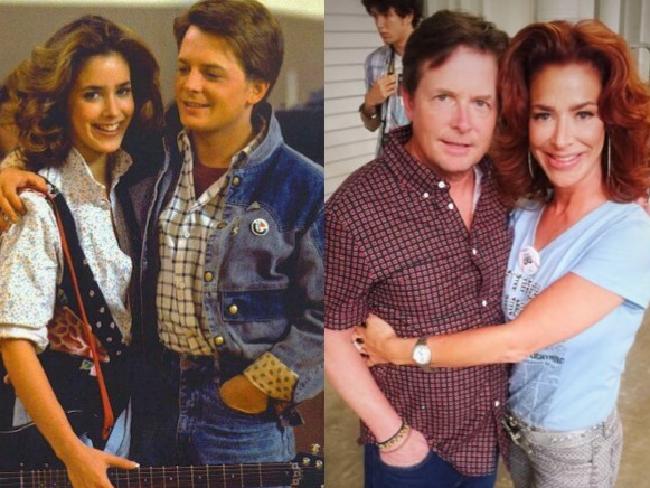 CW: Oh, he's amazing. I always say, anything you can think of that you would want him to be, is exactly the truth. He is kind. He's amazing. He's positive. He's fun. He's easygoing, very likable, just a great, great guy all the way around. The impression he gives, like who he is, is the truth. There's no underlying current that would be negative. He's just everything cool.
He's still like that today. I ran into him when we were in London doing an autograph show and they had the whole cast there, and he's every bit as wonderful today as he was 32 years ago, just an all together great guy, and incredibly talented.
3. What was it like to work with Robert Zemeckis and Steven Spielberg?
CW: You know what's so funny is Steven Spielberg is absolutely amazing and I only met him for the two and a half hour audition. I never saw him again after that. And, it's funny because other people said, that they didn't really see him after that either, after their audition. He's, from what I know of him, from that experience, he was awesome. Very funny and likable and questioning. He was very curious about my life and needs as a person.
Bob Zemeckis is a genius, also and very specific and particular about how he wants things done. He had so much to do in terms of every single aspect of the film was under his control, and just a genius. Nice, nice guy too. And, Bob Gale, who wrote and produced the film with Bob Zemeckis, is one of my favorite people on earth. I've always adored him and we've stayed friends all of these years and kept in touch.
4. Looking back, what was your favorite experience working on the film?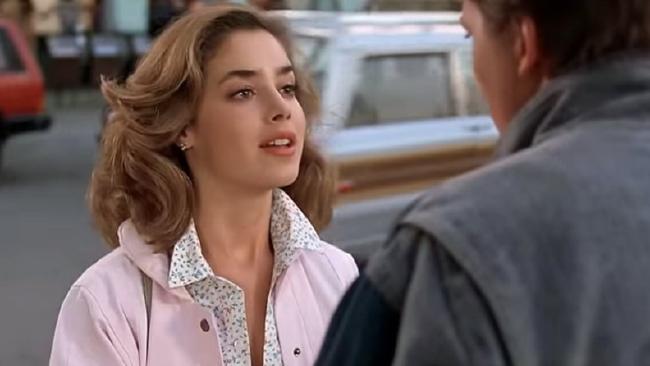 CW: I liked all of it, really. I enjoyed all of it. The people were all incredibly kind and nice. Dean Cundey who was the camera operator is just amazing, and I saw him again when we were all at the Hollywood Bowl doing an event honoring Bob Gale and Alan Silvestri a couple years ago. We all got to be on stage. There was 17,000 people in the audience, and they said that, that was the most popular event the Hollywood Bowl ever had. They did a screening of Back to the Future. I saw Dean Cundey again, and he was just as darling and kind as he was when we did the movie. I enjoyed the whole process. I was just very impressed with everybody.
I was used to doing television. Jennifer was actually one of my smaller roles of my career, yet, it's the one that I have the most joy from having been, because everyone is so kind to me all over the world. It's changed my life because I got to do Jennifer, I get to travel all over the world and do autograph shows, and I get incredible kindness from everyone. It's just amazing. Even my customers, at my store will come in, and know I was Jennifer, are just so nice. Other than being wonderful and kind customers, when people find out I'm Jennifer, there's universal … It's the same reaction I get from everybody across the board. It's just, the fact that I got to be that role that seems so important to so many people's lives, is such an honor and a blessing. It's pretty indescribable how it's altered my life in a completely positive way.
5. Would you consider yourself a sci fi fan and if so, do you have any favorites?
CW: A sci-fi fan. I would not consider myself a sci-fi fan. I'm more of a romantic type person fan. But, if I was to have a favorite it would be Innerspace with Dennis Quaid and Martin Short.
6. You always seem to take your time and engage with your fans at conventions. What do you like most about interacting with all of your fans?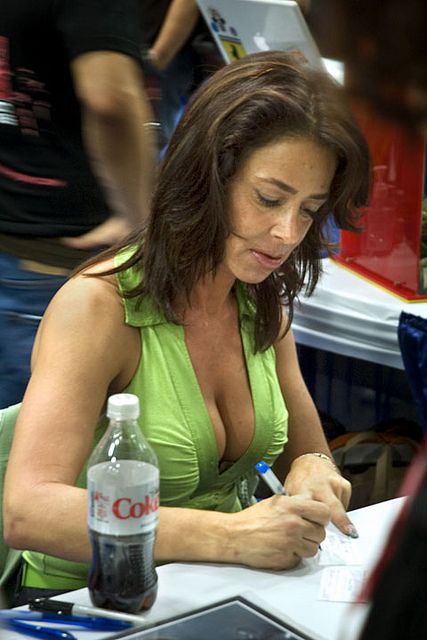 CW: I like the fact that I'm able to make a difference in their lives. That, just by talking with them, it makes people happy and it's … It takes, you know, nothing for me to do that, so to be able to give back, I mean … Some people take off work or they drive 18 hours or they say to me that, they came only because they saw that my name was on the roster. I had, in Australia, there was a young boy who got a bone disease so his bones are soft and he's in a wheelchair, and he took hours and hours to write a letter to me.
Which is quite difficult for him to do because of his soft bones. And, I got to talk to him, and he read it me, and Bob and I had tears coming out, off his face. And, older brother was so impressed that he was able to do that, and he stood up to give me a hug. And, I thought, you know what, this was worth traveling across the whole world for.
If I can have an effect on people and give them an experience that they'll remember and that literally effects how they look at their life, it's …. Talk about a glorious experience to have from my point of view. Who doesn't want to make a difference in someone else's life for the better?
For me, it's just an honor. It's an incredible honor. I take off time from my store to travel when I do those things. It's something that I really have to decide to do because it means closing my store for a certain amount of time. And, you know, going doing all that. But, to be able to … In Las Vegas, I did a show and it had a lot of war veterans there, who, with missing parts of their body and missing elements of their face. There was a guy who had no legs and one arm and his face had been burned almost unrecognizably, and he gave me a hug and I saw a smile on his face and this joy at being able to meet me. And, I thought, really, what else in life is … Nothing compares to that.
So, if I can have an effect on someone who otherwise wouldn't necessarily … Who has a tough time in life. If I can do something that's just a matter of giving love to people and having it make a difference in their lives, I consider that the greatest honor and blessing to be able to experience.
I really, even on my media sites, with Facebook and Instagram and Twitter, there's so much love and support from people all over the world, as if, we know each other. It's just a warm feeling.
7. You now own a very successful men's clothing store called Armani Wells. Can you tell us how you got into the business?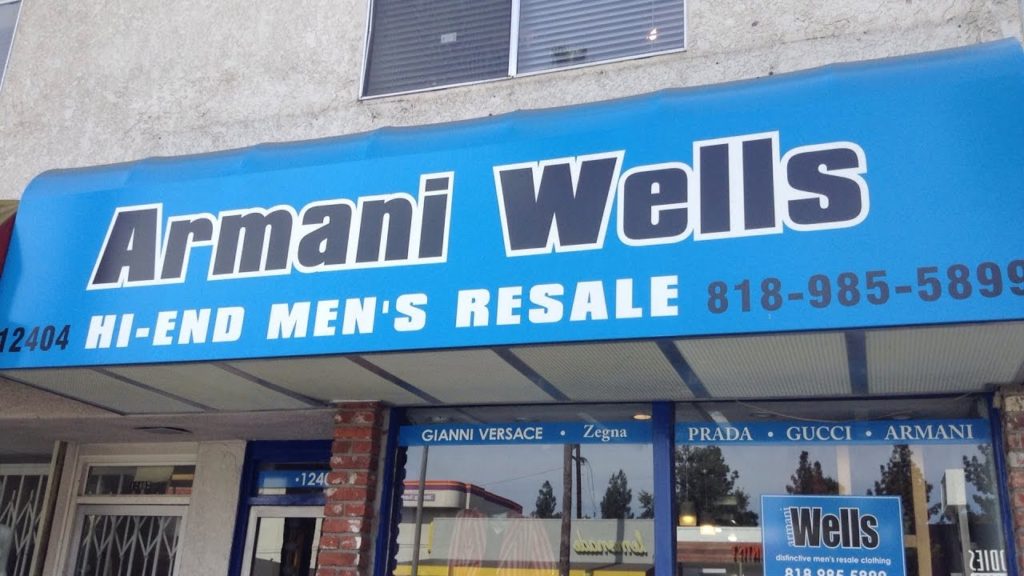 CW: Twenty six year, nine months ago. I get to elevate men into the stature that I believe is the dignity, birthright of, that men have. I think that it's important that men realize how they deserve to be treated and what kind of honor they deserve to get, and so, I like to take care of them. I love seeing a well-dressed man. I think that, it's not fair that in order to wear finest fabrics and the best tailoring, you have to spend a fortune.
I wanted to change that and give all men the opportunity to wear the finest clothes money can buy and make it affordable to everyone. Whether it's, you know … Today, I dressed someone in a Brioni Battaglia, a Brioni handmade suit, and he had bought … His dad had brought him in when he was 12 years old for his very first suit. And now, he's, I think he's about 22. Just to be able to have these kind of experiences and be able to change someone's life by how I dress them, and I get to show someone the
8. Which clothing brands do you carry in the store?
CW: I have Brioni, Armani, Versace, Canali, Zegna, Prada, Gucci, Y3. I have all of the highest end designers in the world, I sell. And even jeans, you know, instead of paying $270, or $350, on a pair of Gucci jeans, you can buy them at my store for 95. Instead of spending two or three or four thousand or up to eight thousand, really, on a Brioni suit, you can get it at my store for $575 to $750. Or, Hugo Boss suit instead of $1,800, you can get it for $495.
I sell things that are absolutely perfect condition, current style, and only high end designer, from blue jeans to tuxedos. It's a one stop shop where I can dress someone in everything from head to toe, and make it affordable for everyone. Whether it's the guy who does valet across the street or I have millionaires who shop with me, rock stars and they, they're smart. They know where to go to save money on the same things that you would buy at the finest stores in Beverly Hills.
9. There's an old saying "the clothes make the man." What's one solid piece of advice you can give to men when it comes to buying a suit?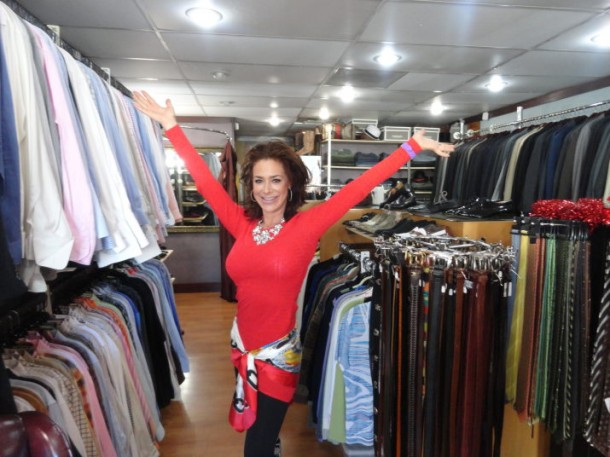 CW: The fit is very important, and the thing that is so phenomenal that I'm doing is, when you're wearing a finely tailored, high end designer suit, the fabric is so comfortable. You feel like you're wearing pajamas, as opposed to, a low end suit that feels like cardboard against your skin, or doesn't flow as beautifully or hang as beautifully.
I think that one of reasons why certain powerful men, or the head of the board room, or the power house of a meeting, is because they're so comfortable in what they're wearing. I want all men to experience that. I always say that I'm making this world beautiful, one man at a time.
I call myself a haberdasher because I style men. All they have to do is walk in and I'll take care of all of the rest. But, it's really important not to be sold, not to be talked into things that aren't comfortable. You need to feel good in what you're wearing. If you don't feel right, if you don't feel good in it, don't get it.
I'll be the first person to not let someone buy something if it doesn't look right on them, because I want everyone to always have their favorite clothes in their closet be from me. There's no point in buying something hanging in your closet, and having it be part of that section that you just pass by and never wear.
10. What is on your radar screen for the near future?
CW: My weeks really are work and church, Bible study and taking care of people. I'm open to what God has for me. I write a lot of poetry and I'll be putting together a book of my poems. That could lead, probably, doing tour where I read my poems to people. I write poems about my life and it's the raw truth of who I am and what I've been through, and how I am. I do it in poetry style. It just comes very naturally to me. Whatever God has in-store for me is what I'm open to. I've done so many of my dreams, and I still have half my life left.
I think that writing books, putting my poems together in a book, doing a speaking tour, I'd like to be able to talk to kids in high schools about things. I've been through a lot of different things in my life that no one would necessarily get, but it's because I've made it through, I have a lot to give to help other people, otherwise, it wouldn't have been worth experiencing. I would like that to be a part of my future as well.
What's your thoughts?
Leave a comment below.
Popular posts like this
Catching Up With Actress Catherine Mary Stewart (THE LAST STARFIGHTER, WEEKEND AT BERNIE'S)
10 Amazing Memories That Will Make You Miss The '80s
Drag Racing To Motley Crue In My Z28 Camaro
1980's Entertainment Trivia Quiz
Top 10 Hottest Women of Sci-Fi
Comments
comments