It's fascinating how memories from your past seem to tug at you as you get older, seemingly teeming with forgotten significance but no less vivid than the day they were hatched.
Random childhood moments now bubble up from my unconscious all the time, to the point where I think they're trying to tell me something. For instance, I'll never forget the first time I listened to Billy Joel's Glass Houses album on my older brother's ancient 8-track tape machine. Or the first time I saw Vicki McCarty's (Playboy's September 1979 Playmate) centerfold. And then there was my 1977 Ben Cooper Star Wars C3PO Halloween costume.
If you're struggling with that last reference, Ben Cooper, Inc. was the largest Halloween costume company in America for over 55 years, ever since they fought to acquire the license to make Mickey Mouse Halloween costumes back in 1937. They quickly grew to dominate Halloween with their creepy, often-kooky vinyl mask-and-costume take on whatever characters or celebrities were dominating pop-culture that year.  And in early 1977, they gobbled up the licenses to produce costumes for a then unknown, "small" sci-fi movie yet to be released called, "Star Wars."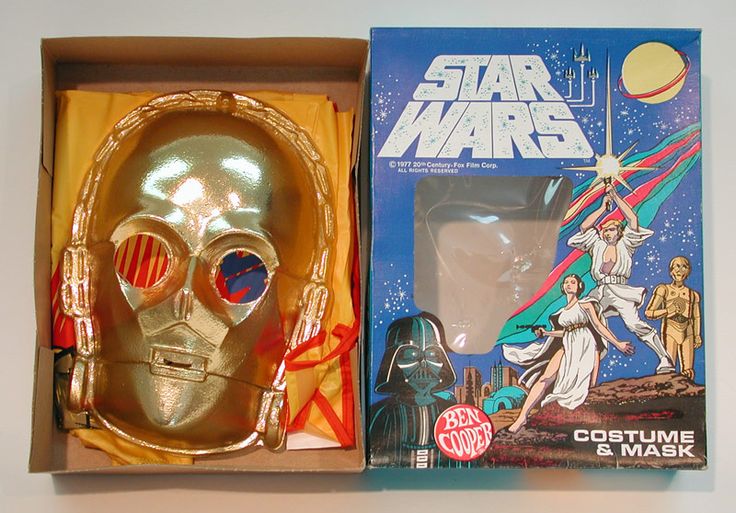 Wearing that C3PO mask and costume stands out as one of my most powerful memories from childhood.
The Star Wars franchise is more alive than ever as it turns 40 this year, but back then it was groundbreaking and at the top of every kid's Halloween-costume wish list for 1977, whether you wanted to be Darth Vader, Luke Skywalker, Princess Leia, a Stormtrooper or a Tusken Raider (whatever the hell that was). For me, it was C3PO, the golden robot, because my older brother and I lived and breathed robots back then.
Flash forward 40 years and I still love Star Wars and Ben Cooper. So much so that last year I struck-out in search of discovering if in fact "Ben Cooper" was a real person, or just a fictional brand name from the past like "Betty Crocker."  After months of chasing my tail, I got lucky and located one of the Cooper clan  – Ira Joseph Cooper.  My first phone conversation with Ira was a revelation: Not only was Ben Cooper a real person, but he and his younger brother Nat Cooper (Ira's father) created a family-business that would come to be synonymous with Halloween in America itself.
Over the last year, Ira has told me a lot about his family and Halloween. We've discussed how the costumes were actually made, once they'd been licensed by the company, studio or artist who held the rights. He's described how everything that was needed to fabricate those beloved costumes, from the ink, paint and plastic, to the fabric and costume accessories; even the boxes with those cellophane windows, came into the six-story, Brooklyn-based costume factory and was assembled by factory workers and Cooper family members in time to ship out to fill shelves in thousands of mom-and-pop and discount chains across America.
While Ira described his family's unique hold over Halloween, I imagined the balls it took for one family to continually grab the lion's share of the Halloween market, year-in and year-out, for over fifty-five years.
All the innovation and experimentation they did to keep the kiddies of each new generation coming back for more is the kind of American ingenuity virtually unheard of now. I got to the point where I wanted to know everything about Ben and Nat Cooper, the siblings who conquered Halloween the way the Carnegies, Roosevelts and Kennedys had secured their respective legacies.
The story of Ben Cooper, Inc. is unique in that it is a family empire that lived and died off their ability to anticipate the next big thing in American pop-culture every year.  And once they did, like in the case of Star Wars, they went all-in on their hunch by creating hundreds of thousands of costumes in a win or lose gambit by Halloween. Sure there was the occasional turkey – Disney's Black Hole costumes come immediately to mind. But for every turkey there was an undeniable, often tectonic smash, like in the case of The Simpsons. Just how did these two old guys keep picking winners every year, anyway?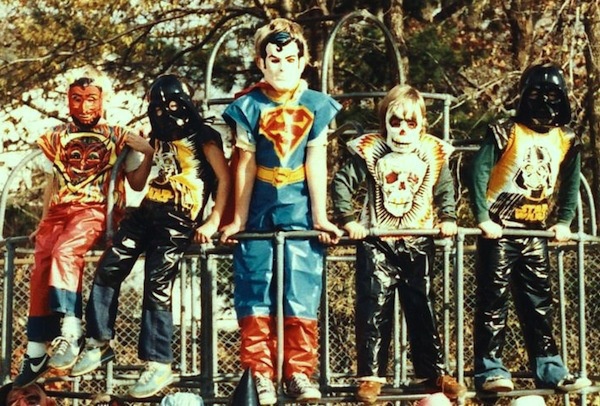 The answer, as Ira can attest having been an eyewitness as well as an employee for so many years in his family's business, was in both of the "Brothers Cooper (Ben and Nat)'s" ability to spot good dress-up and masquerade when they saw it.
From Mickey Mouse to Darth Vader, they knew it was larger than life characters the kids are attracted to. Both brothers had been in show business for so long – they'd once supplied costumes for the Ziegfeld Follies and Harlem Cotton Club – they had cultivated a sixth-sense for what would work as a kid's Halloween costume.  It was a skill that would enrich their family, their factory workers and their families, as well as every family in America who loved celebrating Halloween.
Like so many other things in American life, Ben Cooper costumes have become collector's items in spite of the fact that they were originally intended to last for just one night. And like the old black and white movies the Hollywood movie studios churned out every week back in the 1930s, 40s and 50s, many of the costumes have been lost and forgotten to time. But many are still able to be purchased on eBay and Etsy for a relatively small investment in resurrecting a cherished, childhood memory. That's where I found my long lost C3PO mask and costume, in its original 1977 box with cellophane window intact. And the memories it immediately brought back were worth every penny.
Ben Cooper, Inc. may not have been in show business, per se, but they carved out quite a niche for themselves in American pop-culture history.
And if it's true that you aren't someone in America until you have your own Halloween costume, then Ben and Nat Cooper were as much moguls in their time as the Jack Warners and LB Mayers of Tinseltown had been. All I know is that I was glad to be around when Star Wars changed the face of Halloween in 1977, back when my brother and I collected New York Times black and white one-sheets of the Star Wars posters for lack of anything else to collect. And I'm eternally grateful to Ben Cooper, Inc. for gambling everything on a "small sci-fi movie" simply because they thought Darth Vader's costume would look cool as a kid's Halloween costume. That's what I call visionary.
Popular posts like this
The BEN COOPER Halloween Costumes From Your Childhood Are Back!
Top 10 Sexiest Women Of Horror
Elvira, Mistress Of The Dark
What's your thoughts?
Leave a comment below.
Popular posts like this
The Ben Cooper Halloween Costumes From Your Childhood Are FINALLY BACK!
5 Tantalizing Tricks To Get Her To Wear That Halloween Treat
These Sexy Halloween Costumes Will Make You Scream
Top 10 Horror Movies Of The 80s
Elvira, Mistress Of The Dark
Comments
comments