Did you play the Sega Genesis in the early 90's? If so you can thank
Tom Kalinske and his team for making video game history.
Tom Kalinske was the President and CEO of Sega Of America from 1990-1996. Before Sega, he held CEO positions at both Mattel and Matchbox. During his time at Sega, his aggressive marketing decisions such as the famous "Sega Scream" TV campaign were key elements in breaking Nintendo's dominance of the video game industry.
Tom was kind enough to do an interview with us:
1. At Mattel, you revived the Barbie and Hot Wheels brands, as well as launching Masters of the Universe. What did you attribute to that success?
TK: I think the Barbie success was returning to Ruth Handlers original positioning of "Hey girls with Barbie you can be anything you want to be", and segmenting the market in many different ways with products for each segment, i.e. My First Barbie for young girls, Occupation Barbies like Astronaut Barbie for older girls, Malibu Barbie for a low price, Beautiful very expensive Barbies in Designer outfits designed by famous fashion houses like Oscar de la Renta for collectors, a very expensive house for Barbie where you needed to buy furniture for it, etc. plus I had a great team working in marketing, R&D, manufacturing who were just superb.
Hot Wheels was similar we returned to the original positioning of these HW die cast cars were faster than any other due to its unique axel/wheel set up ( Matchbox were very realistic but slow). And another great team.
For He man Masters of the Universe,Mattel desperately needed a Male Action Brand to compete with Hasbros GI Joe and their Star Wars license; He man was an example of how research could really create a success. We tested hundreds of ideas with kids and strangely this muscular heroic figure and his enemy Skeletor were favored so we developed a brand that contained good guys supporting He-man and bad guys helping Skeletor fighting it out in Castle Greyskull. The toy line was successful, Later we developed the TV series which we gave away free to local stations across the country in return for TV spots we would either use or sell, the syndicated TV show was very successful and sales of MoU soared to $750M.
2. Given that Mattel also owned Intellivison, can you tell us about the first console war with Atari?
TK: Not really. You need to understand While the team that developed intellivision originally worked for me, the then Mattel CEO decided this Intellivision Brand should be a separate company under the Mattel conglomerate ( back then Mattel owned Ringling Brothers Circus, Western Publishing, Metaframe tubular Steel, Optigan organ , Habitrail pet supplies, etc.) so I didn't work on Intellivision, I did warn Mattels board that retailers were telling me that both Atari and Intellivision had too much inventory at retail that wasn't going to sell thru and this was going to be a major problem . It was.
3. During the late 80s, Nintendo dominated the video game industry. What attracted you to work for an underdog like Sega?
TK: The CEO, Hayao Nakayama, convinced me to go to Japan to see what 16 Bit technology could do for video games compared to NES, and to see a color LCD handheld game unit to compete with Game Boy. I was so impressed I agreed to become CEO of SEGA of America, so long as I could make the decisions in the US to compete with Nintendo and not be over-ruled by Japan executives. He agreed.
4. What it a challenge to adapt from an American business culture
to a Japanese one?
TK: I actually got along with the Japanese executives initially very well. I think they thought I was too aggressive and disagreed with me , but remember SEGA in Japan never got above a 12% market share whereas in the US by 1993 we had passed Nintendo with a 53 % market share, so this success impressed them. They wanted consensus on decisions, didn't like my more entrepreneurial approach but initially accepted it. The problem became Nakayama-San would constantly berate them for not being as successful as we were in the US, after awhile that made them not so helpful to us in the US. They demanded Nakayama reign us in.
5. Sonic The Hedgehog was groundbreaking for the Sega Genesis and video games overall. Did you ever imagine it would be such a cornerstone of pop culture?
TK: I've been involved in helping to create several mega brands , we thought sonic was a very distinct character, different from anything that existed, had a sort of smart alec personality, once we saw the incredible speed Sonic could move in a video game we new we had a winner. It was very helpful to extend the Sonic story to Comic Books and two different TV Shows, one on network, one syndicated to local TV stations that we did , after the success of Sonic -2 I knew we had a franchise that would last many years.
6. What was the biggest business lesson that you learned working for Sega?
TK: You had to be very different , change the market , we left Nintendo with the young kids market while we went after teens and college age players , this expanded the market greatly , changed the industry , moved the average age of the player from 14 to 21, if we had tried to be just the same only a little better than Nintendo we would have failed.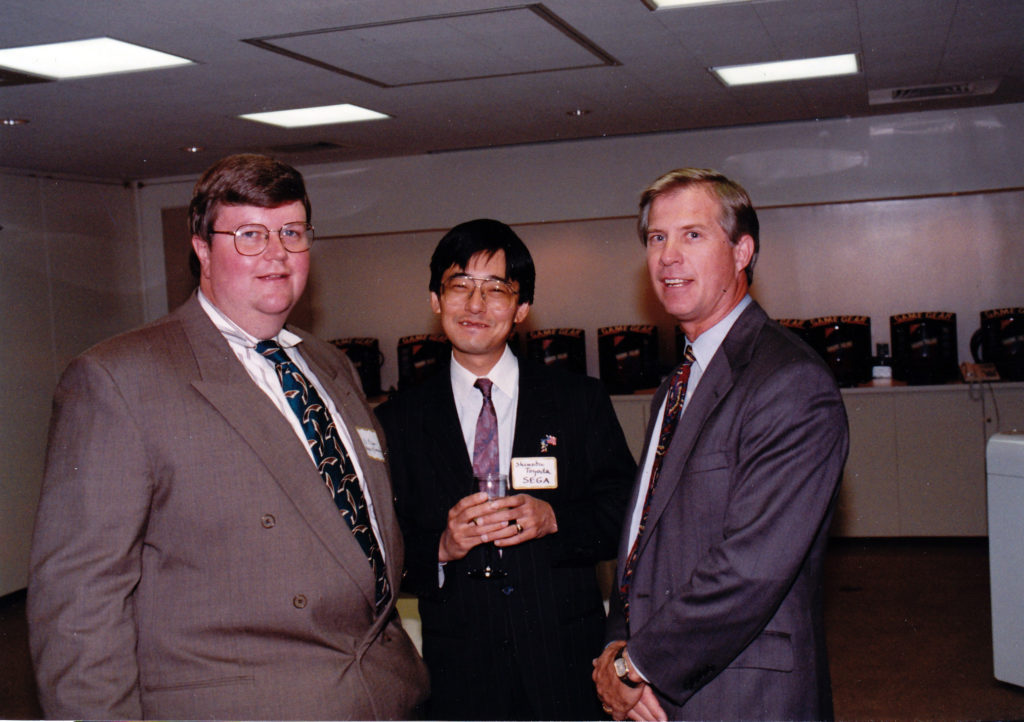 7. Did you read the book Console Wars? If so, was it a fairly accurate account of the good old days working at Sega?
TK: Of course, the author, Blake Harris, spend many hours with me, and hundreds of others from SEGA, Nintendo, EA, other third party publishers, & retailers, it seems very accurate to me.
8. Sony Pictures may make the book into a movie. Who would you love to see play you in the movie?
TK: If I say who , I'm sure it won't happen, but my daughters think Bradley Cooper should as we have the same abs.
9. You had such a massive influence in the toy and gaming industry. Did your kids think you were the coolest Dad ever?
TK: No.
10. You leaped from Sega to LeapFrog proving that learning can be as fun as gaming. I played the Sega Genesis and my six-year-old daughter loves her LeapFrog. How does it feel to have such a positive impact on generations of kids?
TK: I think I've been very fortunate , had great unusual opportunities, wonderful mentors, but always worked with great teams, who really deserve most of the credit . I'm very happy to have helped show video game technology could make educational toys really interesting , interactive, and helped children Lear, particularity strengthen reading skills. My strength is thinking of unique strategies that others can't easily copy. Really proud to have helped build the Video Game industry & the Toy industry , but I didn't do it by myself.
What's your thoughts?
Leave a comment below.
Popular posts like this
SEGA GENESIS Fans Check Out Our Interview With Blake J. Harris, Author Of Console Wars
When Video Game Arcades Ruled The Earth
10 Must Own Sega Genesis Games
Console Wars: SNES vs. Sega
Retro Vs Modern Gaming
Comments
comments