How many of these NES Classics do you remember?
Well, this is interesting one. It was very difficult to narrow down the NES back catalogue to just ten games, but the following ten games represent, in my opinion, the most fun that can had on the console.
10. Excitebike
Excitebike is a really simple game. The two buttons are used to accelerate. The B button gets you going faster than the A button will, but it will also generate heat. If your onscreen heat meter fills up, that means your bike has overheated and you'll have to take a quick break to let it cool down.
9. Solstice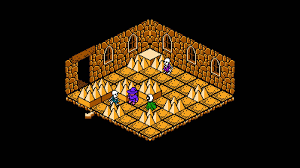 A fantastic 3D platformer which contains an extremely well realized world to explore and has a heavy emphasis on puzzle solving. It's certainly heavily influenced by many of the earlier games by Rareware/Ultimate, and Bernie Drummond, but nevertheless contains many unique aspects of its own, not the easiest game for newcomers but worth the effort.
8. Bubble Bobble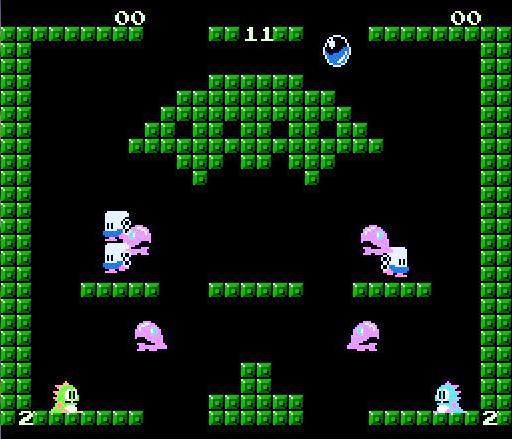 You play as a tiny baby dinosaur that shoots bubbles. Each level consists of a single screen filled with platforms and enemies. First you shoot enemies with bubbles to trap them and then you pop those bubbles to defeat the enemies before they can escape. Once you clear all enemies from a level, you can move onto the next one. For bonus fun, you can team up with a second player and enjoy simultaneous co-op play.
7. The New Zealand Story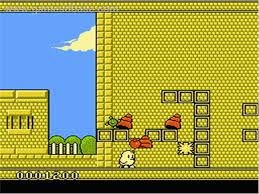 The gameplay in Kiwi Kraze is on the top tier of NES games. Although simplistic, the gameplay was executed flawlessly. You control a small yellow kiwi bird on a mission to rescue other kiwi from some pretty evil animals. You are armed with arrows but you can gather other weapons in each level (like lasers). The levels are set up somewhat like little mazes. Although, arrows in the background direct your way most of the time there are often two or more ways to reach your kiwi friend at the end of each level.
6. Duck Tales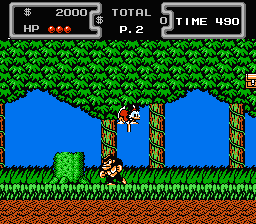 Duck Tales was a cartoon that originated in the late 80's, and proved to be a very big success. This success carried over into the early 90's, thanks to the extremely popular lineup of cartoons known as The Disney Afternoon. But for gamers, as good as the cartoon was, it's the Duck Tales video game from Capcom for the Nintendo Entertainment System that's most fondly remembered.
5. Spy Hunter
In this game you drive your super car through six stages of vertically scrolling shooting action. The core gameplay is just like the original title; you zoom down the different twisting streets blasting any enemy cars and choppers out to end your mission. However this version has a number of different features that set it apart from the original. Your car is armed with a forward-mounted cannon and adjustable twin cannon mounted on your roof, all of which shoot pulse blasts that can take out both ground and air-based enemies.
4. Ghostbusters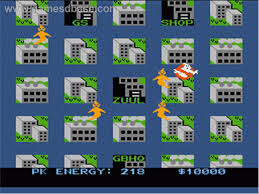 The classic movie starring Bill Murray, Harold Ramis & Dan Aykroyd gets a video game that appeared in almost all the consoles of the time. Here, you play the part of the Ghostbusters (of course), as they try to clean the city of New York of all ghosts.
3. Super Mario Bros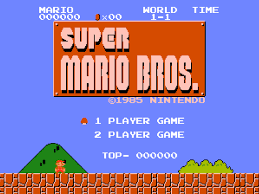 This game is unbelievably fun to play. The objective of the game is complete each level by running to the end of the level and jumping has high as possible towards the flag. You will encounter many famous enemies such as Goombas, Koopas, Piranha Plants and many more. There are coins spread throughout the game in random areas and hidden in blocks that you must bust. Once you get 100 coins you get an extra life.
2. Pipe Dream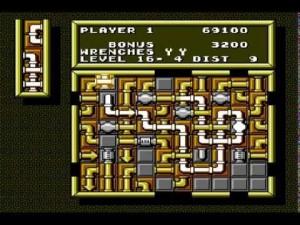 Pipe Dream is the perfect game for those who are keen to test their devising capabilities. Although the first levels are ludicrously easy, the difficulty curve is very noticeable as you progress.
1. Tetris
It's the greatest game ever devised by man. Simple to learn, anyone can play, but difficult to master. Tetris is, quite simply, the "best" videogame that exists.
Which is your favorite?
Leave a comment below.
Popular posts like this
Console Wars: Playstation vs. Nintendo 64
These Nerdy Girls Just Made Cosplay Sexy
10 Must Own Sega Genesis Games
Console Wars: SNES vs. Sega
NES Classic Edition Review
Comments
comments