On September 11th 1977, the world was forever changed with the release of the Atari VCS in North America.
Do you love video games? Want to know more about gaming history?
If so, start with the Atari 2600. Also known as Atari VCS, this home video game console has taken the world by storm. Launched in 1977, it got phenomenal success. More than 30 million people have bought this console over the years.
How the Atari 2600 Made History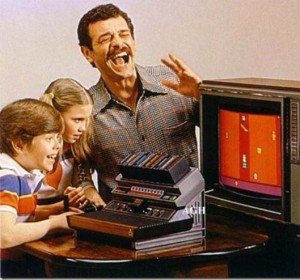 This unique piece of technology was the first to use a plug-in cartridge, which allowed users to play countless games instead of just one.
The Atari VCS was a driving force behind 80s gaming both at home and in arcades. Touted as the godfather of modern videogame systems, cartridges were produced across three decades.
This simple yet addictive gaming system has been part of everyone's life in a way or another. In a relatively short time, it won the hearts and minds of gamers worldwide and became the most popular console ever created. Fans were able to play amazing games, such as Space War, Outlaw, Breakout, Tank, Pong, and much more.
The Rise of a Gaming Giant
No other gaming console has had so much success as the Atari VCS.
This unique system went down in the books as the first home console, and paved the way for future gaming. According to experts, the main difference between the Atari 2600 and other similar systems was the machine's lack of a "frame buffer." Its design was basic but highly flexible, which allowed programmers to develop with new technologies.
30 Million Consoles Sold
The Atari enjoyed huge popularity until the video game crash of 1983
The video game of Steven Spielberg's E.T. the Extra-Terrestrial is considered to be one of the worst of all time and has even been blamed for triggering the collapse of Atari. Howard Scott Warshaw, the gifted programmer who made it, explains how it was rushed out in a matter of weeks.
One thing is for sure: the Atari 2600 opened new doors and helped shape the gaming world.
From its compact size to its groovy wood-grain paneling, everything was special about this gaming system. The original package included a game cartridge, a pair of paddle controllers, and two joystick controllers.
What's your thoughts?
Leave a comment below.
Begun the Console Wars Has: Intellivision Strikes Back
Colecovision: The Arcade Quality Game System
When Video Game Arcades Ruled The Earth
Top 10 Atari 2600 Games Of All Time
Hottest Women Of The 80's
Comments
comments