Daryl, Morgan and Tara try to end the war by themselves, Eugene has a crisis of conscience, and Rick's plan works (sort of) despite not making any sense on a decent but slow Walking Dead.
Spoilers ahead.
Taking the time to explore what makes a character tick is almost always a good idea on the show, especially when it digs into an interesting character. Eugene falls into that category- a cowardly yet resourcefully intelligent man, able to survive in a world that, by all rights, should have destroyed him long ago. He's done this by using those traits to his advantage; first by tricking Abraham into protecting him by telling Abraham that he could cure the zombie plague if he was taken to Washington, then by making himself useful to the Alexandrians with his science know-how, and finally by submitting utterly to Negan and offering to solve practical problems at the Sanctuary. Though he gave in to Negan in order to survive, he has maintained some sense of decency- he helped Sasha to end her life when she begged him to; when Negan's wives tried to get Eugene to help them kill Negan he stopped them, but didn't rat them out, and even though he knows Dwight is working with Rick and responsible for the Sanctuary being surrounded by Walkers, he hasn't given Dwight up to Negan either. That sense of decency was tested throughout the episode, and Josh McDermitt played Eugene's increasing desperation and anguish beautifully.
Early in the episode, Eugene confronts Dwight and tells him that he knows Dwight is the inside man who helped Rick and his allies surround the Sanctuary with Walkers, and if Dwight stops helping them, he won't tell Negan about the betrayal.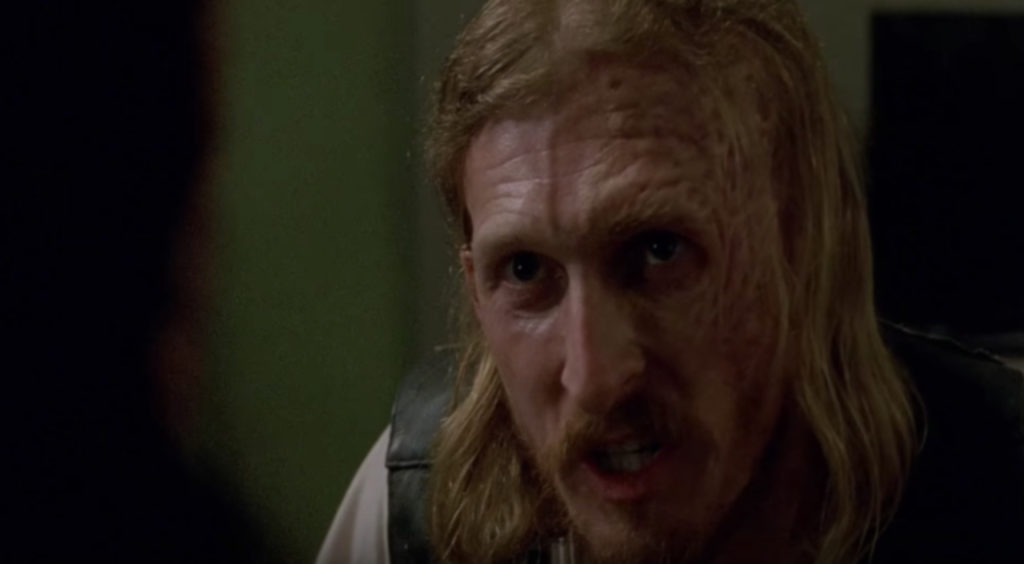 Dwight tries to get Eugene to switch sides back to his Alexandrian friends (whom Eugene somewhat callously refers to as "travel companions") but he refuses- not only has his cowardice made him submissive to the tyrannical Negan, he also feels that the workers in the Sanctuary are basically innocents, and he doesn't want to leave them to die.
Those feelings come into play when he speaks with Gabriel, who is deathly ill from covering himself in zombie innards in order to disguise himself from the Walkers a couple of episodes back. Gabriel wants Eugene to help Dr. Carson escape to the Hilltop, but he refuses this too; the people of the Sanctuary need a doctor. Later, Eugene has a good idea to draw the Walker herd away from the compound- using a makeshift drone to lure them off so the people inside can escape. He is interrupted by Dwight, who trains a gun on Eugene to get him to stop the launch of the drone. Eugene has a tough decision to make: give up and let Rick's plan continue, which will lead to many Savior deaths, or risk getting shot in order to give the Saviors a chance to escape? Eugene chooses to launch, but Dwight doesn't shoot him, instead he shoots down the drone. Right then is when Daryl crashes a truck into the Sanctuary, tearing a hole in the wall that Walkers start pouring through. Dwight and Eugene head back inside and Eugene watches the Walkers overwhelming the Saviors below. In the end, Eugene says he has thought of a way out for Negan and the Saviors, despite the Walkers being inside the compound, but he still doesn't expose Dwight as the traitor. So Eugene has been tested, and the results are…mixed. He's still a coward but he's a survivor, he's jumped in with both feet for Negan's leadership (or at least rationalized it) but he isn't looking to hurt anyone. This was a nice dive into the character, undermined only by the sense that the confrontation with Dwight should have come to a head in the episode (either of them could have done something to end the other), but didn't, just so it could be saved for the mid-season finale next week.
Daryl, Tara, Michonne and Rosita's storyline was slow moving but important.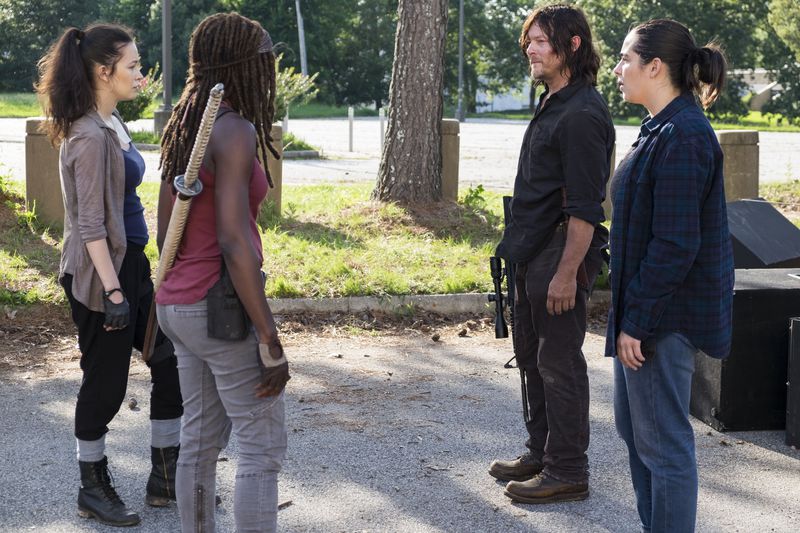 They meet up with Morgan at the Sanctuary, where they discuss the plan to ram a truck through the wall, and Rosita and Michonne express their reservations about it.
They are worried about the workers inside (who are basically the Saviors' servants) and their own safety, and say maybe they should just stick to Rick's plan. Daryl and Tara are hell bent on going through with it; Daryl, because he was held prisoner by the Saviors and he wants revenge, and Tara wants to make up for not telling the Alexandrians about the Oceanside community and their guns sooner. Solid motivations for the characters, though it's odd that Michonne and Rosita just leave instead of trying to stop Daryl and Tara if they think it's such a mistake. The fact that the plan didn't backfire was surprising; it worked exactly how they thought it would. Though plowing a truck through the Sanctuary wall is bound to lead to more trouble between Rick and Daryl, and we have yet to see if this will negatively affect Rick's plan.
Rick's plot was just weird.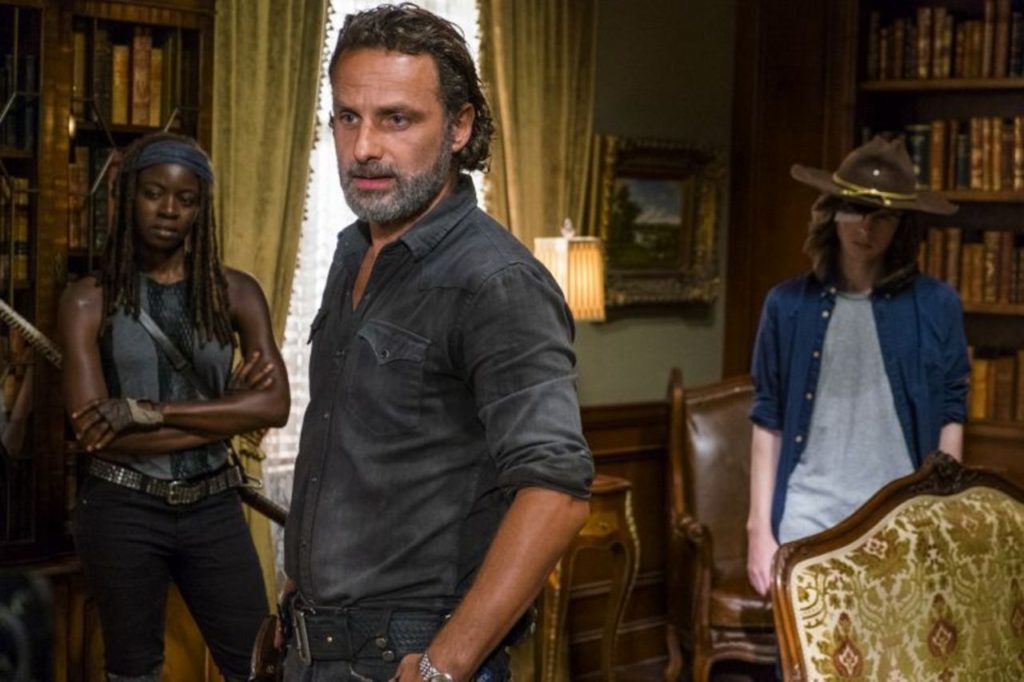 The Scavengers' (alas, not the Junk People) leader, Jadis, takes pictures of Rick in his shorts, then tries to have Rick killed by tying his hands and sending her pet Walker out to chomp him, but Rick turns the tables and rips its head off, takes out a couple of her guards and grabs hold of her.
He forces her to join his side against Negan (again), but she tries to negotiate getting him to pose nude for a sculpture in exchange, which he refuses. The whole thing is strange (what is with these people and their speech patterns? Aren't they Americans only a couple of years removed from having to speak, you know, normally?) and it still makes Rick look dumb. I don't see how it was a good plan for Rick to walk into the Scavengers' territory alone- they could have killed him anytime they wanted. The one saving grace of the story was at the end, when Rick leads the Scavengers to the Sanctuary to see how his plan is progressing, and Rick sees that Daryl crashed the truck into the wall, going against his plan. Rick looks shocked and upset, and that's a great place to end the episode.
Overall, there was excellent character work for Eugene, unfortunately undermined by the slow pacing and goofy Scavengers' story.
NEXT WEEK: It's mid-season finale time, and the Saviors are unlikely to go down without a fight!
*** out of 4 stars
What's your thoughts?
Leave a comment below
Popular posts like this
5 Biggest Differences Between The Walking Dead Comics and TV Show
The Walking Dead "The King, The Widow and Rick" Review
You Probably Can't Name These 80s Horror Movies
The Hottest Women of The Walking Dead
Top 10 Hottest Women Of Sci Fi
Comments
comments