Rick has a plan that works (mostly), we get visions of the future (maybe), and Fr. Gabriel's renewed sense of decency gets him in some serious trouble on a good, not quite great, season premiere of The Walking Dead.
Spoilers ahead, folks.
For the last few seasons The Walking Dead has used the premiere episode to separate the core group from each other, which sometimes leads to weak storytelling. The characters on the show are more interesting when they're together, working for and helping each other, than when they're apart.
So it's smart that the show seems to be breaking the pattern this season, keeping everyone together to fight Negan and the Saviors.
The beginning is solid enough- showing the preparation for the battle to come.
Carol, Tara, Morgan and Daryl are off tracking and timing an enormous herd of Walkers, the Alexandrians, Hilltoppers and Kingdom residents, armoring cars and getting guns ready, and the "big" moment- when Rick, Maggie and Ezekiel all take turns going full Braveheart to inspire the "troops". The scene works well- Rick gets back to being a heroic leader after falling to pieces last season, Maggie gets her first chance to be a true leader for the people of Hilltop, after they suffered under the feckless rule of Gregory, and Ezekiel makes one of his grandiose speeches. Ezekiel is a fascinating character, but his speech is the weakest part of the scene. Perhaps it's because we don't know his character as well as we know Maggie and Rick, or that the persona he created to rule the Kingdom is starting to wear out its welcome, especially since we know it's a put on. Still, it's a rousing scene.
After all the prep work, we finally get to the assault on the Sanctuary and it's….cool, but flawed. Rick's plan to eliminate the lookouts so the armada of armored cars could get to the Sanctuary without interference was smart; using the armored cars as shields was also smart. But things break down a little after that. Negan comes out, unarmed except for his bat, with his lieutenants (and Eugene) and, for the life of me, I can't figure out why, when they saw he and his minions were unarmed, they didn't just unload every bullet they had into them. The plan was to kill Negan, and they had the opportunity, but Rick decided to talk with Negan instead! Negan fared no better in the brains department- first of all, he came out unarmed to face a massive force, and then his big play was bringing Gregory out to convince Hilltop people to go home. Nothing about that move makes sense. Why would the Hilltoppers abandon their assault because of a traitor? And how would that have stopped Rick and his allies at all? Neither leader was at their best in this scene.
Once the bullets start flying, things get better, though I'm unclear as to why the allies were only shooting out the windows of the Sanctuary.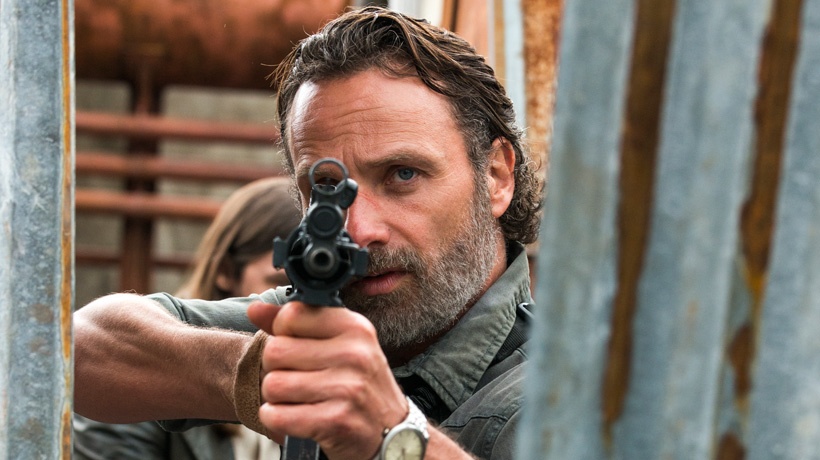 Maybe I'm missing something. But then we come to the part of Rick's plan that really works- Tara, Carol, Morgan and Daryl were out tracking the massive Walker herd so they could lead it to the Sanctuary, where Rick and his cohorts broke down the fence, allowing the Walkers to surround the building.
This is a great move, and I'm looking forward to how the writers come up with a response from Negan, since he appears to be trapped with Fr. Gabriel in a building in the middle of the herd. Fr. Gabriel has spent seasons rediscovering his humanity and decency, and in a heroic move, he tries to save Gregory from the Walker chaos, but Gregory screws him over and steals his car, leaving Gabriel to die. I'm looking forward to seeing how Gabriel deals with this betrayal and being face-to-face with Negan, after finally regaining his faith.
As for the visions of "Old Rick", I'm not sure what to make of them. Clearly, there's a vision of a future where he's happy with Michonne and raising Judith, but then there are some shots of Rick very upset. I'm sure we will find out what they mean over the course of the season. So no speculation, for now, unless anyone wants to do that in the comments.
Overall, there are a few flaws, but the season is starting off on a better foot than last year's, so we're in good shape.
NEXT WEEK: The plan to bring down the Saviors continues, and Rick runs into someone he knows.
***1/2 out of 4 stars
What's your thoughts?
Leave a comment below
Popular posts like this
5 Biggest Differences Between The Walking Dead Comics and TV Show
You Probably Can't Name These 80s Horror Movies
The Walking Dead "Something They Need" Review
The Hottest Women of The Walking Dead
Top 10 Hottest Women Of Sci Fi
Comments
comments