Maggie may have made a mistake, Rick definitely made a mistake and Daryl, Michonne, Rosita and Tara team up for what could be a spectacular mistake on a so-so Walking Dead.
As always, spoilers ahead.
Bad choices seem to be the theme of this week's episode, as most of our heroes make them, starting with Rick's choice to appeal to the Junk People to rejoin the fight against Negan. At the beginning of the episode, we see and hear Rick communicating with others in the Alliance through letters in a voiceover, which harkens back to the way we've seen generals communicate in old Civil War movies, and it's a nice touch- though the speech isn't especially rousing. Then we see Rick enter the Junk People's realm, and ask for them to switch sides again, telling them that he and his people are going to win, and if the Junk People don't go along, the Alliance will wipe them out too. They refuse, disarm him, and lock him naked in a shipping container. All of which begs the question: was that part of Rick's plan? Did he not allow for the possibility that heading into a place with people who have already betrayed you could backfire? It certainly seems like Rick, who's our main hero and supposed to be the person everyone relies on for strategy and cunning, misread the entire situation, and it could cost him his life. That makes the show's protagonist less competent than he ought to be, and weakens the character.
Back at the Hilltop, Maggie makes a decision- she will let the Saviors Jesus captured a few episodes back inside the walls, but only as prisoners who can be exchanged for Allied prisoners, if necessary.
She also has Gregory, who has spent episodes trying weasel his way back into her good graces, thrown in the cage with the Saviors, which I will admit, made me smile.
It's a less heartless decision than leaving them outside the walls to die or killing them outright, but it is still callous- she warns the Savior captives that if they aren't useful, she'll kill them. This could be a mistake- the Saviors (not to mention practically every other group of enemies Maggie and her friends have faced) have proved to be untrustworthy time and again- letting them stay inside the Hilltop walls may put the community in danger. The argument about the prisoners would be as interesting as the creators want it to be if it hadn't been repeated several times already, first between Jesus and Tara, then Jesus and Morgan, and finally Jesus and Maggie. It's time to stop arguing about it and get to what happens because of it.
Rosita and Michonne, and Daryl and Tara all make bad decisions too. Rosita and Michonne feel the need to see the Sanctuary because…I'm not really sure why. Perhaps I missed something while getting a glass of water. Even if their motivations were unclear, they did lead to the coolest moment of the episode; Rosita using a rocket launcher to blow up one of the Saviors they found in a building! They found the Saviors hatching a plan to free the rest of the Sanctuary from the siege of Walkers surrounding it, which was certainly very convenient (as was Daryl and Tara crashing into the remaining Savior's truck as she tried to escape, but we'll get to that in a bit). Of course, Rosita wouldn't have been in position to explode a man, and Michonne wouldn't have been nearly killed in a fight with the other Savior they found if the two had just stayed in Alexandria.
Daryl and Tara's motivations are clearer- they are tired of waiting for Rick's plan to unfold, and want the war over now.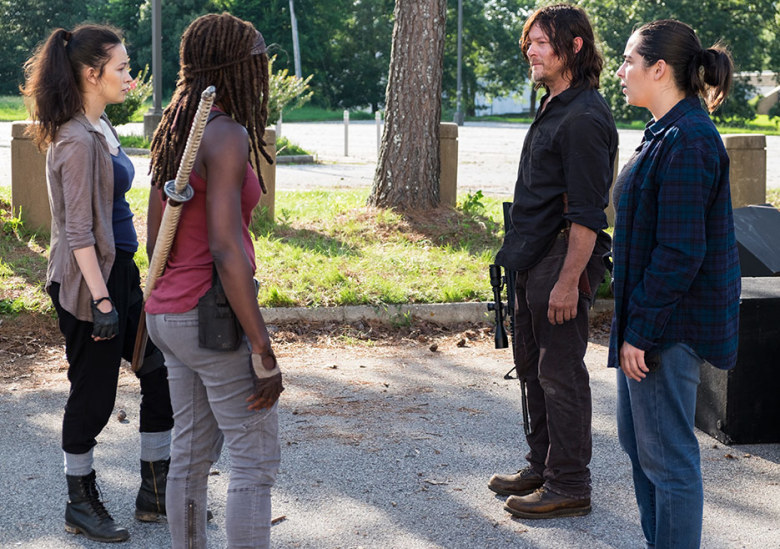 So they head toward the Sanctuary and end up ramming the truck of the Savior who tried to escape Michonne and Rosita, and kill her.
A surprising moment, but undercut by the ridiculous circumstance of it all ("So you mean to tell me that Daryl and Rosita just happened to show up at the exact time that the Savior was driving off, just happened to know a Savior was driving the truck, knew they should ram it, and just happened to time ramming the truck perfectly? Riiiiggghht.") Then they meet up with Michonne and Rosita, and decide they will all go and try to end war, Rick's plan be damned. Going off plan is a sure recipe for disaster on this show, but hopefully that makes it entertaining.
Carl also makes a bad decision, though not as bad as Rick's. Carl goes out to find the man from a few episodes back who was looking for water but Rick scared him off. It turns out his name is Siddiq, and he's a decent person who kills Walkers regularly to free their souls. What makes this a bad choice is that Carl and Siddiq almost get overrun by the dead. But they escaped with their lives, and Carl may have found a new friend.
Carol and Ezekiel's scene was the best of the episode.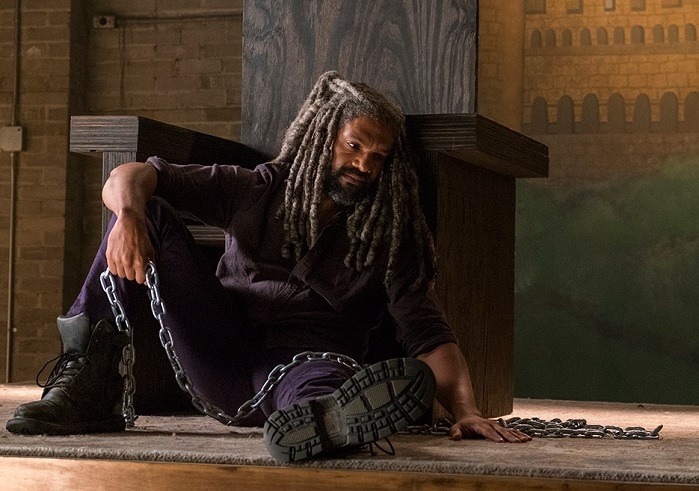 Now that they've fleshed out and broken Ezekiel, he's become more than just a guy who pretends at being a king, he's become a person who feels like he can't handle the world anymore.
Since Carol has come to care for him it hurts her to see him this way, but she also realizes that the people of the Kingdom need him to be the king, even if he feels he can no longer do it. When, after her impassioned plea, he still says he can't be who they want, it is heartbreaking. Both actors (Melissa McBride and Khary Payton) do an outstanding job here, and the episode could have used more of the two of them together.
Overall, this episode dragged it's feet. There are some good moments here and there, but they're undermined by slow pacing.
NEXT WEEK: Negan has a problem at the Sanctuary and Eugene could be caught between a rock and a hard place.
** 1/2 out of 4 stars
What's your thoughts?
Leave a comment below
Popular posts like this
5 Biggest Differences Between The Walking Dead Comics and TV Show
You Probably Can't Name These 80s Horror Movies
The Walking Dead "The Big Scary U" Review
The Hottest Women of The Walking Dead
Top 10 Hottest Women Of Sci Fi
Comments
comments