Maggie and the Hilltop gang meet some decent people for once, Simon enlists Dwight to try and finish off the Hilltop like he did the Scavengers, and Rick battles Negan in an excitingly ridiculous fight on another good Walking Dead.
Spoilers ahead.
The Walking Dead has been consistently above par since the tedious mid-season premiere, and this episode kept up the streak. The war with Negan has been dragged out far too long at this point, but the show has used its events, especially Carl's death, to test the characters we care about and see whether they can continue to hold on to their humanity. That's kept things engaging, even though Negan and the Saviors have proven more annoying than threatening, and we know the war won't end until at least the season finale.
Rick is still making dumb decisions, which at least now can be explained by him not thinking clearly because he lost Carl.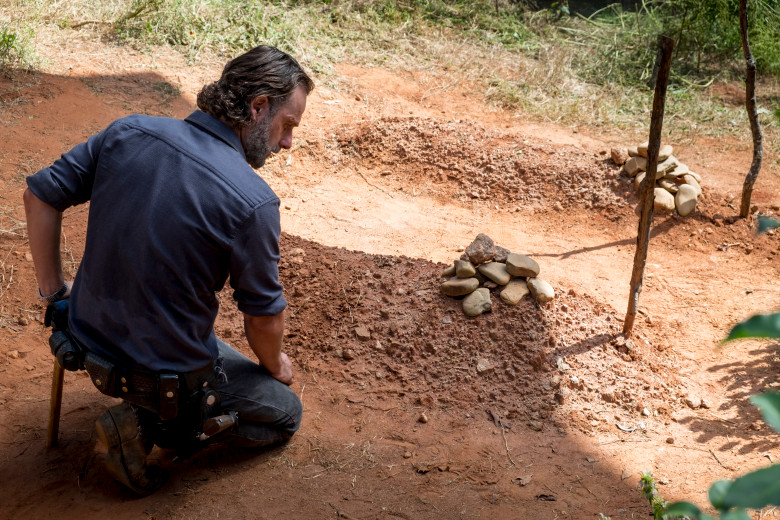 The fight he has with Negan in the episode should have been over in seconds, but it went on throughout the hour, mainly due to Rick's (and Negan's, to an extent) incompetence.
It was exciting, to be sure, and had some great action, but because we knew that neither character was going to die (if Carl's vision is correct, Negan will be around long after the war ends; Rick is the main character, he's not going anywhere) it undercut much of the tension.
Rick is on the lookout for the Saviors- the group knows they're coming for the Hilltop- when he sees the Saviors driving his way. He sees Negan in the last car of the caravan, and instead of warning the others as he should, he hops in his car, catches up to Negan and rams into him. This separates Negan from the other Saviors, and we cut to the end of the chase- Negan's car is flipped over, and Rick is approaching the vehicle with a machine gun. This is where the dumb decisions start for Rick, instead of going right up to car and shooting Negan at point blank range, he opens fire from a distance, allowing Negan the chance to get up and run away. Rick is a terrible shot too, Negan dodges what seems like hundreds of bullets as he runs into an abandoned building. Rick follows him in, and uses the rest of his bullets in the machine gun and his handgun without getting anywhere near killing Negan.
Really, if Rick wanted to kill Negan he wouldn't have wasted all the bullets before catching up to him. Rick does catch up to Negan, and gets the upper hand, but Negan escapes by falling from the second floor, losing his beloved bat, Lucille. Rick finds it and taunts Negan, and Negan taunts Rick in return. The best part here is when Negan tries to reason with Rick by telling him that he's just trying to "save" everyone, which Rick counters by bringing up the Savior's slaughter of the Scavengers- which Negan didn't know about. Jeffrey Dean Morgan (Negan) plays this moment well- he realizes Simon lied to him about what happened with the Scavengers, and the betrayal hurts.
Then Rick sets fire to Lucille, and tells Negan he did it, which enrages him. Rick makes another mistake; he fails to prepare for Negan coming at him, is caught off guard, and Negan ends up knocking the two of them into a room full of Walkers. The scene is great- Rick and Negan trying to kill each other while a flaming Lucille sets multiple Walkers on fire is the kind of action scene the Walking Dead regularly nails. It ends, though, with Negan escaping so he and Rick can tangle another day. At the end of the episode, it seems Negan got out of the frying pan and into the fire, as he is being driven down a road as Jadis's prisoner. It's a twist I didn't see coming, and we'll see whether it's a good twist in the coming weeks.
Maggie and Michonne's story was quieter but more effective.
The Hilltop gets a message from someone saying that they will give the Hilltop the key to the future in exchange for records- the musical kind, not spoken word.
Out of desperation, due to the food shortage in the community, Maggie agrees to meet the mysterious messengers. She, Michonne, Enid and Rosita go to meet them, and the three women they find: Georgie, Hilda and Midge seem to be genuine in their offer. Maggie has been burned before, and she is thinking only of her own community, so she decides to take the women back to the Hilltop and take all the things they're carrying, then decide what to do with them. Later, Michonne, Enid and Maggie discuss the pros and cons of accepting the deal, or screwing over the ostensibly naïve women. Enid, still hurt by Carl's death, advocates looking out for only themselves. Michonne, also affected by Carl's death, wants to accept the deal, because Carl would've wanted them to move towards a better future in peace with their neighbors. Maggie is torn- she's still angry over Glen's death and burdened by leadership, so she is willing to take advantage of strangers in order to help her own people. But she is also trying to hold on to her decency-and Michonne's invocation of Carl nudges her to accept the deal. That turns out to be a good idea- Georgie offers food as well as the "key to the future," which is a book with plans for building windmills, silos, aqueducts; basically structures that will be needed to start rebuilding society. So for once, trusting strangers goes well for our heroes, and Carl's legacy continues to have a positive impact on the show. Good stuff.
Once Negan is separated from the rest of the Saviors, Simon starts to make his play for Negan's job.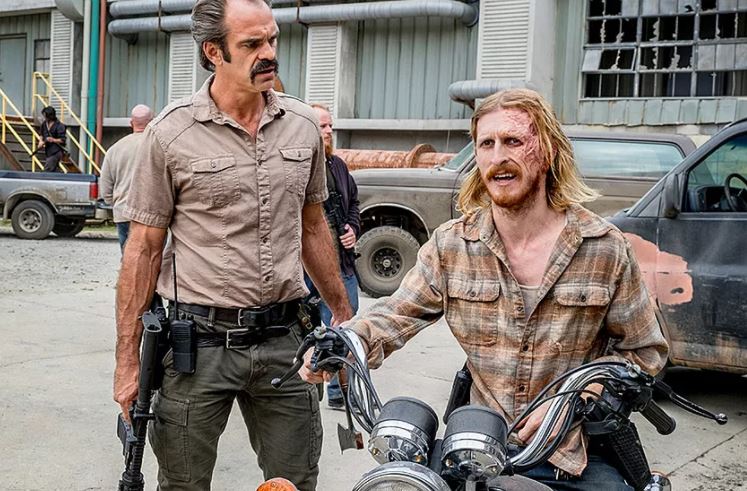 Simon is easily the most interesting of the Saviors, and Steven Ogg makes him odd and charismatic enough to stand out from the crowd of annoying bullies that make up their population.
He has grown increasingly tired of Negan letting the communities they supposedly dominate get away with disobedience (as he proved by slaughtering the Scavengers in defiance of Negan's orders) and he sees Negan possibly being killed by Rick as his chance to finish off the Savior's enemies once and for all. The rest of the Saviors need some convincing to follow Simon, but they eventually come around and are onboard with decimating the Hilltop. Simon spends most of the episode trying to get Dwight to turn on Negan, and Dwight is understandably skittish about Simon's true intentions- is he trying to catch Dwight in disloyalty or is he really looking to usurp Negan? Dwight goes along with Simon in the end, but since Dwight still wants to end the Saviors, it should be fascinating to see if he can find a way to help the Hilltop without getting caught.
Overall, there's fantastic (if nonsensical) action, solid character work for Maggie, Michonne, Dwight and Simon, and a nice surprise ending. Another slightly flawed winner.
NEXT WEEK: Things might get crazy at the Hilltop when some unexpected visitors arrive.
*** out of four
What's your thoughts?
Leave a comment below
Popular posts like this
5 Biggest Differences Between The Walking Dead Comics and TV Show
You Probably Can't Name These 80s Horror Movies
The Walking Dead "Dead Or Alive Or" Review
The Hottest Women of The Walking Dead
Top 10 Hottest Women Of Sci Fi
Comments
comments