A little background before we get started- I only began watching the Walking Dead in the second season as I didn't have much interest when it first aired.
A friend convinced me to give it a shot, I got caught up on the first season, and I've been hooked since; I love the fantastic action sequences, inventive zombie makeup, the sense of dread that hangs over the whole show, and the interesting (well, at least some of them) characters. I also acknowledge the flaws; the under-developed characters, (seriously, can anyone really tell the difference between Rosita and Tara?) the storylines that drag on forever, (I'm looking at you, Herschel's farm) and the occasionally far-too gratuitous violence. None of those flaws are fatal, however- I look forward to the show every time it's on and will for the foreseeable future.
So with my fan credentials out of the way, let's talk about Sunday night's episode, "Hostiles and Calamities". For those of you who haven't seen it yet, there will likely be spoilers. Fair warning.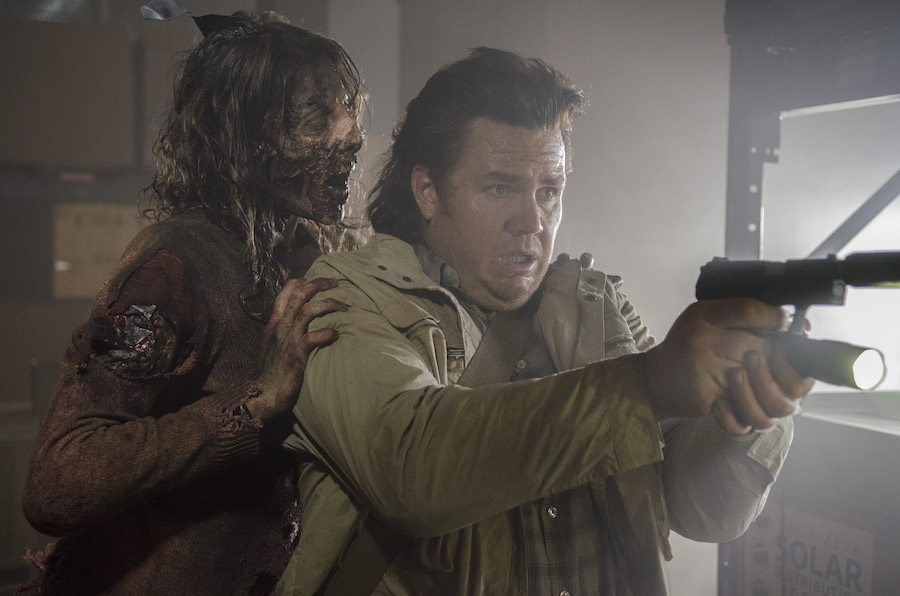 This week's episode took a step back from the forward momentum the show has built up over the last few episodes to tell the stories of the captured Eugene and the defeated Dwight, to middling results.
I say middling because the main storyline, Rick trying to form alliances to challenge and ultimately defeat Negan is the most compelling story the show has done in years, and any side story they do in lieu of that is bound to be a letdown. However, small letdown though it may be, it is not without merit.
Eugene has long been one of my favorite characters on the show, an awkward but smart coward who's fully aware of his own cowardice, and yet he is able to find ways to survive in an environment that should have killed him years before. This episode highlights what makes Eugene a survivor; when faced with being belittled by Negan, he makes himself useful by telling Negan how to shore up his defenses (in a neat move, he explains that the Walkers that normally disintegrate at the fence could be fortified with molten metal-pretty clever) leading Negan to treat him well. And at the end of the episode, after having declined to help Negan's wives kill Negan, he survives by submitting fully to the loony dictator.
The question is, is Eugene simply doing what he must to survive in a hostile environment, or is he giving in and turning to the "dark side"? Hopefully we will find out before the season is over.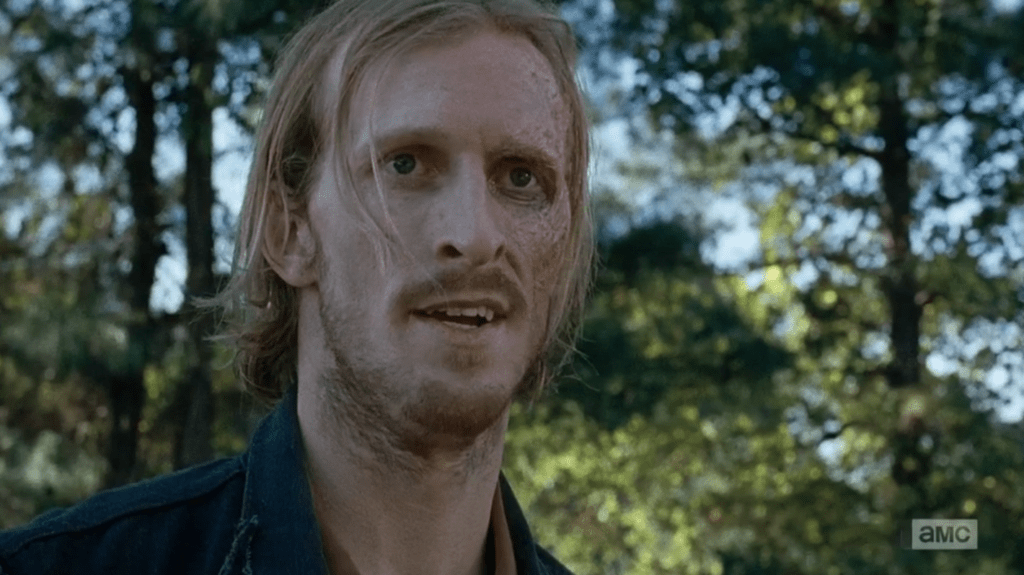 Dwight's story is a bit more problematic.
I've never found him to be all that sympathetic, though I think the show expects me to. Dwight, like Eugene, is something of a coward, a man who has been broken by Negan and has done whatever despicable thing Negan wants, including torturing everyone's favorite hillbilly badass, Daryl. Yes, you can tell he hates Negan and he does these things because he is forced to, but that makes him pathetic, not someone I would root for. This episode tries to make us root for him by his finding a letter left for him by his Negan-fleeing wife, in which she calls him a good man (with a memory problem we've never heard about before- for sympathy?) and that she's the one who let Daryl escape. But by the end of the episode, Dwight has sold out the Savior's doctor as the one who let Daryl go, and he stands practically emotionless as Negan gruesomely kills the doctor in a smelter.
Not particularly the act of a good man, but definitely one of a broken man.
Overall, this is a decent character study episode that tries to mesh Eugene and Dwight's stories together, not entirely successfully. Still, there is enough here to recommend the episode; Eugene is always fun, and the doctor's death did show how brutal Negan can be.

Best line of the episode:
"Truth of the matter is, I'm not good. I'm not lawful, neutral, or chaotic. None of the above." – Eugene (any character that references Dungeons & Dragons is ok in my book!)
NEXT EPISODE: Back to the main group in Alexandria!
**1/2 out of 4 stars
What's your thoughts?
Leave a comment below
Popular posts like this
5 Biggest Differences Between The Walking Dead Comics and TV Show
You Probably Can't Name These 80s Horror Movies
The Hottest Women of The Walking Dead
The Walking Dead "Say Yes" Review
Top 10 Hottest Women Of Sci Fi
Comments
comments