Carol and Morgan go full Terminator in an effort to save Ezekiel, we get some good, surprising glimpses of the future (maybe), and it takes about six scenes too many to say goodbye to Carl on an intermittently entertaining but far too long Walking Dead.
Spoilers ahead.
Since the show is insanely popular, it makes sense that AMC chooses to extend season premieres and finales to draw more viewers, but the tactic rarely works from a story point of view. Having to stretch the story past an hour almost always leads to scenes that go on too long, scenes that are obvious padding (how many scenes over the years have just been the group walking somewhere in silence?) and, in this episode's case, about 47 scenes of Carl on his deathbed. So this show could have been a classic, but it meanders and stalls so much that the episode never quite hits the home run it's clearly trying for. Still, there are a lot of things to like.
Carol and Morgan's mission to save the captive Ezekiel is one of them.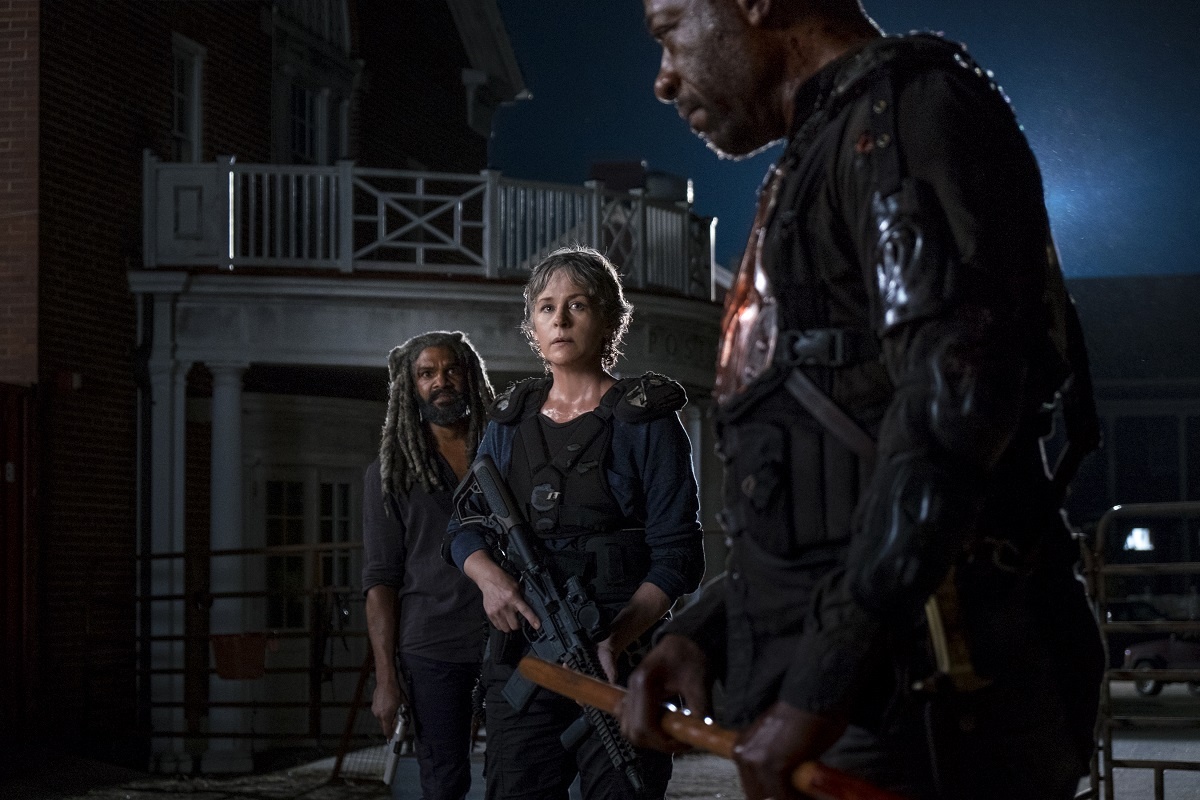 Despite a couple of inconsistencies in their characters (Carol went from badass to weepy PTSD sufferer and back to badass with jarring speed; Morgan went from "never killing again" to "kill 'em all, let God sort 'em out" just as quickly) they're always fascinating.
Both of them started out as mild-mannered family people, but the end of the world and the loss of their children have hardened them into the toughest of survivors. That makes it fun to watch them steadily, ruthlessly pick off the Saviors, who were finishing up the destruction of the Kingdom, in order to get Ezekiel back.
While Carol and Morgan are cutting through Saviors like tissue paper, we see Ezekiel trying to convince Gavin that it's not too late for him to renounce Negan and let Ezekiel go. Gavin laments that things were fine before, and that Ezekiel should have kept things the way they were. They go back and forth like this throughout the episode, and the best thing about their arguments is that it shows that Ezekiel has overcome his guilt at leading so many people from the Kingdom into Negan's ambush.
He's done being subservient to Negan, and he's willing to do what it takes to lead his people once again. Carol and Morgan eventually find Gavin, several Saviors and Ezekiel in Ezekiel's throne room, and a wild gunfight ensues. It's a well done action scene, and has a great, signature Walking Dead moment Morgan shoves his hand into a wound in a Savior's belly, and then rips out the guy's intestines! When the battle is over, only Gavin among the Saviors has survived, and Morgan, Carol and Ezekiel confront him. Morgan wants to kill him, but Ezekiel and Carol try to convince him to spare Gavin. Morgan, however, is set on killing him, and is about to, when Henry, the young boy from the Kingdom, stabs Gavin through the throat from behind.
This was not entirely unexpected- earlier in the episode Henry wanted to go with Carol and Morgan, and Carol told him "no," so it seemed inevitable that Henry would disobey and follow them anyway. I'm curious to see what the fallout from Henry killing a man is, and whether this is another turning point for Morgan, where he realizes he's gone a little kill crazy. Good stuff, even if it defies logic that Henry could have snuck up behind Gavin, without being seen by three people looking directly at Gavin, and waited patiently and silently until Morgan was about to strike to make his move.
Of course, Carl dying was the meat of the episode.
Even though the character has been divisive over the years (lots of fans can't stand him) the last few hours of the show have done well by him; having him help Siddiq and distract Negan long enough to enable the Alexandrians to escape the Saviors did a lot to make Carl more likable and heroic as he faced his own demise.
He also handled his impending death better than anyone else around him. Rick, understandably, was a complete wreck, Michonne was a blubbering mess, and the others were all somber. Carl wrote out goodbyes for everyone, had advice for Rick, Michonne and his baby sister Judith (is she old enough to understand what he has telling her? I really don't have any idea) and even had the wherewithal to shoot himself in the head (offscreen) to ensure that his father wouldn't have to. All of this was well acted and moving- to a point. The main problem was there was far too much of it.
After about the 30th scene of Carl slowly dying and everyone crying, it started to become tedious. At that point, the woman I was watching the show with rolled her eyes and said, "Oh, just die already!" That sums it up- by dragging out Carl's death for so long, they took away much of the emotional impact his death was supposed to make. It did hit hard though, when Carl ended his life with a gunshot to the head, and the camera was on Rick and Michonne digging Carl's grave. They flinched when they heard it, and that was a far more emotional moment than all the weepy scenes that came before it. 
The glimpses of the future (revealed to be Carl's visions) tease a better tomorrow for Rick and the gang. These looks at Old Rick, Judith and the others are set after the war with Negan ends, and there's a big surprise- not only is Negan not dead as Rick has vowed, he's friendly with Judith! Whether this a true future or just Carl's imagination remains to be seen, but if true, it means Rick (and the rest of the group) are going to have to be pretty forgiving- letting Negan live among them in peace after all he's done is going to be a tough sell. Overall, the episode is a mixed bag.
Following Carol and Morgan is exciting, and Carl's death is ultimately moving, but it drags and becomes tiresome.
NEXT WEEK: Aaron and Enid look for help and the surviving Allies head for the Hilltop.
**1/2 out of 4
What's your thoughts?
Leave a comment below
Popular posts like this
5 Biggest Differences Between The Walking Dead Comics and TV Show
You Probably Can't Name These 80s Horror Movies
The Walking Dead "How It's Gotta Be" Review
The Hottest Women of The Walking Dead
Top 10 Hottest Women Of Sci Fi
Comments
comments