Negan falls back into cartoonish villainy on a Walking Dead that does some good character work while setting up the rest of the season.
Spoilers ahead.
For an episode that feels like it's mostly moving its pieces into place for the eventual showdown between Rick's group of allies and the Saviors, this is a surprisingly engaging hour. From the Walkerinfested swamp, to Tara's animosity towards Dwight boiling over, and Gabriel's shocking recapture by the Saviors, things were far more lively than the typical "walking somewhere" episode tends to be. Throw in Maggie remembering her humanity in dealing with her Savior prisoners when she learns of Carl's death, and you have another above average chapter of the series.
Gabriel's journey is the most interesting of the episode, and the most heart breaking.
Gabriel and Dr. Carson are making their way, slowly, to the Hilltop after Eugene helped them escape the Sanctuary.
Gabriel is going blind from the illness he caught while a captive of the Saviors, and Dr. Carson is less than optimistic about their chances of survival, as the car they're driving dies, they don't know how to get to the Hilltop, and they stumble into an abandoned radio outpost. Gabriel is undeterred, however- he recently got his faith back, and believes that God is looking out for them. It appears he's right, too, when, while at the radio outpost, they find antibiotics which may be able to stop the illness from taking his sight, car keys, and they find a map! Later, when Dr. Carson is outside, he steps in a bear trap and a Walker climbs on top of him. Gabriel is his only chance at getting away- the nearly blind Gabriel- who has a gun. Gabriel closes his eyes, trusting in God because he can't trust his eyes, and he shoots the Walker off Dr. Carson. At this point, Gabriel's faith seems to be justified, but the shot drew the attention of some Saviors who are in the area looking for them. They're recaptured, but Dr. Carson doesn't want to go back, so he grabs for one of the Savior's guns and is immediately killed. This overwhelms Gabriel is recently rediscovered faith is smashed in an instant. Seth Gilliam (Gabriel) does some great work here, sadly moaning, "No!" in horror at this turn of events. Will this make Gabriel fall back into being a cowardly, broken man, or will he end up stronger, even if he's blind? Those kinds of questions keep me watching.
Daryl, Tara, Rosita and Dwight are leading the Alexandrian survivors to the Hilltop, and they're heading through a dangerous swamp.
Daryl and Tara are none too pleased having Dwight around.
Dwight tortured him while he was a Savior prisoner, and Tara because Dwight killed her girlfriend, Dr. Denise.Daryl is willing to keep a lid on his anger, at least until they make it to the Hilltop, but Tara is less patient than that. While they're making their way through the swamp, (which has some very cool swamp zombies)
Tara decides to take Dwight and clean up a couple of Walkers that are following the group. This is obviously so she can get him alone and kill him, and she takes a shot at him but misses. She chases him for a bit- understandably, he runs- and they come across a group of Saviors sent to check the swamp for the group. Dwight and Tara are hiding, when Dwight decides to reveal himself to the Saviors and tell
them the group isn't there. He sacrifices his freedom from Negan to ensure that the group can make it to the Hilltop. This leads to Tara realizing that maybe Dwight isn't quite the monster she thought he was, and she shouldn't kill him. It's a nice little moment for Tara, who has never been a great character.
Mostly, she's just been kind of angrily there, never making much of an impression. Now, maybe she'll be more than one-dimensional, and I'll finally be able to tell her and Rosita apart on a regular basis. When the group finally makes it to the Hilltop, there's a sad moment when Daryl tells Maggie and Carol about Carl's death. Enid hears, too, and breaks down. Maggie has been dealing with her own problems- food is running low and the Savior prisoners are extra mouths to feed. She decides in the episode that she's just going to stop feeding them and ban them from exercising. Like Tara, she lets her anger get the best of her. But hearing about Carl seemingly makes her realize that what's important is keeping her humanity intact- so she decides she'll feed her prisoners after all, despite food stores being dangerously low and her own people will have to make do with less. Perhaps this will convince the Savior prisoners to switch sides and help in the inevitable fight against Negan. With this show, though, good deeds are often mercilessly punished, so perhaps not.
Negan regressed back to outrageously hammy this week, after finally being legitimately menacing last week.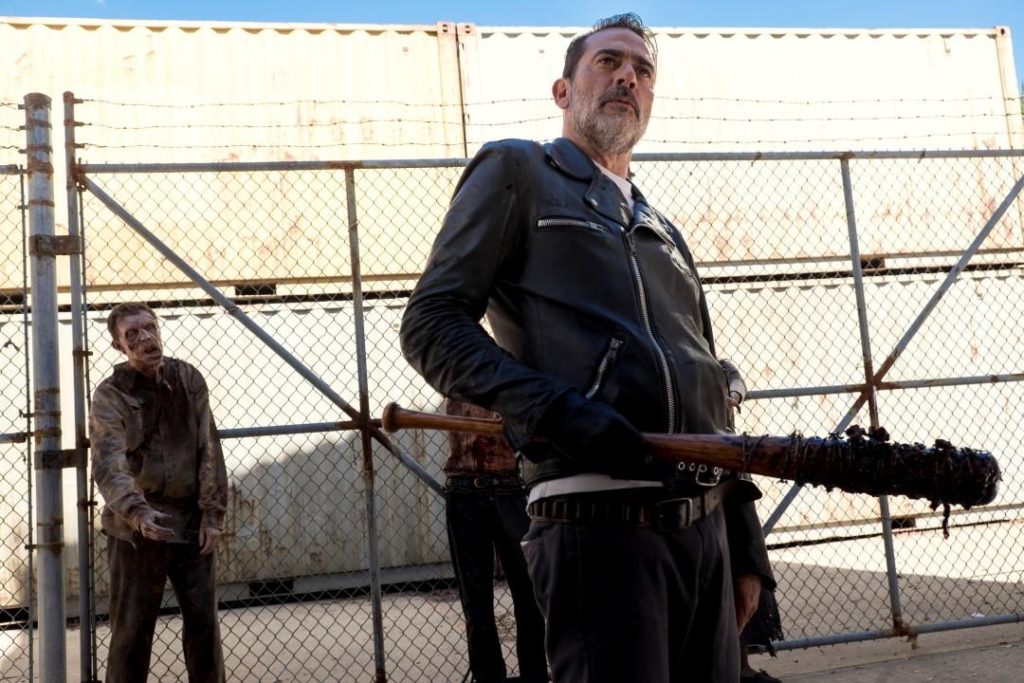 Negan comes up with a gruesomely deranged plan to attack his enemies.
He waits for Eugene to slowly make bullets and will dip all his melee weapons and arrows in Walker guts, as getting Walker blood in a cut will infect the living and kill them. That's a great demented villain plan, but Jeffrey Dean Morgan's over-the-top delivery makes it more cartoonish than frightening.
Overall, this episode is far better than it should be. Set up episodes are generally not exciting, but this one surprised with Gabriel's setback, Dwight's sacrifice and Maggie's decency.
NEXT WEEK: The Saviors make a move on the Hilltop and Rick faces down an enemy (Negan?)
***1/2 out of 4
What's your thoughts?
Leave a comment below
Popular posts like this
5 Biggest Differences Between The Walking Dead Comics and TV Show
The Walking Dead "The Lost and the Plunderers" Review
You Probably Can't Name These 80s Horror Movies
The Hottest Women of The Walking Dead
Top 10 Hottest Women Of Sci Fi
Comments
comments