Games, most of which are regarded as rubbish,
but which I rather like.
Welcome to part two of my look at some of my favourite ZX Spectrum games. As you've seen in the previous part, there aren't many titles that would make any top ten lists, but all of these titles hold gaming memories for yours truly. Sadly, not all of them are happy.

Jason's Gem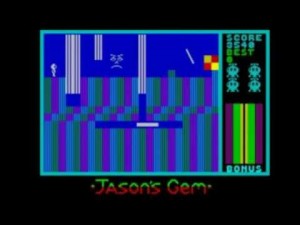 (Mastertronic, 1985)
Right. You start off trying to land your ship on a moving landing pad. Once you've managed that relatively simple task, you move your ship through a series of caverns, blasting rocks out of the way (unless you stray to close to the cavern edge just before you exit the screen, in which case your ship will usually collide with a cave wall on the next screen and chuck you into an infinite death loop) before moving on to the final (perhaps inevitable) platform section, where you move through a series of rock hard screens to collect the eponymous gem. Another great yet frustrating game from Mastertronic, the sado-masochists of 8-bit computer games.
Wheelie

(Microsphere, 1983)
While Skool Daze, Back to Skool and – to a lesser extent – Contact Sam Cruise, remain Microspheres most famous and highly regarded games, this bonkers title was my personal favourite. Riding your motorbike over buses, up and down ramps and avoiding bouncing hedgehogs and ice patches in order to exit each level was an incredibly fun and taxing experience. Always keeping an eye on your fuel gauge, the goal was simply to reach the end, at which point a Ghost Rider would turn up. A joy to play, but a nightmare to complete.
Kosmic Kanga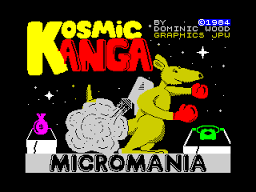 (Micromania, 1984)
To my mind, Micromania made only two games of note for the Speccy. Project Future, a nice little mazey shooty collect-em-up, and this nihilistically coded piece of 8-bit hatred. So, naturally, Kosmic Kanga makes the list. This is a simple game that involves a bouncing Kangaroo, complete with astronauts helmet, bouncing through various stages, collecting items and avoiding various animated and inanimate objects. It looked good, sounded good, and controlled pretty well, but oh man, that difficulty level. I loved this game, but was never any good at it.
Specventure

(Mastertronic, 1986)
I must have a nihilistic prediliction for rock-hard budget games. A simple single-screen collect-em-up, where you collect, I guess, components, inside your ZX Spectrum, then move on to the next screen. Again, it's a bloody hard game, but it looks nice, plays well, and gives you a choice of 9 pieces of music to play in the background, which was huge for the time. There were certainly worse things to throw a couple of pound notes at back in the day!
Ghostbusters

(Activision, 1984)
Ah, the second best adaptation of this classic movie to video games. This was a smash when it was released, although the gameplay, I guess, was pretty odd. Initially, you set up a bank account, buy a car, and then equip it with traps, along with various accessories including a ghost vacuum, marshmellow sensor, PK energy meter, etc. Once this enthralling section is over, you drive the Ghostbusters logo around a single screen, until you see a flashing red building. Drive to the building (literally, you have to drive there, even though you need to be outside of the building) and bust some ghosts.
What's your ZX Spectrum game?
Leave a comment below.
Comments
comments