When the video game crash of 1983 occurred,
it almost sank an industry.
Arcades struggled through (in no small part due to Atari, ironically) but thankfully, Nintendo's Famicom system came along to save the day.  However, the popular misconception seems to be that this was a worldwide phenomenon.  This is far from the truth.

Across the pond, in good old Blighty, the emergence of home computers led to a positive gaming boom.  While the US market was in turmoil, the UK market was growing stronger and stronger.  Leading the way was the Sinclair ZX Spectrum.  Affectionately called the Speccy, the computer was a revelation.  It sold in droves.  Sinclairs mail order department famously couldn't keep up with demand.  Margaret Thatcher even gave one to the Japanese Prime Minister.  In an ocean of homegrown computing technology that gave us the likes of the Dragon 32, BBC Micro and the Jupiter Ace, the Spectrum rose above all others, even computers with obviously technical advantages.  It's a phenomenon that continues to this day, with the Vega being released a while back, and a handheld version imminent.
But as with all consoles and computers, the machines are only as good as the games you can play on them, and here is my completely self-indulgent and nostalgia fueled list.  I've included a few obvious classics, but most of these are lesser-know (and regarded) titles.
Atic Atac

(Ultimate, 1983)
My previous choice for 'favourite Ultimate game ever' had always been Sabre Wulf.  I love that game, but recent playthroughs have forced me to confirm that what Sabre Wulf did, Atic Atac did better.  While both are maze games that involve killing things and collecting items, there's a bit more depth to Ultimates 1983 outing.  As with most of Ultimate titles, it looks and sounds amazing, plays like a dream and provides a huge challenge.
Bruce Lee

(Datasoft/U.S. Gold, 1984)
The truth about Bruce Lee is that this was brilliant on everything, from the C64 to the Amstrad, Atari 8-bits, MSX, and BBC.  While a relatively easy title, weighing in at just 20 screens, the game had playability in spades.  It was only a simple platform collect-em-up with fighting elements, but what it did, it did to perfection, on every system it was released on.  The Speccy version was the best one though, mainly because it had the nicest loading screen.
Pioneer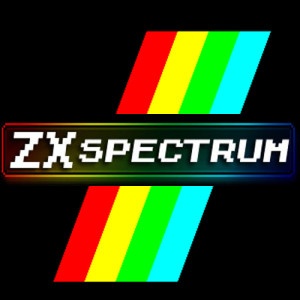 (Atlantis, 1984)
I said this list would be self-indulgent, right?  This was a budget Scramble clone.  It doesn't look great, the sound is sparse, it has one of the most boring loading screens ever, is as playable as Chase H.Q. on the C64, and is bloody hard to boot.  This was never going to best Penetrator (the best Scramble clone on the Speccy bar none) but for some unknown reason, I loved it and put hours into this game, and that is all the reason I need to put it on this list.
Incredible Shrinking Fireman

The (Mastertronic, 1986)
The best description of this would probably be 'a poor mans Finders Keepers'.  While it attempted to ape David Jones brilliant platform/maze game (while adding a toned-down menu system, a-la Spellbound) it looked awful in comparison.  And it came out a year later.  In truth, this is a wonderfully playable little game once you get past the fact that the items you collect all look the same until you actually pick them up, the jumping is twice as fast as the walking (no doubt copied from Spellbound too) and the enemies are all uninventive and generic.  None of these facts are enough to make it a bad game though.
Technician Ted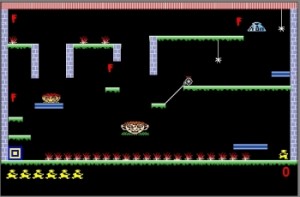 (Hewson, 1984)
I'll start this entry with a fun (yet sad) fact.  I didn't complete this until 2005, and only then did I give in and use a Multiface.  This is, without a doubt, my favourite platformer on the Spectrum, but it's absolutely rock hard, despite the fact that you're given huge amounts of lives.  Set to a stringent time limit, you must complete all the tasks your boss has set you, in order, or you'll get the boot.  Literally.  Fail to complete the game and your boss will kick you into a bin.  Despite its difficulty, and the fact that beyond the first few tasks you're given no indication of the order you're supposed to complete them in, I love this game.  It has the best loading system on the Spectrum, ever.  It has easy controls, it's playable, it looks great, everything is colourful and brilliantly animated, and the in-game music doesn't get on your sodding wick after it's looped around for the 50th time.  Sorry… Jet Set who?
Computer Scrabble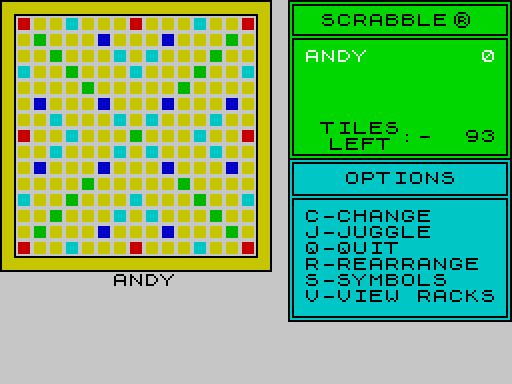 (Sinclair Research, 1983)
The inclusion of a board game here might seem a little odd, but bear with me.  While this is one of the most common titles on the Speccy, it's also one of the best adaptations of the board game on any system.  The controls are perfect, it looks as good as a board game adaptation could on an 8-bit computer system with a limited colour palette, and everything was done on a single screen.  The challenge function was great too – yes, you could use it to make up words like 'jozxyqk', but the amount of new words that have been added to the English language in the intervening 33 years means this function is invaluable.  The computer played a mean game too.  This remains one of the most playable board game adaptations ever, and I still play this regularly.
What's your favorite ZX Spectrum game?
Leave a comment below.
Comments
comments