Two bizarre plotlines, one illogical and one unpleasant, are almost saved by one decent plotline on a disappointing Walking Dead.
Spoilers ahead, folks.
After Tara escaped from the secretive Oceanside community a bunch of episodes ago, I wondered how long she was going to keep the secret, as she promised Cyndi, from Rick and the group. I knew she'd tell somewhere along the way- what would be the point of introducing a group with lots of guns and no love for the Saviors if we were never going to see them again? In this episode, the beans were finally spilled, and it led to one of the worst plans Rick has ever come up with. Apparently, Rick decided to let Tara go in to the community, try to convince the leader, Natania, to help them in the upcoming war against Negan for about 30 seconds before the Alexandrians take action, then the Alexandrians blow up a bunch of bombs outside the community to frighten the women, get to the armory before the women do, hold the women hostage at gunpoint, and threaten the women to either help against Negan, or the Alexandrians will take all their guns.
Really, nothing about this plan makes sense- how exactly are they trying to convince the women of Oceanside that they're the good guys by rounding them up at gunpoint and telling them to either help them against Negan or they'll steal all their weapons?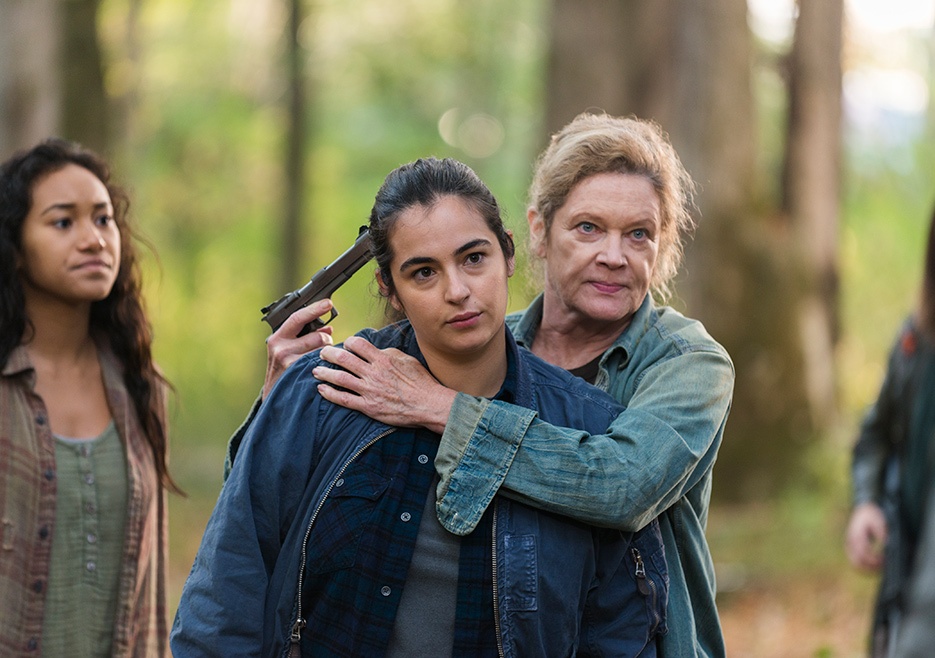 It gets even more ridiculous when walkers show up, (because the bombs the Alexandrians set off make lots of noise and attract them) which allows the groups to inexplicably bond a bit, instead of the Oceansiders being pissed that Rick and his group put them all at risk.
Natania at least has the good sense to not be swayed by any of this and refuses to help, but the Alexandrians take all the guns anyway. Some of the Oceanside women, despite being terrorized, bullied, and robbed of their guns still want to join the fight! It boggles the mind. The show has done a great job in the second half of the season restoring Rick as a heroic leader, but his actions here don't really match that image. Perhaps the writers are trying to show that Rick is willing to do whatever it takes to win "by any means necessary", but if he's supposed to be the hero everyone looks up to, and is supposed to represent the best that humanity has left, that's not how he should be portrayed, especially if he his plans are going to be as illogical and kind of dickish as this one is. And the end of the episode, when Dwight surprisingly shows up offering to help against Negan, Rick pulls a gun on him and makes him get on his knees- I'm not exactly sure why. A bad night for Rick, all in all.
Sasha's storyline in this episode isn't really any better.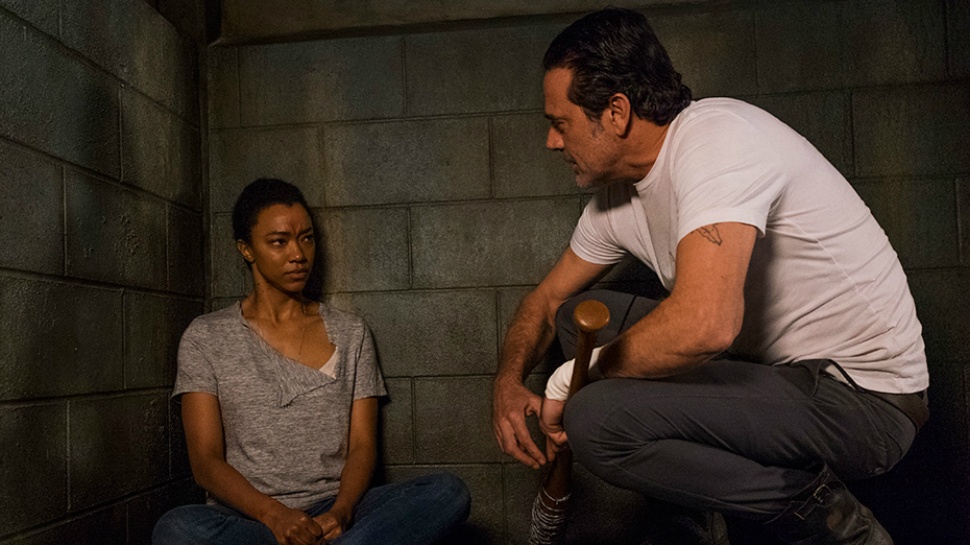 After attacking the Savior's compound on her own, (off-screen) she was captured and thrown in a cell like the one Daryl was thrown in after he was captured.
And yet another truly unpleasant Savior (I'm starting to wonder if there's a sign in front of the Sanctuary that says, "Must Be This Much of A Disturbing Asshole To Work Here") David, comes to Sasha and tries to rape her, only to be interrupted and killed for it by Negan. Negan uses this incident as a recruiting tool; he tries to convince Sasha to join him, lets slip that he knows Rick is up to no good, and that he wants to use her to do damage to Rick. These exchanges highlight why I am not on board with Negan as a villain. With apologies to Jeffrey Dean Morgan, who clearly enjoys playing Negan and does a solid job with the role, Negan doesn't seem bright enough to be a threat. I mean, he tries using the stopping of an attempted rape, an attempted rape he possibly set up, to get a woman on his side. To quote Tony Stark: "Not a great plan." Also, how many times is Negan going to let people he should clearly kill because they pose a major threat to him, live? If he was competent, Daryl and Sasha both would be dead.
While none of that worked, the exchanges between Sasha and Eugene were great.
Sasha tried getting Eugene to get her a weapon by convincing him that she wanted to end her life so Negan couldn't use her against the Alexandrians, and Eugene showed that while he has fully surrendered to Negan, he still has some decency, as he slipped her a pill so she could kill herself painlessly (he hopes).
Sasha's plan worked too well- she didn't really want to kill herself, she wanted a weapon. A neat way to end an unpleasant story, and I am looking forward to seeing how it plays out in the finale.
The only story that worked fine this week was Maggie and Gregory's. Maggie showed more and more to the people of the Hilltop that she is a leader, and Gregory, selfish and cowardly but not stupid, realized it. When they were outside the fence, with Maggie digging up a blueberry bush, they finally had a bit of a heart to heart, while Gregory contemplated killing Maggie with the knife he carried. It's a great moment when Gregory decides to protect the pregnant Maggie and kill a walker, but he can't get it done-he's never actually done it before. Maggie ends up taking out two walkers, and Maggie explains to passing Hilltoppers: "he's never done it before." They respond by saying that's not what he told them. So Gregory, realizing that he's losing stature in his community, decides to take a trip, probably to see the Saviors and turn on the Hilltop. At least here we have a character behaving in a consistent manner- Gregory is always going to look out for Gregory, no matter the consequences. Good stuff.
Overall, this is the weakest episode of the show in awhile, mostly because of the weird, poorly thought out plan of Rick's and the still off-putting Negan. Even so, there's some good setup for the finale with Sasha, Maggie and Gregory, and hopefully the show will stick the landing.
NEXT WEEK: Finale time. It looks like the war with Negan is going to get started and you know what that means- awesomely horrific violence!
** out of 4 stars
What's your thoughts?
Leave a comment below
Popular posts like this
5 Biggest Differences Between The Walking Dead Comics and TV Show
You Probably Can't Name These 80s Horror Movies
The Hottest Women of The Walking Dead
The Walking Dead "The Other Side" Review
Top 10 Hottest Women Of Sci Fi
Comments
comments