Rick and Daryl get the big guns, Carol proves to be the baddest character on the show (again) and Ezekiel finds that too heavy lies the crown on a focused, very good, Walking Dead.
As always, spoilers are forthcoming.
Although King Ezekiel has been an entertaining character since his iconic (taken right from the comic) introduction, he's never been the best drawn character. A former zookeeper who adopted the mannerisms and speech of a medieval king to inspire his "subjects" as a survival method, it seems he's mostly been around to make ornate speeches and argue with Carol. Most of why he's been interesting has come from the skill and charisma of Khary Payton in playing him. That changed in a big way on this episode, as defeat and horror test Ezekiel, and finally crush his spirit, showing us how a good man who has blustered his way through the apocalypse can be broken. It's good, devastating stuff.
The episode begins with Ezekiel preparing for his day- doing his hair, getting dressed. The scene does a lot of good character work with zero dialogue; Ezekiel is like an actor prepping for a role, which is about right, since he's playing at being a king for the sake of those around him and even himself. The we pick up right where the last left off- with Ezekiel and his troops being ambushed. Several of his troops dive on him to protect him, and when the shooting stops, Ezekiel crawls out of the pile to find most of his subjects dead. One has survived, though, and tries to help the king to safety, but he is shot and Ezekiel is taken prisoner by a Savior.
The Savior is a run of mill type, just there to taunt Ezekiel, nothing special, but it is gratifying when the Savior and Ezekiel are near to being caught and killed by Walkers when it turns out Jerry also survived the ambush, and splits the Savior in two with an axe!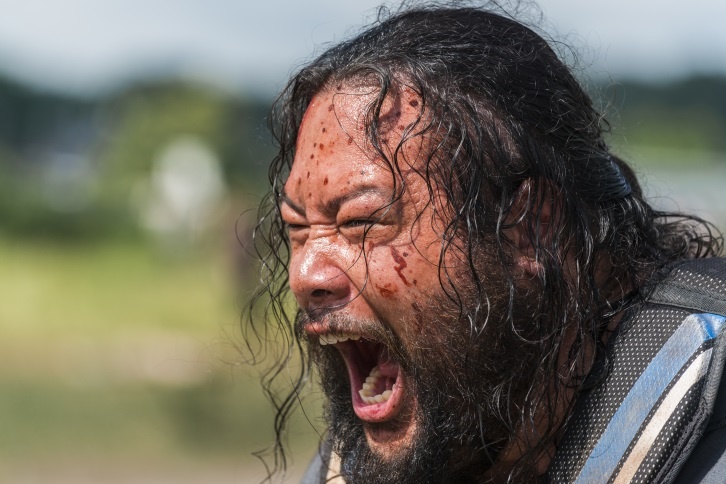 Credit where it is due: that's a creatively shot kill with the camera in close up on the Savior, and we see him split in half in gory detail.
After that Jerry tries to help Ezekiel away, and calls Ezekiel "Your Majesty," but Ezekiel has been shaken to the core by what happened, and doesn't feel like he deserves to be referred to as a king anymore. It's as if his whole world came crashing down on him, and he takes all the blame on himself and his pretensions. This is all written well, and acted well. Things get even worse when after the two meet up with Carol they are about to be overtaken by Walkers because Ezekiel's leg injury is slowing them down and Ezekiel wants Carol and Jerry to leave him behind to fight off the Walkers and let them escape. He's so despondent at this point that he seems to want to die. But fate intervenes, Shiva the tiger shows up, and heroically takes on the Walkers while getting herself killed, letting the three humans escape. Shiva's death was sad- how cool was it for someone to have a pet tiger on the show?- and is the icing on the cake for bringing Ezekiel as low as he can go. It should be interesting to see if and/or how he recovers from all this.
Carol's plot finds her at her most badass- getting away from Ezekiel's main group and taking on Saviors on her own is a very "Carol" thing to do.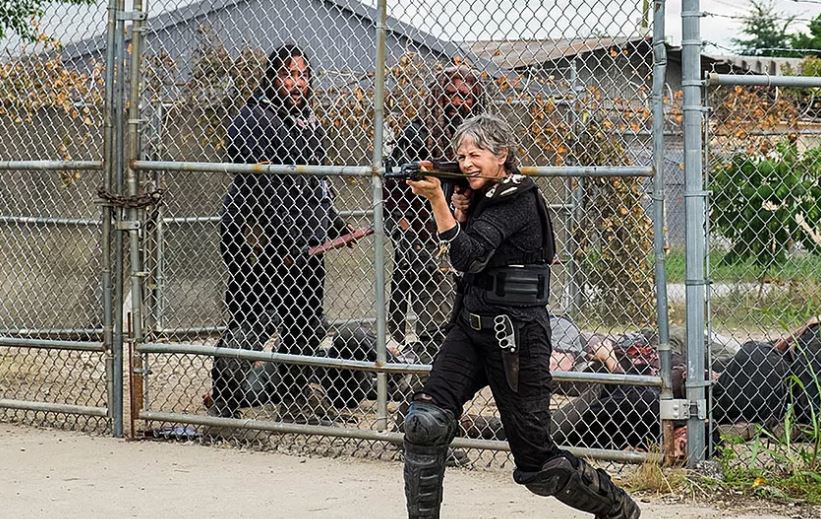 I've said it before, but "Terrifyingly Dangerous Carol" is a lot more interesting than "Mopey Carol", and thank God she's once again the former.
Her ambush of a squad of Saviors from inside a ceiling genuinely surprised me, and was totally in keeping with how ruthless and smart she has become. She's come a long way from the meek, abused wife of the early days- now, she's a warrior. Her next encounter with the Saviors doesn't go quite as well, but it shows her ingenuity, toughness and even humanity. Carol follows the Saviors, who are loading the big guns that Rick and Daryl were looking for in the last episode into a truck, and tries to stop them before they can get away. She seems to have the upper hand when she sees Jerry and Ezekiel about to be Walker food, and she has to make a decision: stop the truck with the guns, or save her friends. She chooses to save her friends, which shows she still has at least some decency left in her. Nice work.
Rick and Daryl only have a few minutes of screen time, but they get to shine in chasing down the truck Carol let escape. It's a good car (and motorcycle) chase that ends with Rick jumping into the moving truck and stabbing the driver to force him off the road. It's a well done action scene- it shows Rick at his best and now the Allies have taken Negan's Very Large Guns from him. It's a good development that feels earned, after the difficulty suffered in obtaining it.
Overall, this episode benefits from being better focused than the first 3 of the season, it does great character work with Ezekiel and Carol, and advances the war plot while doing so. More like this, please.
NEXT WEEK: We haven't seen much of Negan this season, and that is about to change. Yay.
***1/2 out of 4 stars
What's your thoughts?
Leave a comment below
Popular posts like this
5 Biggest Differences Between The Walking Dead Comics and TV Show
You Probably Can't Name These 80s Horror Movies
The Walking Dead "The Damned" Review
The Walking Dead "Mercy" Review
Top 10 Hottest Women Of Sci Fi
Comments
comments