There's nothing worse than a grown man taking up his cause with his employer through the media or social media or any third party entity.
For the common man, it's almost impossible to take our professional gripes anywhere else other than the four walls of our own home. How Ryan Fitzpatrick a Harvard alum and intelligent player known for his football acumen on and off the field can say something so unintelligent is beyond me. The Jets, dysfunctional or not gave the NFL journeyman a shot last season.
Fitzpatrick went on to post decent numbers, though not earthshattering by any stretch. Fitzpatrick who ranked 14th in total yards, and 10th in passing TDs, still averaged over a turnover per game also went on to hold out in the off season. A serviceable QB is hard to find these days, so the Jets opted to bring him back after one of the most passive aggressive games of corporate chess in recent memory. After bringing Fitzpatrick back – he went on to lead his team to a 1-5 record with 6 TDs and 11 INTs and ranked behind other less experienced and less resourced QBs like Case Keenum, Sam Bradford, Blaine Gabbert and Tom Brady who although he has plenty of weapons has only played half the amount of games.
With capable backup Geno Smith in waiting, the Jets opted to roll with him in Week 7, only to have Fitzpatrick close the game out after a Smith knee injury. After a Jets win Fitzpatrick took to the podium airing out his feelings of Jets ownership, management and coaching giving up on him… the same group of individuals that gave him a shot 23 games ago not once but twice. What Fitzpatrick said was divisive, out of line and unprofessional whether or not it was true or how he felt in the moment. The craziest part, is the Jets may not have even realized it, because of how loose the organization is run.
Fitzpatrick's refusal to take the high road, and be the leader this team needed, will eventually lead to the destruction of the season for the Jets, and possibly Fitzpatrick's career. All is not lost however as the Jet's are desperate with Geno Smith out of the season, and Fitzpatrick gets to play after all. In a week with so many great games, I'm almost ashamed to say this is what stood out.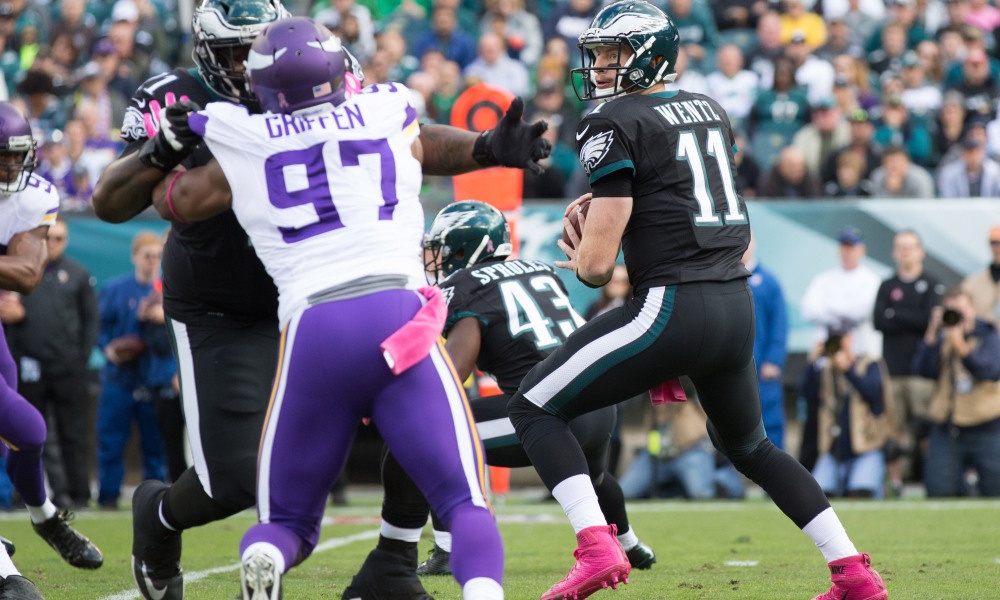 HURRY UP OFFENSE
Props to the Philadelphia Eagles, for exposing the weak offensive line of the Vikings, now the football world has no idea where either team stands.
DeAndre Hopkins consistently caught TDs last season from multiple QBs including Case Keenum, and Brian Hoyer… but can't catch a beach ball with Brock Osweiler… the problem is not Hopkins
Buffalo may have been the only ones to know that playing LeSean McCoy was not a good idea.
No one is more thankful for Stephen Hauschka, and Chandler Catanzaro than Stephen Gostkowski.
I think Ricky Williams dressed up as Jay Ajayi for Halloween – minus the big bale of cannabis
The Fight of the Cleveland Browns, is one of the most impressive things I've seen this season thus far… best winless team in history.
The Jaguars are more deserving of being the goat of the league, but Jalen Ramsey is already one of the best corners in the league… see Amari Cooper's stat line.
Finally, props to Matt Stafford for being awesome this season, and towards the end of last season as well… too bad the Lions aren't coherent enough to put a good defense around him… no running game either.
Have a great week folks.
What's your thoughts on Week 7?
Leave a comment below.
Comments
comments