At a certain point during the fantastic, surprising The Last Jedi, Luke Skywalker (Mark Hamill) says, "This is not going to go the way you think!" He might as well have been talking about the movie, which takes the Star Wars saga in unexpected directions with excellent results.
The movie starts where the Force Awakens left off- the Resistance destroyed the First Order's Starkiller Base (really, it should've just been called Death Star III) but the First Order still vastly outnumbers Poe Dameron (Oscar Isaac), General Leia (Carrie Fisher) and the Resistance and has them on the run, Rey (Daisy Ridley) found Luke Skywalker and wants to convince him to come out of his self-imposed exile to join the fight against his nephew, Kylo Ren (Adam Driver) and the villainous First Order, and Finn (John Boyega), along with new character Rose Tico (Kellie Marie Tran) embarks on a risky, desperate mission to get the First Order off the Resistance's back before they run out of fuel.
Director Rian Johnson (who also wrote the script) gets the big action set pieces right, as they all feel appropriately epic and dangerous, and keeps the twists coming. That combination keeps the story clipping along at a good pace, despite the fact that this is the longest Star Wars movie, clocking in at almost two and a half hours. The narrative does bog down a bit in the middle, when Finn and Rose's mission leads them to a Monte Carlo-like alien casino city; it spends too long on this subplot, but that's a minor complaint.
As is to be expected, there are top notch special and practical effects throughout, especially in the spectacular space battles and an impressive lightsaber fight in the vividly imagined and imposing throne room of the First Order's Supreme Leader Snoke (Andy Serkis, playing a motion capture character as convincingly as only he can).
What isn't expected are certain character deaths, another original trilogy character's return (which had the audience I saw the movie with cheering), the bits of humor scattered throughout, and the relationship between Rey and Kylo Ren- they share a psychic connection through the Force, and though they are on opposite sides of the fight, they also understand each other, which makes their characters more complex and engaging.
Adam Driver and Daisy Ridley are great in their scenes together. Adam Driver is particularly strong, he brings out Ren's anger and pain, and makes Ren more than just a typical mustache-twirling villain.
Rey also has a connection with Luke, whose exile has changed him- he's not the confident, idealistic hero we once knew- he's haunted by the way he thinks he failed his nephew, Kylo Ren, and let him fall to the Dark Side. Mark Hamill has never been better as Luke. Even though he's been broken, he's still warm, decent and has the spark of a hero, and Mark Hamill shows us all of that in a brilliant performance. His scenes with Daisy Ridley on his island, as Rey comes to realize Luke isn't quite what she expected are at the heart of the movie, and they work very well.
It's bittersweet to see Carrie Fisher one last time as the still feisty General Leia.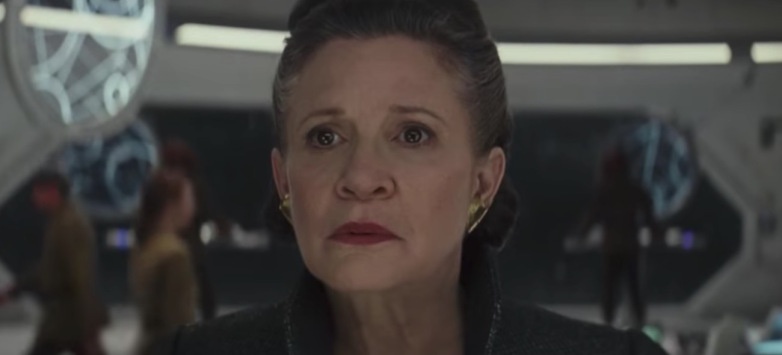 As always, she's the smartest, bravest one in the room, and she's a high point of every scene she's in. She will definitely be missed in Episode IX.
There are great performances (with the possible exception of Domhnall Gleeson as General Hux- man, that guy chews some scenery), exciting action sequences, and it leaves off in a great place for the concluding chapter to begin. Aside from dragging a bit in the middle, there are few flaws. I don't think it's overstating things to say this movie stands with Star Wars and The Empire Strikes Back as the best movies of the franchise. It's that good.
Overall, the movie goes in unforeseen directions, and takes a darker path than its predecessor, The Force Awakens.
*** 3/4 stars out of 4
What's your thoughts?
Leave a comment below.
Popular posts like this
Celebrating The 40th Anniversary Of The Star Wars Holiday Special
The Empire Strikes Back: The Greatest Sequel Of All Time
Every Star Wars Movie Ranked Worst To First
Do You Think You Are A True Star Wars Fan?
Top 10 Hottest Women of Sci-Fi
Comments
comments