The year is 1955. NATO and the Allied Forces have been conducting secret, occult experiments in a bid to win the Arms Race.
They have finally succeeded, but what they have unleashed could tear our world apart. Now one woman must lead the only other two survivors past faceless horrors that threaten to kill or capture them at every turn. They are the only ones left who can fight to close a door that should never have been opened.
Laura Swift (The Snowman), Sally Phillips (the Bridget Jones series), Bruce Payne (Warlock III, Passenger 57), Julian Rhind-Tutt (Lucy), Tom Goodman Hill (Everest) and The Young Ones' Adrian Edmondson star in writer-director Matt Mitchell's "fast-paced and thoroughly entertaining" action-horror The Rizen, invading VOD this January from Uncork'd Entertainment.
Matt was kind enough to do an interview with us: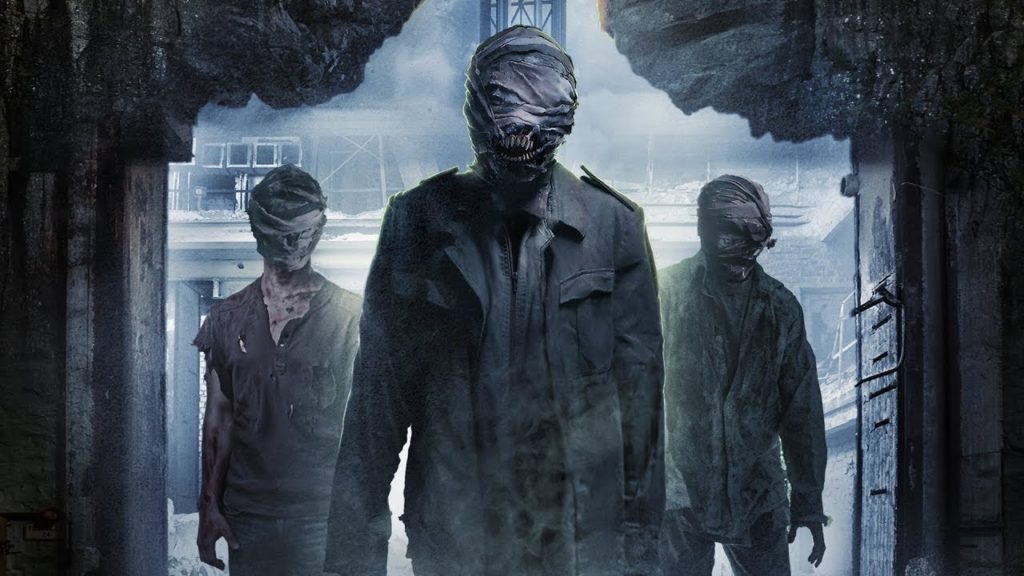 1.Do you remember where you were when you came upon the project?
MM: 'The Rizen' actually started as a ultra-low budget concept in around 2013, where we were trying to come up with a story idea that could be contained to a single location – but would have constant movement. Somewhere we could "trap" our characters, that would have a simple drive for them of either forward or backward. This was originally just a tunnel that characters woke up in, but that very simple concept quickly grew into TWO films – The Rizen 1 & 2.
2. What was the initial appeal for you?
MM: I love the world creation that goes into a sci-fi / horror like 'The Rizen'. The Lovecraftian, cosmic horror, the story that spans about 70 years (across both films), a 50s female protagonist who starts out as a cook and slowly becomes the one thing standing between mankind and the apocalypse… that's all my kind of film haha!
3. How different is that original draft to the script you shot?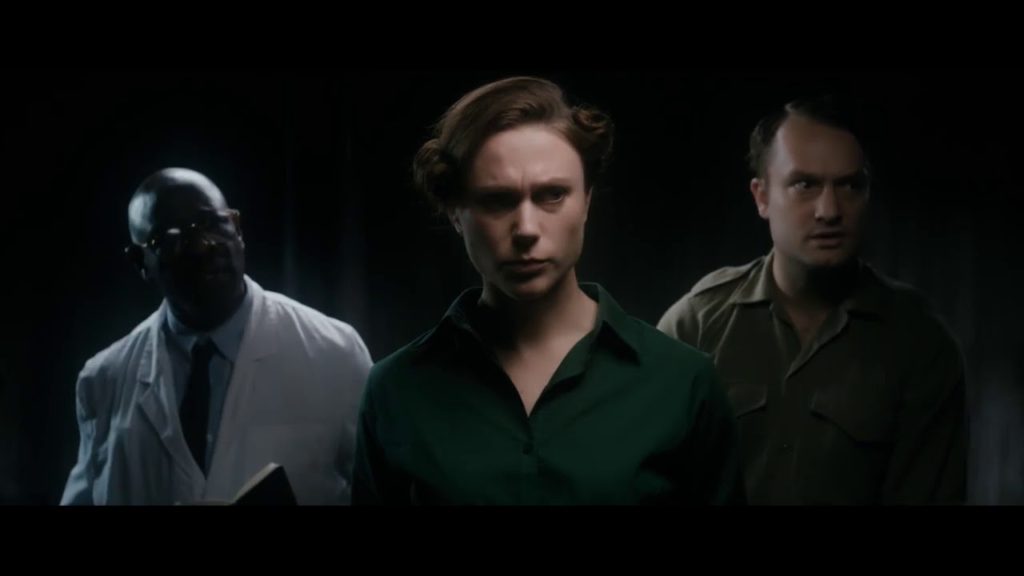 MM: Well, we were making a lot of changes as we were actually shooting – all for the best. For example, Sally Phillips and Ade Edmondsons characters were much MUCH smaller roles in the original script, but as soon as Clare (the films unstoppable champion of a producer) somehow managed to get them interested, I had to very quickly expand their roles and character.
We did that while we were shooting, I'd rush up from set and edit/re-write in between scenes. It was all just as much fun as it sounds, but we're so lucky to have secured them!
4. How long of a shoot was it?
MM: We shot both films (Rizen 1 & 2) back-to-back, which was chaos on such a low budget, but somehow Clare and the rest of the production team managed to pull off miracles on a daily basis to keep us shooting. Making both films like this made the shoot about 6 months. It was hellish, but also brilliant, but mostly hellish, but also brilliant… you get the idea.
5. Was it local? Or were parts of it filmed all over?
MM: We shot almost exclusively in a single warehouse in Kent in the UK. Our Production Designer (Lucy Gahagan) and art department (Isobel Harries) were brilliant at keeping each set looking different and always being one step ahead with the help of our incredible 1st AD (Sarah Pearn).
We did manage to get out of the warehouse a bit though – unit moves were always special days lol! – and we had some beautiful locations; from Camber Sands which doubles as an Alien Planet for us (#spoilers), to an old Gunpowder Mill which becomes a secret military training ground.
6. How did the film perform in the UK?
MM: We've had a great response worldwide, if I'm honest through the London and Sydney Sci-Fi Film Festival/s. One of the things I've been (secretly) worried about, is whether an audience would 'get it'? The film/s are not 'spoon fed' sci-fi and to top that off, the first one is set in the 50s. I was always aware that some people who watched it, wouldn't be able to get on board – but that percentage has been much less than I had thought it would be. There is something really cool about watching it with an audience at something like a sci-fi festival though and having everyone along for the ride laughing and getting into it in all the right places, recognising the references and just enjoying the ride.
7. How important is a social media presence for a film?
MM: We always reply online as soon as we can – we're not a big hollywood production, obviously, so when you speak to us online, it's us, the filmmakers who're replying. I love being able to chat to people directly about the films, and something else I've noticed is that if you chat to people and show them a real person behind the avatar, they get into the movie even more. That's all we want really.
8. What's one thing people probably don't realize about making indie films? It's not easy, right!?
MM: It hellish, but also brilliant, but mostly hellish, but also brilliant… you get the idea. Oh and all the things 'wrong' with a film that you pick up on as a viewer – the filmmakers have got another 200 on top of that. Maybe more.
And when does the job end for you?
Haha never! I'm still chatting to people online and offline about our very first film 'Gangsters, Guns & Zombies'! These features are with you forever, and that's great. They should be. Dragging any indie film across the finish line is an incredible achievement for everyone involved.
9. What's the goal here? Make some money? Get another job? Give the world the next cult classic?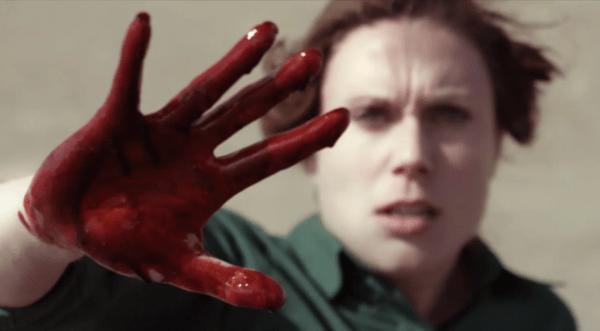 MM: Wait, you can make 'money' doing this?!
All joking aside though, the aim is to make more movies and get incrementally bigger each time. We don't have family in The Industry and aren't super rich so can't afford to fund out own films, this leaves us with one way 'in'… sneak attack, clawing our way up the budget levels until we can't be ignored. It's hard and slow, but that's the plan and we're sticking to it.
10. What do you love about horror movies?
MM: What's not to love about horror movies?! Saying that, I don't tend to like the 'torture porn' style horror movies, but that's just a personal preference. I've always been a horror fan though, I think I remember (way back, when all this was fields!) watching my first 'horror movie' – The Gate.
Don't tell anyone this, but that film had a real impact on what I like to watch and what I like to make. That late 80s indie/horror blew my tiny mind. Thank you so much for a fantastic interview and some brain churning questions. May the force be with us, always.
What's your thoughts?
Leave a comment below.
Popular posts like this
Actor Miles Doleac (AMERICAN HORROR STORY) Talks About His New Exorcism Chiller 'Demons'
'Star Trek' Actor Stephen Manley Plays Adolf Hitler And Re-Writes History In THE TIME WAR
Yaiza Figueroa Takes Us Across The Universe In The New Sci Thriller 'ANTI MATTER'
Go Behind Enemy Lines With The New Sci-fi Action Thriller BATTALION
Sexiest Women Of Horror
Comments
comments