If you grew up in the 80's, then you would remember Elvira.
Today, millions of girls and women worldwide want to look like the vampy Elvira on the scariest night of the year.
American actress and TV 80's horror hostess Cassandra Peterson became famous for her role as the hot Elvira. Born in 1951, she gained popularity on LA television station KHJ wearing a black, revealing gothic dress in the comedy TV show Movie Macabre. Cassandra was also the star of Elvira, Mistress of the Dark, a comedy horror movie released in 1988.
Who Was Elvira, Mistress of the Dark?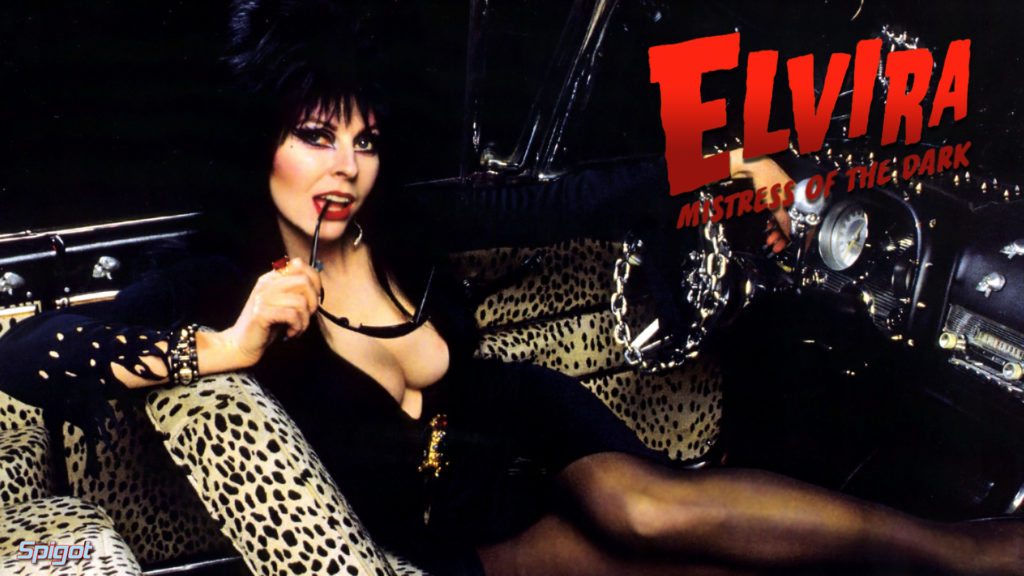 Elvira, Mistress of the Dark launched Cassandra Peterson's career, turning her into the first hottie of horror.
The film was directed by James Signorelli, starring popular actors like Daniel Greene, W. Morgan Sheppard, Susan Kellerman, and Jeff Conaway. The plot is simple yet surprising and full of action.
L.A. TV horror Elvira quits her job after being sexually harassed by her boss. At the same time, she's struggling to raise $50.000 for an upcoming act. Soon she finds out that her aunt has died and left her a mansion, a recipe book, and a poodle. Elvira travels to Fallwell to claim her inheritance. Here she discovers that she actually got a punk rock dog, a witch's cookbook, and a haunted house.
Elvira's revealing outfits and seductive attitude make her a target for the puritan town folks. She also has to deal with a creepy uncle, a cute cinema owner, and an evil guy who wants her magic cookbook for himself in order to rule the world. The movie is packed with visual breast gag, funny one-liners, and arousing jokes. It's the perfect recipe for Hollywood success!
Elvira, Mistress of the Dark lasts about one hour and a half. The film is colorful and has a quick pace that keeps you entertained. On top of that, the camera is always on Elvira's cleavage and backside, which grabs male attention instantly. This hot comedy horror movie had a total budget of $7,500,000 and received several awards, such as the Fantasporto Best Film. Elvira's Haunted Hills, the official sequel, was launched in 2001.
Elvira – One of the Most Iconic Halloween Stars
Cassandra has also played Elvira in Movie Macabre and the home video series ThrillerVideo.
Over the years, she appeared in comic books from Eclipse Comics, DC Comics, and Claypool Comics as well as in pinball and computer games. In 2012, she became an investor in the company that hosts Comikaze Expo.
The popular actress appeared in hundreds of movies during her career, such as Allan Quatermain and the Lost City of Gold, Diamonds are Forever, Pee-wee's Big Adventure, and Red Riding Hood. Her schedule is booked before and after Halloween, so you can still see her on the big screen or at local shows.
She has even recorded several songs and albums like Vinyl Macabre and Elvira and the Vitones 3-D TV. Today, she's just as beautiful and charming as she was at the beginning of her career.
What's your thoughts?
Leave a comment below.
Popular posts like this
5 Tantalizing Tricks To Get Her To Wear That Halloween Treat
You Probably Can't Name These 80s Horror Movies
The Ultimate Playlist For Your Halloween Party
Hottest Women Of The Walking Dead
Top 10 Vampire Movies Of All Time
Comments
comments