Howard J.Ford is the director of the new Taken-like action thriller 'Never Let Go.'
The film, now available on most streaming platforms, features a beautiful woman (Angela Dixon) in the role usually reserved for Liam Neeson . It tells the story of a single mother on vacation who takes the law into her own hands to take back her abducted child.
Howard was kind enough to do an interview with us: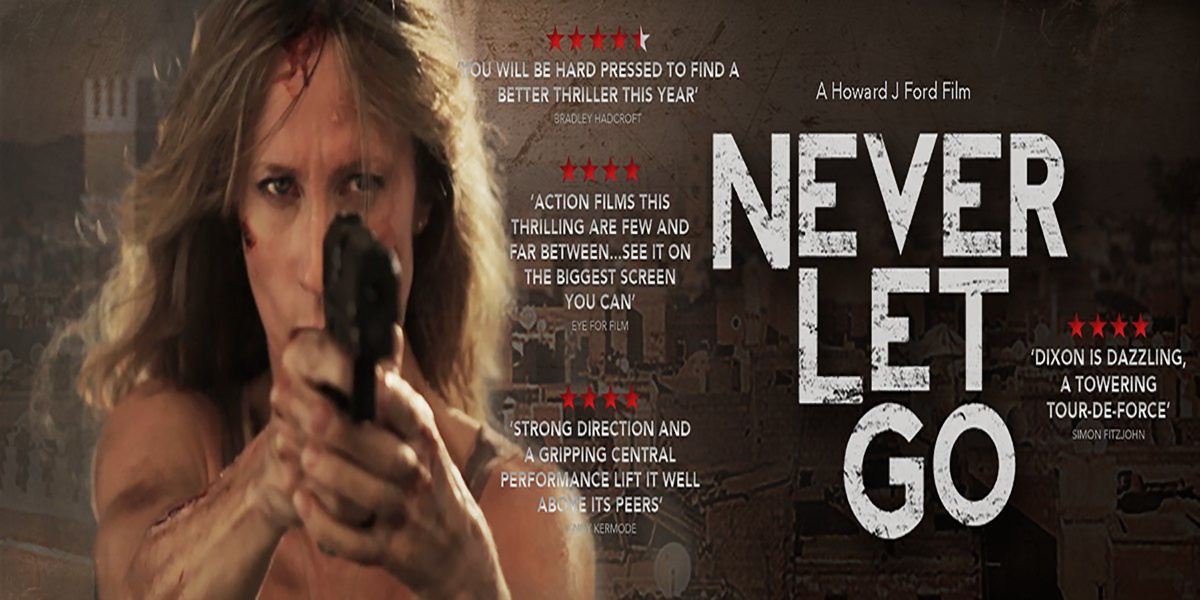 1. Wonder Woman. Atomic Blonde. Never Let Go. It's a good year for female-led action movies!
HF: Yeah I know, great isn't it! Long may it last and I'm super happy to be part of the wave of strong cinematic women blasting onto our screens! I'm really interested to know if women and men alike support Never Let Go – if it's a success and people pay to check it out equally as much or more than a male led film in this thriller genre, then we can do more. If not, then you won't be able to have the above opening question in a couple of years which would be extremely sad!
2. Was it important to you to have the savior of the film be female?
HF: Absolutely, it had to be a woman. It's amazing to me how many films where there is a child kidnapped revolve around a male when there is the incredible motherly instinct from the one person that has not only carried this being within her for 9 months but gone through the pain of birthing it into the world before the cord was cut. I nearly lost my own son, believing he had been abducted so I know what it means to have that feeling of dread kick in, but surely with a woman we can times that by 10! That is what I wanted to explore with Never Let Go.
3. What were you looking for in your lead?
HF: I needed someone who was first and foremost a great actress; someone who could go to the depths I needed to portray the range of complex and visceral emotions involved but also someone with believable physical ability (Ie someone who looks like she could have had combat training in the past) but additionally be of an age where having more children in the future seems less of an option. She had to have everything against her to overcome and in fact Angela Dixon was the only actress I had ever met who had everything I wanted and I actually wrote the script with her in mind. I even booked her on a flight to Morocco before I told her she had the part! I don't regret it for a second.
4. Did the character read any differently on paper than how Angela ended up playing it?
HF: In a way, Angela not only captured it all but I got even more than I had on paper in terms of the emotional range. It was clear to me when Angela got on board she knew she was really going to have to give it her all. It was a hell of a responsibility and I could shoot with every trick in the book, but if the central performance didn't work it would all fall apart. She also had fabulous actors around her in the supporting roles too. The film itself has a fair few differences to the script but that was due to budget and resources.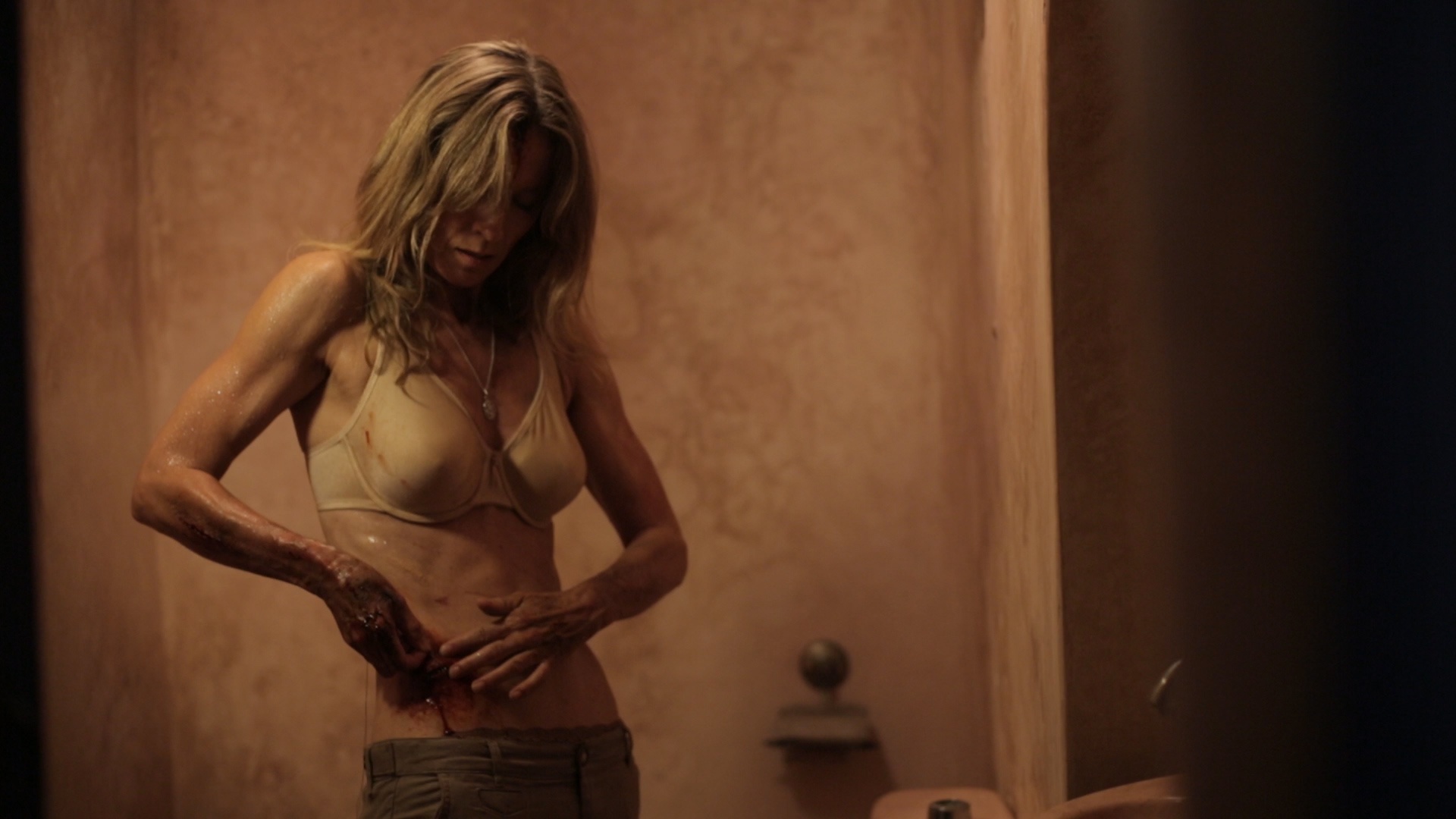 5. Was there any concern at all that this would be quite a grueling endeavor for her?
HF: Definitely! We absolutely knew it was going to be gruelling and we were not wrong. Once things get going, she is running barefoot and jumping across the roves or Marrakesh bare foot on corrugated iron with glass and all sorts everywhere. It's in the searing heat or North Africa and she has to sprint through the city, across the dusty rural outback and we had all sorts of issues in the crowded medina's, particularly with people thinking she was cut, bruised and battered for real but I hope it all adds up to give the audience a very different visual experience. I really tried to shoot it in a way that you can feel the environment as well as the drama.
6. Have people all over the world seen the movie? Do those from different races or cultures react to it differently?
HF: Yes, oddly it's coming out in America almost last. It's now out in 27 countries and dubbed into 7 languages and I am so pleased to say we've had such stunning reactions to the film from audiences of all kinds. I have to say, mothers are particularly affected and men identify to different aspects than women. It's really interesting what comes up. I've tried to put a lot of layers in the film that are much deeper than you might expect. It's not totally reliant on the action, I wanted something a little more real-life and I'm curious to know how American audiences react to Never Let Go – we got voted best independent film of 2016 bat the National Film Awards beating Multi Oscar nominated Carol and Sean Penn's the gunman to the title which was jaw dropping for us. Then getting picked up by Icon in the UK, followed by Sony Pictures in The US & Canada, it's been an incredible ride in every respect!
7. What part of the movie has viewers talking the most?
HF: Mainly people say they are gripped and tense and really feel for Angela's character Lisa and wonder what they would do in her situation. We have had some parents say to us that they wanted to see the film but because they have young children they don't know if they can or want to 'go there'. My son whom I nearly lost, an incident which inspired the film. He is actually in the film and I had lots of other parents at the school who became aware of Never Let Go and that I was the director of it. It showed in the local Curzon and some saw it pop up as a new release on Netflix and many said, good luck, I'd love to watch it but I can't, you know, what with my little one/s n all. Without pushing them, I'd say, just give it a go, grab a large glass of wine and let it unfold, just look at it and see where it takes you. If after 20 minutes if it's still not for you, then walk out or switch it off and I'll refund you! Every single one came back and said they were extremely glad they stayed with it. Some actually experience something quite profound and were moved in ways which was really touching to hear.
8. Is there any element in the movie that you're surprised works as well as it does?
HF: There is a 'twist' in the story which of course I won't give away, but I was hesitant in the writing of the script to go with it. I was worried I was stretching things too far, but I'm happy I stuck with it as it's an element that many really felt when it unfolds. To be honest, I'm just surprised we got the film in the can at all. We had SO many challenges from death threats, to threats of arrest on location and the logistics were hugely challenging. But I'm my own worst critic and I get frustrated by many things that I could not do exactly as intended, but then no film is perfect and perhaps some of the chaos on location adds to the raw energy and realism! You decide…
9. What's on your dance card for the rest of 2017?
HF: I'm attached as a director to a female driven climbing thriller. Hoping to shoot that soon in the mountains of Italy very soon. I've also written a supernatural thriller that's been bubbling away for some time and I've been asked to direct an Alien Invasion film in the US, for which I now have my US visa, but that'll be next year! For now I just want to thank you and everyone for their support with Never Let Go, it means the world in this tough independent film business!
10. Where can we see NEVER LET GO?
HF: You can watch the film now on Netflix.
What's your thoughts?
Leave a comment below.
Popular posts like this
Director Anthony Germinario Talks About His New Revenge Thriller 'Bad Frank' Starring Tom Sizemore
Bruce Willis Teams Up With Hayden Christensen In The New FIRST KILL Trailer
Tom Cruise Is Flying High On Cocaine In The New AMERICAN MADE Trailer
The New MUMMY Trailer Goes On Cruise Control
See The New Trailer And Poster For DUNKIRK
Comments
comments