Photo Credit: Stars and Stripes | Dale Dye
When your filmography includes collaborations with Steven Spielberg, Tom Hanks and Oliver Stone, you know it is impressive.
You may have also seen him in Casualties of War, Under Siege, Mission: Impossible and The Pacific. However, the man behind these roles is even more impressive.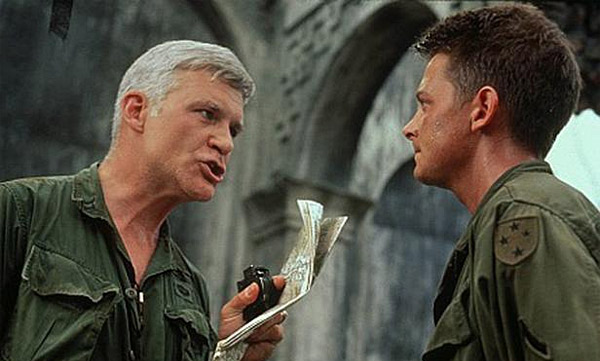 Meet Captain Dale Dye, a U.S. Marine veteran who was awarded the Purple Heart Medal three times while serving in Vietnam and Lebanon. Since 1984, his company, Warriors Inc., has been training actors in war films to portray their roles realistically and provides research, planning, staging and on-set consultation for directors. Dye is now making his directorial debut with "No Better Place To Die."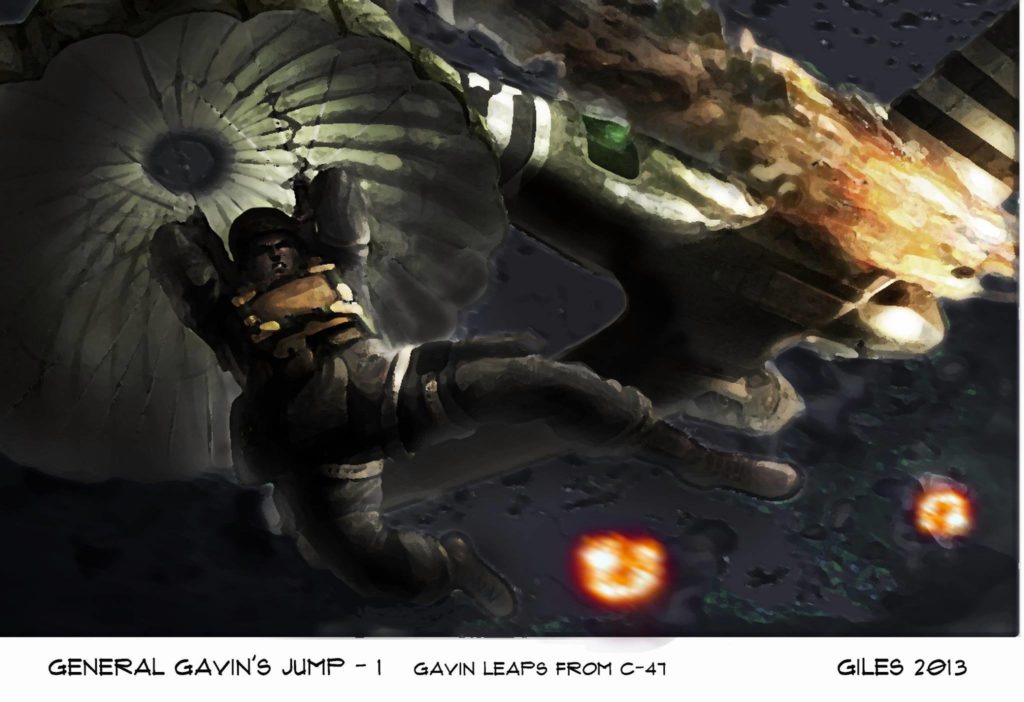 The film takes place during the historic events of the Normandy Invasion in World War II and tells the story of American paratroopers of the 505th Parachute Infantry Regiment. Their mission was to capture and defend the La Fière Bridge under impossible circumstances. Scattered behind enemy lines, outnumbered and under intense German fire, a handful of brave soldiers let nothing stand in the way of accomplishing their mission. This obscure battle, which killed 150 paratroopers in less than 24 hours, essentially saved D-Day for the Allies. This bridge over the Merderet River was critical because U.S. forces would have been trapped inland from the Omaha and Utah landing beaches.
"No Better Place To Die" also makes history because it will be the first film composed mainly of veterans, both behind and in front of the camera.
We spoke with the film's producers Tom Costa and Scott Levy (24: Legacy, Medal of Honor: Warfighter) to tell us a little more about the movie and "Operation Ivory Tower."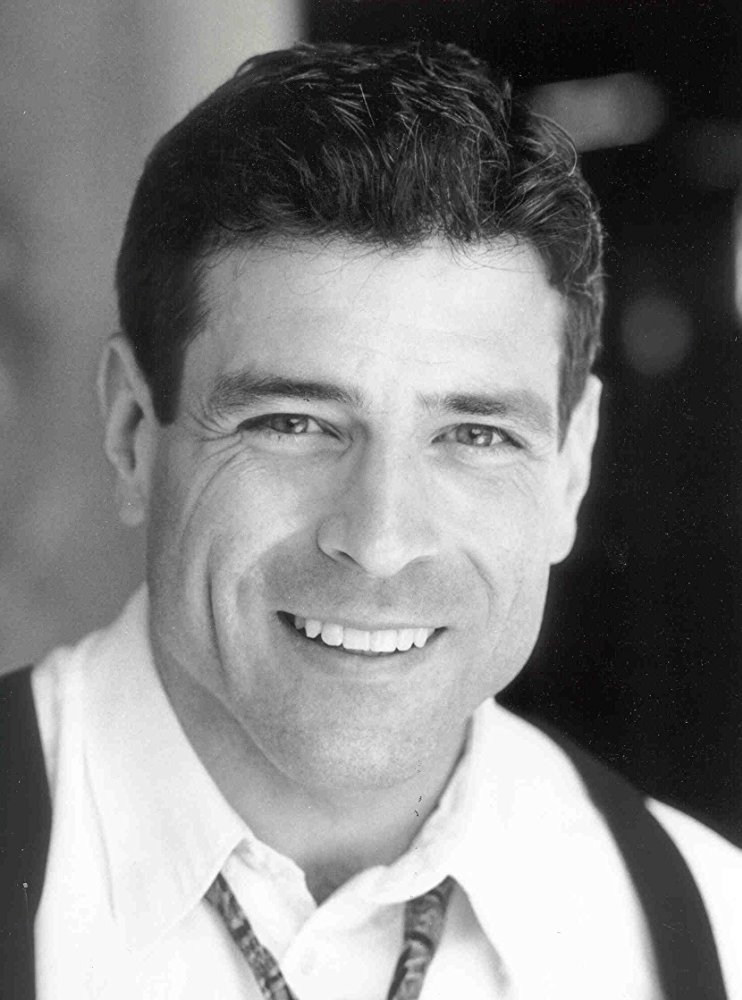 Photo Credit: Tom Costa


Photo Credit: Scott Levy
Early buzz about the film has been very positive; can you tell us how you got involved in the project?
Tom: This is Tom Costa speaking. I got involved in the project by, like I mentioned before a former SAW gunner notified me of the project. He told me that they were making a movie about our regiment. So when Dale Dye was involved, of course, I obviously knew Dale Dye and then when I found out the movies name, 'No Better Place to Die', that rings a bell. I looked at my bookshelf and sure enough I had the book and it was signed by Bob Murphy, he was one of the first pathfinders to jump into D-Day, good friends with my dad, gave me a letter of recommendation to West Point. I was serving in an alpha company, 2505. Not just alpha company, but 82nd.
I reached out to Scott and I said, "Hey Scott, can you put me in touch with Dale?" Because Scott had a connection. I called Dale's manager. I think Scott's connection got me to Dale. I met with Dale and I said, "I think I can help you out with this because I might be able to get this whole thing funded." Long story short, I knew a billionaire and we presented it to him and went through probably several months of negotiations and it was pretty much a done deal. The very last minute they did a bait and switch. I don't want to get into that but we parted ways amicably and they still potentially may be funders of the project but at that point in time we kind of reverted to more of a guerilla attack because we didn't want to take it through the Hollywood system.
Dale has been trying to do this for a few years through the system. Basically he's run into various roadblocks. That's where we kind of formed a little nucleus of a team mainly comprised of veterans, Scott being one of them, he was a producer. We decided to go the Indiegogo route. We set a target, we met our goal. One thing that far exceeded our goal was the media buzz, what was created from that site. We got the 82nd airborne division behind us, the 505. It's becoming this juggernaut. We're now having big industry people that are very interested. We've had a CEO of a fortune five company called the other day who's got a couple of production companies. We've got A-list talent that's reading the script. We think that this could be a classic and a first of its kind.
This is going to be the first movie primarily made by veterans, for veterans, and getting back to veteran causes. When I say being made by veterans, by veterans behind the camera, and also veteran actors because there are a lot of vet actors in Hollywood that they just don't get a break. There's definitely some discrimination in Hollywood against veterans. That's a good segue to turn it over to Scott, because he wrote a fantastic article illustrating those points.
Scott: Tom and I had done a movie about 18 years ago. We were both acting in this little movie. It was a little military thing and it was just kind of a fun whatever. He played the drill instructor and I played one of the recruits. It was cool, it was great. 18 years ago it was this little project. This guy had the foresight to actually hire vet actors, being far ahead of his time. Life had happened on and off and we got back in touch. I'd met Dale probably about five, six years ago. This was after No Better Place to Die had sort of fallen through for him. He was trying to go the traditional Hollywood route.
I met Dale about six years ago at a veterans in Hollywood type of conference meeting, whatever. It's a very small community. Everybody is one degree of separation away from everyone else, and we were able to make that synergy work, like Tom was just saying. Now here we all are together. I had met him when No Better Place to Die. He had been trying to go the traditional route and it had fallen through, the traditional Hollywood way, which I'm so thankful now, I think we all are, that it did fall through because it would never have been the film that it's going to be when it comes out. We were able to make that synergy work.
He had been talking about this movie, "I have this thing, and it didn't work out, but I want to get it back off the ground." So when it came up and Tom called me, you can imagine how thrilled I was. Now here we are. I believe you're familiar with my article, infamous article. That's thing really hit a nerve with people. It was something I wanted to write for years and years and the fact that it has touched so many people's, such a nerve with so many different people, I couldn't be more thankful. I feel like it's really sort of united us. It's been one of the factors that's united us that's helped.
Tom and I, like I said, we were talking about this last Saturday. We were talking about how it's not just vets. There are a lot of patriots and people that didn't necessarily serve in the military, but serve none the less, whether it's as a fire fighter, as an EMT, as a whatever, as a cop, or just people that serve in their own way by donating their time and by helping vets and helping active duty guys and putting together care packages. There's a million different ways to serve. I think we're really galvanizing that group of unserved and underserved people in entertainment. Nobody is making entertainment for these folks. Dale calls them the fly over state, the flyover people. I think that's how Hollywood and New York look at them. It's really gross, if you ask me.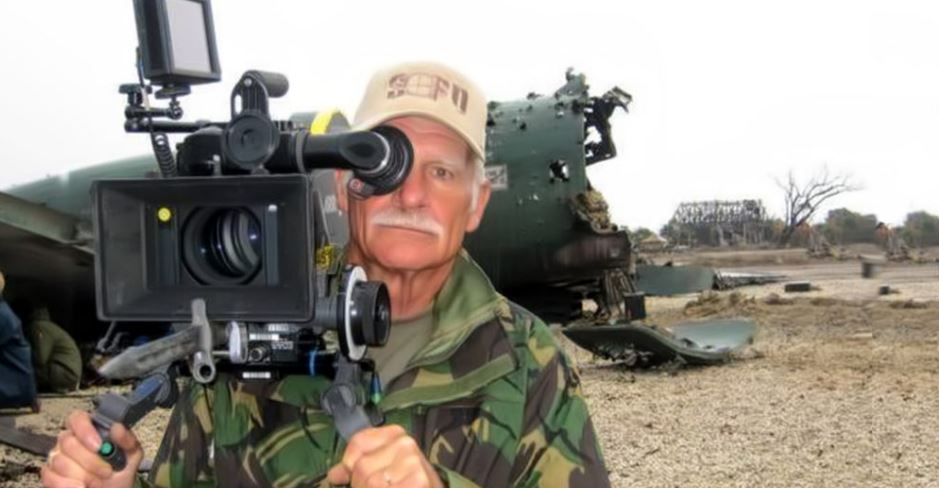 What goes on "behind the scenes" in producing a big Hollywood feature film?
Tom: I could talk to you all day about that. It's a very complicated effort that requires many people. Obviously the bigger the budget, the bigger the staffing. If there's special effects, you've got special effects folks. There's a lot of … It's very critical to planning. That's the pre-production phase, where you do the planning way ahead of time. The storyboards, the scenes. You want to map out what the scene's gonna look at, like the different camera angles, everything, so you don't just show up with your thumb up your butt, you actually have a plan how you're gonna shoot it. You can change how you're gonna shoot it on the fly, but you've got to have a plan. You have a whole support crew. You have your camera crew, your DP, you've got your directing crew, your first AD, your director. You've got everything, lighting, makeup, wardrobe, it just goes on and on.
Scott: Especially shockingly, if I may interject real quick. It's actually shockingly similar to a military operation.
Tom: That's right, you have your operations order in the military, here's your op order, and the op order's broken down into different segments. It's the same thing on a film. If all the elements work together and you have a leader of each of the elements, then things come together smoothly. You always try to have contingency plans when stuff goes wrong, because stuff will go wrong, Murphy's Law. You have to be prepared for that. The people that aren't prepared for when stuff goes wrong, that's where you get into overtime, over budget, and issues. There's a lot of planning that goes on, but the actual shooting of a scene, it actually, when all the elements are in place the crew, they get the various people ready and ready to go, it goes pretty smoothly.
Some directors will do only a few takes and they're good with that, where you have other directors that want to have like 20-30 takes from every different angle, and play around. It just depends. I'd say on average you might have one shot that might have five, six takes, and that's it. Then you move on. Nothing's linear. You can start shooting the end of the movie and the beginning, and then shoot the beginning of the movie at the end. You have to plan things that make sense as far as where you're gonna be on location, where's your next location, the time of day, the weather, everything has to be planned. The planning is probably the most critical thing in the shoot. If you have poor planning you're gonna have a poor shoot and you're gonna be over budget. I know that's kind of a long …
Scott: I couldn't agree more. There's a saying in the military, the more we sweat in peace, the less we bleed in war.
Tom: That's right.
Scott: You could not be more apropos of this process as well. It is shockingly similar the way a good set is run is really nearly military in precision, from logistics to like Tom said, the way departments are broken down. It's such a good fit for people coming out of the military that it's shocking. Other than if it's for political purposes, it's shocking that Hollywood wouldn't recruit straight out of the military, that community.
Tom: That's why you hear these stories all the time of, "This movie went 20 million over budget," or, "This movie went two weeks longer than it should have." It has to do with poor planning, that's the bottom line, and poor organization. You hear about these stories all the time, "This person quit on set, this director quit, this AD quit." Because shit's not run tight. In the military option they'd be relieved of their command. Whether it's a Sergeant, Lieutenant, or a Private there's little room for error. In Hollywood you've got the money, you're backed by a studio, you go over budget you take a lot of crap and you might not work tomorrow, but it happens all the time.
The battle for the La Fière Bridge has been mostly buried in the history books. Why do you think this story is so important to tell?
Tom: I think it's a really great point that you bring up. It happened on such a momentous day where you have these beach landings, D-Day. But, why is it so important? It's so important because this group of paratroopers and glider men, they essentially prevented the Germans, the causeway on La Fiere Bridge from reinforcing Omaha and Utah. If the Germans would have substantially reinforced those beach heads and pushed back the allied forces D-Day could have turned out completely differently. It's easy to understand why that battle was somewhat lost in history because it was such a momentous day. You're talking, God knows, I can't even … I do the numbers, but how many airplanes and how many ships? It was just a logistical feat that we pulled off.
I won't say people forget, but what I'm saying is it's what happens on the ground. These guys were behind enemy lines. There was 150 people killed easily within the first 24 hours. That's a lot of people. It was like people were stepping over bodies. It was like the causeway was suicidal. It was just unbelievable. they were not gonna let the Germans cross the bridge. They were not going to allow them to reinforce the beach heads. They were going to die, and they did, many did. It was an unbelievable heroic battle. It's billed as one of the bloodiest small unit battles in history. You're right, most people don't know. I didn't know about it for the longest time until I read Bob's book. It's just amazing what these guys did. That's the kind of story that needs to be told today, the sacrifice.
We could be faced with a very serious war coming up. The world is a very tremulous place in many different areas. People have to understand the sacrifice and the heroism in the past that … Wars recently have been fought, I hate to say it but more from a bureaucratic standpoint, not from a warrior mentality. Quite frankly, Desert Storm I under Schwarzkopf was run with warrior mentality.
You use overwhelming force and you just shock and awe. That's what happened. They basically just steamrolled over the Iraqis to the point where they just threw up their hands. They're like, "We're done." What was it for? We need to get back to having warriors like Schwarzkopf command the military in the upper officer and NCO and instill in the soldiers that yeah you guys could die and this is what your forefathers did for the country, that's why America's so great. The timing I think is very apropos if you will. There's a lot to this movie that meets the eye. I just think it's gonna be a classic in all respects. I know that was a long winded answer, my apologies.
Scott: That's good. That brings up another really good point that I think about all the time which is that this was one of the last battles that we fought where freaking generals were in the fight, on the ground engaging the enemy. Think about that. That's hard for us to even believe. Think about that for a second. Generals. That doesn't even exist. That hasn't existed since then I don't think.
Tom: General Ridgeway, right there in the fight. It's pretty amazing. You have senior leaders, majors, and Colonels leading their men and getting killed. Major Keller. These guys were not afraid to lead men into combat on essentially suicide missions, which is the whole the bridge and the causeway. It's a battle that needs to be told from many different standpoints, but realistically it was a very pivotal battle which helped essentially, I don't want to say saved D-Day but it was instrumental in allowing D-Day to be so successful.
"No Better Place To Die" will be an epic war film. How does it feel that it will be made by veterans?
Scott: Please. This has been such a long time coming. I always refer back to 1986 or so when Platoon and Full Metal Jacket came out. It was a double whammy, those two amazing films made with two of America's favorite veterans, who both happen to be Marine Corps vets. None the less it doesn't matter. These are the two guys, our representation in Hollywood. You would think, after these two films became so successful critically, commercially, on every level, you would think that Hollywood would look at that situation and go, "Huh, what was it about those two films that separated them from the pack? Why do people repeat the lines over and over again? The dialog?" Everybody knows the dialog from those films. Everybody uses those as touchstone films of what makes a war film great.
You would think that they would have in the 30 years since 1986-87 have asked themselves those questions. Unfortunately they never did. If they had then we wouldn't be having to do what we're doing now which is create this sort of new way of thinking. It kind of should have been the whole way of thinking all along. To be at the tip of the spear of that is very bittersweet for me. It's very exciting and very … I feel so honored to be a part of that. The other side of me that's been in the business for 20 years, scraping and clawing, and having to eat ramen noodles for the first 10 years of my career. I go, "Man, I wish it wouldn't have had to be that way." But, it was, and it is. So we're doing this because nobody else did. In that way it's a fucking honor, but I wish it wouldn't have had to have happened this way.
Tom: I couldn't have said it better, Scott. The people that did see the value capitalized on it. Steven Spielberg's not stupid, he hired Dale Dye. Tom Hanks too. That's his stamp right there, that's his mark. You let the guy run loose and who knows what's gonna happen? It could be even better than those pictures, who knows? Absolutely, I started out long, long time ago as an actor, like Scott had mentioned. It got frustrating. I tried to get on Black Hawk Down, you kidding me? I was an airborne ranger, I couldn't do that. I was ranger qualified. I wrote a letter, stapled a ranger tab on top of the letter, dropped it off at Bruckheimer's office, Bonny the casting director, and then Wrigley Scott's office, I got a call the next day.
Unfortunately I had to audition for a privates role, when I would have been a major in the military so it's kind of ridiculous. The point being is they easily look over that because a lot of these people, A) They think you're not a creative person because you're a soldier, or war soldier, and therefore you can't be creative. I don't know, but I've known a lot of creative soldiers. The best soldiers are the most creative soldiers because they find a way to get things done. They don't have to be thespians to be creative. I know a lot of actor veteran friends that are fantastic actors, but there definitely has been discrimination with some people. I say some, but a lot of people in Hollywood, where they just assume, A) This guy probably doesn't have a creative bone in his body, he can't possibly be a good actor, or writer. And B) He must be some ultra conservative gun toting nut job. Most of Hollywood is very liberal.
Scott: For the record I am a gun toting nut job. For the record.
Tom: For the record, exactly. To be working on a film with like minded kindred spirits was great because I have a certain bond with all veterans, whether they're Marines, Air Force, Army. Obviously I'm partial to the Army and the Marine guys, but still veterans are veterans and they generally think very much the same. It is an honor, and it's very much an honor to work with Dale Dye. He's a master. He's a master at what he does. Give him the canvas to do whatever he wants to do, I'm just going to be starting by what he can do. He's not going to be shackled.

The film tells the story of brave Americans who answered the call of duty during World War II. Can you tell us a little more about "Operation Ivory Tower?"
Tom: The Ivory Towers are symbolic of Hollywood, that only the few select get to pass through the gates of the Ivory Tower. Usually the people that get to pass through those gates are people that have already had a connection in Hollywood through nepotism. Nepotism is very rampant in Hollywood. If you look at an actor I would say, Scott trust me here, I would say probably 80-90% of every actor have some connection already in Hollywood, whether their dad, or their mom, or their brother, somehow connected in Hollywood.
Scott: I would say not just actors, the whole industry.
Tom: The entire industry. For a veteran from Kansas, or wherever, that has no connections to Hollywood, it's very difficult. He's got two strikes against him already, or her. We want to bust the gates open of the Ivory Tower and show that the people within the castle, if you will, that they're ignoring this huge market of patriots, of veterans, of active duty soldiers. People that they may not be ultra conservative but they are middle of the road or servant leaning, basically just people that make America great. There are liberals too that love what we're doing too. It's kind of like this huge segment of America, middle American if you will, that's been ignored by Hollywood. They want their money but they're ignoring them on content that middle America wants to see, with the exception of what middle American kids want to see, Cars and whatever movies that appeal to all kids. Generally speaking …
Scott: Spiderman 15.
Tom: Yes, Spiderman 15. The Ivory Tower in Hollywood, the gates of the Ivory Tower are very hard to get through if you have no connections. When I came to L.A. I knew nobody, and I was a veteran, and I had no connections. I still was able to make it to a lot of things, but it was not easy because I didn't know anybody. I struggled, should I put that I was ranger qualified or a jump master at West Point on my acting resume? I went back and forth. I took it off, put it on, took it off. I had one casting director say, "Oh, so you were a military guy?" Sarcastically. I said, "Yeah, I was, very proud, I was a paratrooper." I could just see them with the smirks on their face and I knew I wasn't gonna get a call back.
That attitude has to change. It's going to take a long time to change, but I think if we show Hollywood, through the success of this film, that middle America has come out and they voted with their dollar, they shouldn't ignore middle America and they shouldn't be so opinionated in their political beliefs when they get up on the podium. I respect the actors the most that keep their mouths shut, that you don't know their political beliefs, you don't know where they stand, you just love them as an actor for how they transform themselves in each role. Anyways, that's kind of the analogy of the Ivory Gates of Hollywood.
Scott: Nothing to add there, that was perfect.
How can our readers help?
Tom: That's was just funny, I was gonna say the exact same words, they could help in many ways. The best way is obviously the easiest way is to share and like our posts, get people buzzing about it, tweeting about it. We still have our Indiegogo campaign going; any contributions are definitely appreciated and will be noted. There's some cool perks. Everybody's entered into a raffle and people can, if they're chosen … I forget how many we're choosing but they fly out to Hollywood and they're just gonna have a blast. They're gonna go to the range with Dale and the producers, shoot some guns, there's an after party, the premiere with the actors and just basically have a blast. That's anybody, somebody who puts in $10 has that. A lot higher of a chance than winning the power, winning the lottery.
The point is we want people to feel good about what their contributing to. Every dollar counts. We're very fiscally responsible people. We value that contribution because we know some people, starting with $10, that's a big deal. Other people, they've contributed, we've had people contribute $505 for the 505 Parachute Infantry Regiment, or $82 for the 82nd Airborne. It's great to see the support. Those are two ways. There are other ways. If they know high net worth individuals that think that they would want to get involved in this project, send them our way. Scott, you want to add on?
Scott: No. Those are certainly the top three ways they can help. Particularly sharing. As Dale always says, we don't want to be in an echo chamber. We don't want to be just patting ourselves in the back and only talking, we don't want to be preaching to the choir. We really want to get everybody involved, everyone who is like you say a kindred spirit, everyone who's like-minded. We want them to know that this project exists. We want them to know that people still care, that people still love and respect our heroes from the beginning of time to World War II to now. We want them to know how much we love our country. We really need to counter the mainstream media narrative. Sharing this stuff, getting it out there, starting the buzz, talking to your friends about it, telling somebody about the battle. All of those little things, they help. Of course dollars help us get the film made but all of those things are equally as important.
Producing this film will be a huge and expensive logistical challenge.
NO BETTER PLACE TO DIE is not a small budget film, though by Hollywood standards it is on the lower end. This is why we teamed up with Captain Dye and his team. The Old Man Club has over 13,000 members worldwide, and your donations can help get his project off the ground.
Captain Dye is counting on your donation!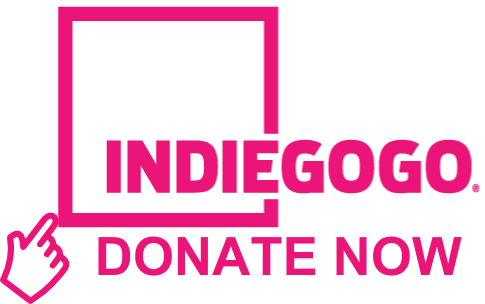 Other ways you can help Captain Dye.
If you could make some noise about the film on social media, that would be outstanding. With your assistance through donations and social media support, NO BETTER PLACE TO DIE will become one of the greatest war films of all time.
What's your thoughts?
Leave a comment below.
Popular posts like this
Director Anthony Germinario Talks About His New Revenge Thriller 'Bad Frank' Starring Tom Sizemore
10 Classic Movies Every Man Should Watch Before He Dies
The Greatest Movie And TV Cars Of All Time
Top 10 Arnold Schwarzenegger Movies
Top 10 Bond Girls Of All Time
Comments
comments