My Interview with the Vampire: Brooke Lewis
Brooke Lewis has appeared in front of the camera in dozens of movies and television shows such as iMurders and Quintuples. She's also done some amazing things behind the camera as a writer and producer. If that's not enough, Brooke is also an author, host of a successful TV Show (Ms. Vampy) and a certified life coach and dating expert.
When I first approached Brooke for my "Interview with the Vampire", I learned that we both had something in common; we grew up in the tri-state area. This may explain why this straight shooter is the sweetest celebrity in Hollywood.
Brooke was gracious enough to do an interview with us:
1. You began your career with a role on the TV series "One Life to Live." When did you decide that acting was something you wanted to pursue?
BL: I love this question Christian because I knew very early on that I was destined to be in the acting world. As a child, my parents were divorced when I was two and I grew up literally sitting in front of the TV, talking to the characters on TV and I was actually a shy child, so I started studying acting and taking acting classes, drama classes, that was my thing. I was clearly not athletic so I had to turn to something and I started taking acting classes and writing classes at a very young age.
I kind of always knew in my heart and it was the thing that sort of brought me out of my shell, like sports do for a lot of guys, I think that was my thing, acting, and I was really emotional so I knew. I was actually taking acting classes and doing community theater in Philadelphia and New Jersey when I was young like in high school. Then in college was a theater major for two years before I decided to go to law school and then I said forget law school, I'm going to follow my heart. Went straight to New York and booked Tony and Tina's Wedding immediately and I was so lucky and I did that show equity contract for three years, seven shows a week.
2. You have won many film awards. How does it feel to be respected as an actress?
BL: Well, I am doing something I love and it's so much blood, sweat and tears and hard work that people don't realize what goes on behind the scenes. But, thank you for saying I'm respected and to be honest I'm a straight shooter, come on, I'm a Philly Jersey girl, no matter where I live even here in La La Land, right? You say respected and that means the world to me but I don't always feel respected. I feel like I have paid my dues, I have earned my keep in the entertainment industry and so it's so great to answer your question, to be rewarded.
It's such a great validation especially when it comes from the film and TV community, especially when it comes from my acting peers, and the film community peers, because again what people don't see is the blood, sweat and tears it takes to even get to the smallest place in this industry and especially in Hollywood. New York was a bit easier for me when I was young and so to have those accolades and I like to call them rewards instead of awards, it's amazing. It's amazing because it really does … Like I said, it sort of validates what I worked so hard for and that's the thing I love the most.
3. You have been honored as "Scream Queen of the Month" and star in your own TV Show Ms. Vampy. Would you consider yourself a horror fan? If so, do you have any favorites?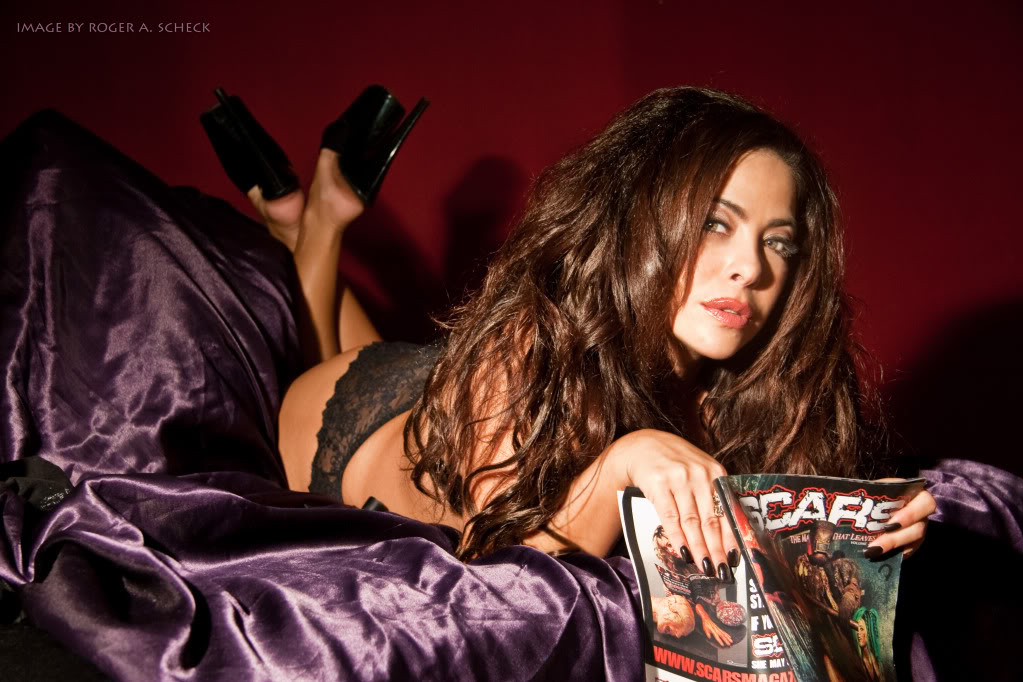 BL: Yes, I am a horror junkie; I have been a horror fan/fanatic since childhood. I grew up obsessed with vampires, i.e. the Ms. Vampy birth and creation as an adult. I grew up in the 80s, I was an 80s girl and I was watching all, which to the second part of the question, all my favorite 80s films. Like I'm a hardcore late 70s early 80s horror fan from Texas Chainsaw Massacre to the original Halloween and Friday 13th to the original Prom Night. Notice I say all the originals because I really take issue with a lot of the remakes. Those are my jam, the 80s horror films. I also love The Shining and a lot of Steven King, so Carrie, and then I'm a huge Brian de Palma fan so films like Blow Out, which they shot in Philly, funny enough. I remember being all proud of that when I got to see it when I was a little bit older. That's the kind of horror I have always loved. Did I ever imagine myself becoming a known scream queen? Not in a million years.
I was just a fan and then I started out in Philly and Jersey musical theater, to New York doing Tony and Tina's mobster comedy, and everything I'm saying there's a method to my madness because it all segues into each step of my crazy career. So did Tony and Tina's Wedding, did a lot of mobster indie films in New York, which I love and still love and then when I went to LA, long story long, I had the opportunity to star in and be one of the executive producers on a film called Polycarp, which I got to play one of the female leads opposite, rest his soul, Oscar-nominated Charles Durning from Dog Day Afternoon and Tootsie, and Michael Paré from Eddie and the Cruisers, Streets of Fire back in the day and so the film ended up being titled, and your readers will love this, Kinky Killers. The good news was … I know! Christian laugh all you want. But it's so true, I'm telling you.
I had done Broadway and I did Quintuplets on Fox, which was a network sitcom in 2004. Never did I imagine, so I did mobster stuff, comedy stuff, never imagined I would become a famous scream queen and lo and behold this one film that they demolished the title, Kinky Killers, and however the good out of the bad, we make lemonade out of lemons and good became that one day my manager calls and says, "You need to come here right away to the office." I thought I was actually getting fired because Universal just did a film called Kinky Killers that I starred in. And so next thing you know, Showtime picked it up. It aired three nights a week for two years straight, I got fan mail blowing in, all of a sudden my agents and managers are getting calls, can we have her, what do we do to get the new "famous scream queen," she's like the new Indie scream queen to come to our horror conventions and we'll pay her a few grand.
This newfound world that I never expected and I embraced it and I will tell you, I ended up to go on to become, I won the B Movie Golden Cob award for scream queen of the year 2010 for a film called Slime City Massacre, which was a sequel to a very famous 1988 cult classic Slime City and I just feel so lucky and it's really a true tale of, for all your readers to wonder where life is about to take them, we just never know. And, so I think it's about embracing what comes to us. So I know I just answered three questions in one, but then segueing over to Ms. Vampy, a little bit later once I already broke out and became a well-known scream queen, Ms. Vampy was born.
I'd been doing a lot of modeling shoots as a vampire with these expensive vampire fangs and had an opportunity to create a web series and an app, which I had passed on because they wanted to kind of control everything. But I looked at the body of all of my work, I knew, I was a visionary, this is 2008, beginning of 08, I would say end of 08 actually, and I knew that they were onto something with the web and the internet at the time and so I got together with my producing partners at the time and I looked at the body of all my work and I said if I'm going to create something like a character that has to inspire me and inspire others and it's going to be the body of my greatest acting work, and that was comedy, mobster movies, and now, horror.
And I loved vampires, so all of a sudden, everyone used to say to me when I would do modeling shoots, when I'd be on sets, "You're so vampy, you're so vampy." And I loved the mobster movie stuff and Ms. Vampy was born. So, she is a comedic, mobster, Brooklyn vampire, with a heart of gold.
Speaking of your show, I love Ms. Vampy. It's like Dracula meets the Jersey Shore. Being that you grew up in Philly, did you ever go or have any memories of the Haunted Mansion of Long Branch?
BL: No, to be honest with you, I don't have a recollection. You know what my recollection is? If I had to remember anything scary, my recollection was going to Six Flags Great Adventure, right? And they would have the Halloween, remember that? They'd have the Halloween haunted hay rides and stuff. I remember that, which I ended up performing in those show when I got to college. Oh yes, I played the sexy wench, in the Warlock's Revenge, at Six Flags Great Adventure. Christian, I'm giving you and your readers all my private secrets.
4. What's been your favorite TV or film experience so far?
BL: I have so many and I've been so fortunate to have …. honestly, I know I'm a B Starlet, whatever you want to call me. But I've had an ongoing career for almost 20 years, since college. I feel so lucky. It's so hard to pick one. But my heart and soul, my passion project is my girl, Ms.Vampy. Everything I've gotten to do, from my teen talk shows, that I just won another Inspirational Woman in a Film or TV, at the Los Angeles Film Awards.
It's been so gratifying to have an opportunity like that to help other people, especially young women. That's important to me. I do a lot of work with female empowerment. Of course, that's been amazing. I would have to say, Slime City Massacre again because I won the B movie award for Scream Queen of the Year, 2010, which will go down in my history. I would say, as far as feature films go, and I know you had asked earlier about iMurders. iMurders was such an incredible gift as well that Robbie Bryan directed and that was almost 10 years ago now, and I got to star in a film, in a murder mystery, which again, going back to all the ones I love, kind of like Hitchcock style, Brian De Palma.
We did iMurders, I got to act opposite Candyman, Tony Todd, for all the horror fans reading this, and Gabrielle Anwar from Burn Notice, which I know shoots in Florida. I mean Frank Grillo, Billy Dee Williams, come on people Billy Dee Williams for the older crowd, and William Forsythe from Once Upon a Time in America. I mean all these incredible, incredible veteran greats I have had the opportunity to work with. Then there's been others too that have been just incredible experiences, but heart wrenching, kind of like one secret some people know in the industry and others don't that was supposed to be my big, big, big film break as an actress and I was very, very young right out of college in New York, and I was cast as Mark Ruffalo, yes the Mark Ruffalo's girlfriend, Ricko's girl, in the movie 54 with Mike Myers, right, Selma Hayek [crosstalk 00:12:54], yeah, crazy.
I had two scenes with Mark Ruffalo and Ryan Philippe and that was before either of them blew up into A list stratosphere, and it was projected to be my big break as well. They kept telling me that I was gonna be the next Marissa Tomei in My Cousin Vinnie. Then they went over budget at Miramax and all my scenes were cut out of the film, but I got to be on set, I got to have my trailer, and again, incredible, incredible memories, and then, again, this goes on and on with some short films even that I've gotten to do. Sprinkles directed by Roger Scheck, and Psycho Therapy, which we are at the festivals now with, that Staci Layne Wilson wrote and directed for me. So really blessed, I've gotten to do a lot of great work.
I had two scenes with Mark Ruffalo and Ryan Philippe and that was before either of them blew up into A list stratosphere, and it was projected to be my big break as well. They kept telling me that I was gonna be the next Marissa Tomei in My Cousin Vinnie. Then they went over budget at Miramax and all my scenes were cut out of the film, but I got to be on set, I got to have my trailer, I got to be set and again, incredible, incredible memories, and then, again, this goes on and on with some short films even that I've gotten to do. Sprinkles directed by Roger Scheck, and Psycho Therapy, which we are at the festivals now with that Staci Layne Wilson wrote and directed for me. So really blessed, I've gotten to do a lot of great work.
5. You served as the executive producer for iMurders. Can you tell us what goes on "behind the scenes" in producing a film?
BL: Absolutely. I have been involved in, and I say involved because it really does take a film army and people don't realize that. So when I say I'm a producer, I'm an executive producer, typically I'm one of several and so when it comes to executive producing, you're really one of the people who is raising the financing, bringing in the big components.
I have connected films when we did Sinatra Club, the big mobster drama, based on a true story based on the night John Gotti became John Gotti, and I'll get back to iMurders in a minute, but with that I was one of the hands-on producers, I found the script and I helped bring it to fruition from bringing it to the studio, the independent film studio here in LA to attaching a lot of the components of talent.
You sit through the casting process day in and day out. It took weeks for Sinatra Club to get cast with our amazing casting director. I actually brought in the director to that one and a couple of the other big producers. So, with iMurders, I was an executive producer, so I was still in LA and I was working with the production companies back in New York and New Jersey, and we would work till, I mean they were up till 3 in the morning every night.
I'd work till midnight here, 3:00 am there and I was helping Ken Del Vecchio attach all the talent, we were in negotiations, overseeing everything. He was the producer, I was the executive producer, one of the executive producers, Robbie Bryan, was also the director and so we'd all be on conference calls constantly where we're raising more money every chance we can get and I'm literally taking meetings and we're hitting up real estate moguls, we're hitting up executives, we're hitting up doctors, that's what executive producers do, and we are truly helping to finance the film.
We're also helping to attach talent, so as an executive producer in the past I've been the one who has negotiated for talent to attach to projects. I brought in, speaking of New York actors, Wilson Heredia from Rent on Broadway and in the actual film who played Angel who won the Tony Award, I brought him to the table. So that's what executive producers are doing, they're kind of overseeing everything and everyone, they're mediating.
I was mediating all the drama between all the producers and it's a lot of work. Also, even with my short films people don't understand "Oh I'm gonna make a short film, it's so easy." No it is not, in fact I'm in production right now and working with amazing people, but every time I'm the one who is creating legal documents, deal memos, contracts, you know when you're sending out scripts you need NDA forms, non-disclosure agreements, everything so that your material is safe. It's really a lot. Producing is a lot of paperwork and if you're dealing with unions, like SAG and AFTRA you're even more buried in paperwork, memos, contracts, you know when you're sending out scripts you need NDA forms, non-disclosure agreements, everything so that your material is safe. It's really a lot. Producing is a lot of paperwork and if you're dealing with unions, like SAG and AFTRA you're in more trouble.
6. You always respond to your fans on social media, which shows you are quite down to earth. What do you like most about interacting with all of your fans?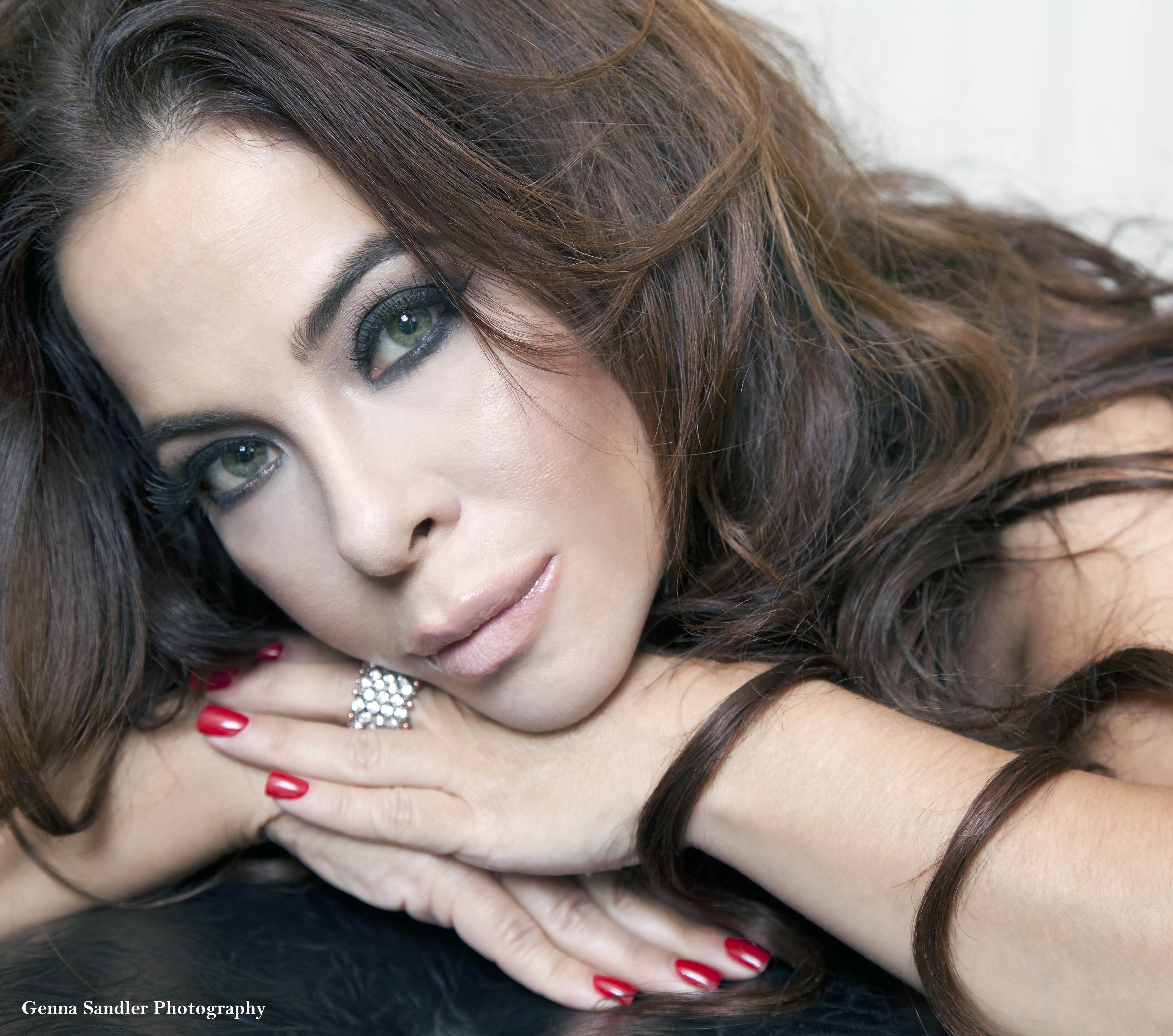 Photo Credit: Genna Sandler Photography
BL: To have a conversation with fans, especially the horror and sci-fi fans, I will shout out to them, for all your readers, they are the most loyal, loving, supportive fans in the world. I am so blessed to have my fan base as an Indie film star and they are just amazing. So I feel like in some way I owe it to them for their support every day to respond. Now some of the requests get crazy and they cross boundaries, I mean believe you me, the DM's I wake up to are … these people should be in an institution.
But for the most part, I think that they appreciate the connection and I'm very humble and I do need them to know how grateful I am for their ongoing fanship, because it is that difficult to sustain in this climate, in this entertainment industry for all those years. Also, I just want to add that I feel in my humble opinion again, I really, and for the same reason I'm very philanthropic and I do a ton of charity work. I'm so grateful for the little celebrity that I have received that I feel in some way it is my duty to give back. I'm very much a believer of giving back and people need to do more of that and so for me, when I get hit up on social media, "Can you donate 10 autographed pictures for our charity event for anti-bullying campaign?" That inspires me so much that my fans know I'll be right on it. So, I think it's important for me.
7. What inspired you to write your book "Coaching from a Professed Hot Mess?"
BL: Yes, 'cause I'm a hot mess. So Christian, to you and again all the readers, you'll see how my, and again, I feel like I'm such a representative of the weirdness of life. Like how life takes you from A to C to Z, so never in a million years did I dream of becoming a life coach, although I think I always was one since childhood, always supporting everyone, so it made sense in my world.
But what really truly ended up happening was when I had success with the Ms, Vampy's Teen Tawk and In Between Tawk series I had, the talk show series, the TV pilot talk show and that was in 2011, now right before that the economy had crashed. So when the economy crashed, all my investors pulled out of my production company, Philly Chick Pictures, they pulled out of all of our films, so it was the first time in my adult life I was kind of forced to rethink things and we had at the time the hit series and I was so inspired by coaching and life coaching these teen girls.
They taught me so much that I ended up going back to school to become a board certified life coach and I wanted to make sure again, being a responsible professional, that I had no stone unturned. If I was gonna do TV shows for teens or for adults, men and women, that I wanted to make sure I was credentialed properly. Also, I was hitting walls as I was doing the TV talk show circuit, and everyone would say "Wow, she's amazing, she's so great as an example, she's so great as an advice columnist, but what's her credentials? Is she a therapist, is she a coach, what is she?" So I am one those people and you'll see how at the time, I always hit walls.
Things have not come easy for me, I have had to work doubly hard for everything I have and the universe should know that, and I own it. It's just what is for me, some people have it easy, I don't, but I am a queen at proving myself. So I decided let me go back to school, and I have two college degrees from when I was young, I went back to school and I became a board certified life coach and so from that, I launched my company, Be You And Be Fearless Life Coach, became a part-time life coach, but really the intention was to make sure that I had it for all of my TV shows and everything that I was working on.
So that is how that came to pass from the coaching I had been hired, and so again, you kind of start back to the drawing board, and I was asked as a coach and as a TV personality and as an expert at that point if I would write for different media sites or I was doing a lot of talk shows, morning shows, all over. Every time I'd have a film somewhere they'd invite me on to their morning show in whatever town and I had all these talking points, all these articles I'd written for very little pay, we all know that. You don't make much as a journalist so from that when everyone then kept saying to me, I had a couple unscripted "reality shows" in development with some huge TV networks over a couple years, and when that happened they would then say "Oh it would just be great if you had a book."
Or sometimes the networks, before we got a network, I can't say, which one, they would say "Oh wow, well if she only had a book." So I sat here with nine million talking points, articles, things, information I had research done, yes, and finally again, just like I had experienced with the TV stuff at the time and with them going "Well what's her credentials?" Now everyone's going "Well where's her book, she's a TV personality, an expert, and an actress, where's her book?" So I hit that wall again, and I went "I'll show you my book." And the book was born, and still I always used to joke, I do 90 million careers, I try to do everything perfectly, I'm always stressed out my friends tell you and so I said "I'm a hot mess."
And I would joke and say "I'm such a hot mess." And then I had to say "Okay, you know what, but I own it, I rock it." And that's the way it has to be and I wrote the book, "Coaching from a Professed Hot Mess." With tips on life, love, dating, online dating, I had been at that point also been invited to do some unscripted reality TV stuff to do a internet TV talk show, which was sent to Amazon for a big company, and we had a show, Breaking Dating that I was the host with Michael Bronte. Point to my story is, I was doing so much coaching and dating coaching on radio, TV, all of that, that it was time to release the book, I put it all together and that was kind of like all wrapped in a nice little package and bow from all my years of hard work.
My intention is to use all of my hot mess to inspire others, men, women, it doesn't matter to let you know that it's so okay to be a hot mess, own it and rock it and in my book, just in the introduction, I'll tell you real quickly, I say "Let's stop chasing perfection, it gets tiring trying to be perfect all the time." And it really does. You know that, male, female, it doesn't matter, you know that, your readers know that. It is so exhausting these days trying to do it all and trying to do everything and be perfect, that we need to all own our hot mess.
8. What's one solid piece of dating advice you can give our members?
BL: Probably my most solid piece of advice is, 'cause I have a few, so I want to make sure I choose powerfully, to take your time. Take your time. Nowadays with all the Tinders and all the apps and everything, like you said even if I equate it to social media, we all think and believe you me, I was the online dating hoochie mama, I mean I online dated, I share it, I'm open, it's in my book. I met 1,200 online dates in my online dating career. That's a lot and I mean met for coffee or a drink or whatever.
The thing is with that, again, it can be so appearance vs. reality, you really want to have respect for yourself and whomever you're meeting with dating and online dating so take your time. You need to get to know someone, there is no quick fix, just like with social media, like you said, it's a quick handshake anyone can create a social media, an online profile, online dating profile, anyone can create or even on a telephone call, a perception that is completely … you'll know this and I love to reference this because I think it was Chris Rock who said, "Oh we send our representative at first."
Right? Your readers will totally know what I'm talking about like he did a stand-up 15 years ago and he's like "Come on, you're meeting a representative." And you're meeting a representative, you really need to take time to get to know someone and really get to know him/her, get to know their truth, allow them to know your truth, because in the end you're gonna get discovered. We're all gonna get discovered and found out and so take time to get to know someone. It's so easy now to Tinder it up, go out for drinks, get drunk, go home, sleep with the person, and I'm not judging, I'm no one to judge, so I'm not, do your thing, but just know that you're not getting to know someone on that level.
9. Are there any particular causes that you are passionate about?
BL: I am the walking philanthropist. My friends make fun of me because I support so many causes and one cause that I am really active in down here is the Los Angeles Mission, which is the homeless mission in downtown LA. I try to attend at almost every big holiday they have celebrities come down and do a skid row Christmas, skid row Easter, and prepare food for the skid row homeless people and it is just one of the most rewarding experiences I've ever had. I've done it for years now and it really puts life in perspective, which people, especially in Hollywood get really mixed up with a lot.
They really just don't get it until you see that there's a whole world out there, out of the Hollywood bubble. So that's one I love, I do a lot of anti-bullying stuff for young people. You know, a lot of anti-bullying charities and work and I will represent, that's another one. A lot of stuff I do again, is regarding female empowerment, just a lot of causes. I actually was the co-captain for the Dread Central Horror Starlets Bowling For Boobies for breast cancer. We did a big Bowling for Boobies every year with all famous horror actresses, horror starlets on our team, and it would go to the Busted Foundation for breast cancer support.
So we would raise a ton of money, we'd do a ton of media and press every year for that, and that actually folded just a year and a half ago, so we haven't done it this year, but I'm sure I'll find something else again. Then, last but not least, I am a Celebrity Ambassador for the Breaking The Chains Foundation, BTCF, and it is incredible. It's a charity program that creates art for people, especially young women, who have had eating disorders, and body image issues and who have suffered from various eating disorders and what the stigma is that's attached to that. To allow you to love yourself and express yourself and so that's run by Debra Hopkins and she's become a dear friend and I'm really, really proud of that organization and honored to be a Celebrity Ambassador.
10. You were recently at the "Not A War Story" premiere in LA. What is on your radar screen for the near future?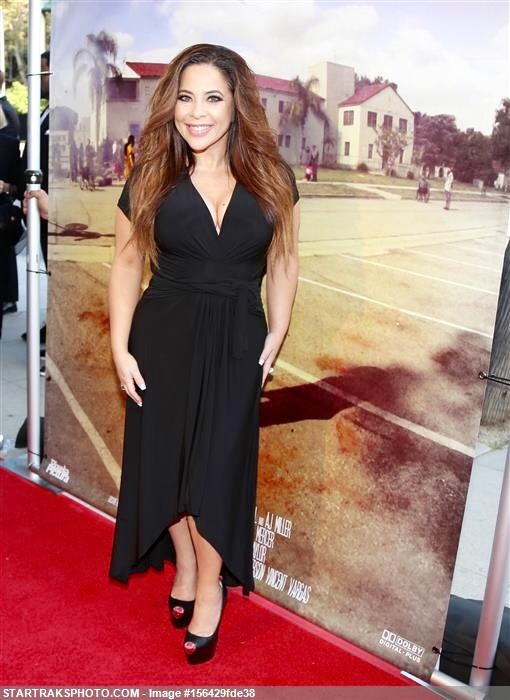 Photo Credit: Birdie Thompson
BL: Oh my gosh, so everything. Everything. This year has been such a whirlwind. I am out with both of my published books now, the follow up to "Coaching from a Professed Hot Mess." is my "Ms. Vampy's Teen Tawk: There's A Lotta Power In Ya Choices." There's a lot of power in your choices for teen girls, and your readers will be one of the first to get it. I won the Best Young Adult book at the Paris Book Festival and Awards. So I have been all over with both of my books, traveling and we have been all over with all the film festivals and award shows.
Again, my short film, Sprinkles, written and directed by Roger A. Scheck has been a gift beyond reason for me as an actress. I was just recently honored with, which is a huge honor, the Actors Awards award for Best Actress in a Drama, and that's a big deal here in LA, so that's been incredible. Just everything, it's been amazing. I won the Grace Kelly Gold Actor Award at the West Coast Film Festival just a month ago as well. It's been unbelievable. Yeah, you'll see, there's just so much going on. Red Corner Film Festival and Mediterranean Film Festival. One's in Italy, one's in Sweden and I just won best actress for that at those.
Then my new short, which is called Psycho Therapy that I star opposite Ricky Dean Logan any fans out there that are fans of Back to The Future, or Nightmare on Elm Street, Ricky Dean Logan, awesome actor and talented Staci Layne Wilson again, wrote and directed that for us to star in. It's just been incredible, we've been so blessed, we have hit the ground running in 2017 and we actually just start to hit all the big genre festivals, so we're super excited.
This weekend we'll be at the California Women's Film Festival and then we leave for Vegas baby and tell all your readers to come out to Vegas and come hang out with us. We're in both Action On Film, International Film Festival, which I love. I'm like a nine time alumni there, they're incredible, and then they do the stunt awards out in Vegas. So that will be the weekend, it's running I think August 18th to 25th or 26th, something like that. We'll be there with Psycho Therapy and also Hollywood Dreamz Film Festival, which runs concurrently Action on Film International Film Festival in Vegas baby, so we'll literally be in Vegas half the month of August. I know, it's crazy.
I'll be doing all the morning shows and talk shows there, and then fingers crossed we'll be hitting all the big horror festivals in the fall, which will be pretty exciting, but they won't reveal anything just yet. So you're kind of getting the first scoop, but that's what we've been up to. I just won again at the West Coast Film Festival 2017, I also one the Charlie Chaplin award for best actress in a short film for Psycho Therapy, and it's been unbelievable. So fingers crossed we'll be able to get a lot more awards. Then I am filming actually, busy as can be, also producing and filming and you guys are gonna be one of the first to get this as well.
We start shooting in two weeks, a short film that is based on feature film called "Allen and Millie: A Short Romance" and the amazing writer/director Markus Redmond wrote and is directing it. He was one of the stars, if any of your readers, and they will know this if they're age appropriate, watched Doogie Howser M.D. back in the day. He was one of the star actors on Doogie Howser, he's so talented. He's now directing, and one of my best friends in the world, to all your readers who are also 80s fans, who was Malachai in Children of the Corn, and yes, Courtney Gains, he was also Patrick Dempsey's best friend in Can't Buy Me Love, Hardbodies.
So big shout out to all the 80s fans, all the readers, because Courtney Gains is a mega talent, one of my best friends and he will be playing Allen in the film with me, Allen and Millie: A Short Romance, which will be the sizzle for the feature in case that ever gets made. So really good stuff, that's what I'm focused on right now, and a lot of other stuff, just really auditioning, been up for some big TV shows and films and pitching. Pitching Vamp It Out, which is my Ms. Vampy scripted TV series for teen girls, and pitching some other horror films. A lot of good stuff going on, so busy as can be. Very lucky.
.@TheOldManClub Thx so much for a fun #interview ?? Can't wait for the #TheOldManClub #readers 2 C R #secrets ? #Men #media #actorslife ??❤️

— Brooke Lewis (@BrookeLewisLA) July 13, 2017
Watch Brooke Lewis as she discusses 80s horror movies and more.
What's your thoughts?
Leave a comment below.
Popular posts like this
Catching Up With Actress Catherine Mary Stewart (THE LAST STARFIGHTER, WEEKEND AT BERNIE'S)
Award-Winning Actress BROOKE LEWIS Talks About Horror Movies, Comedy And Romance
It's A Wrap For Comedy, Romance, Horror Film 'ALLEN + MILLE: A SHORT ROMANCE'
Facebook LIVE Event with actress Brooke Lewis
Top 10 Horror Movies Of The 80s
Elvira, Mistress Of The Dark
Comments
comments