Miles Doleac is a actor, director, writer and film producer.
He has had acting roles in several films and television shows since 2011 including Treme, Sleepy Hollow, American Horror Story, Salem, Complications, Roots, and several episodes of the CW's Containment. Miles also worked with one of my favorite actors, James Callis of Battlestar Galactica fame.
Miles was kind enough to do an interview with us: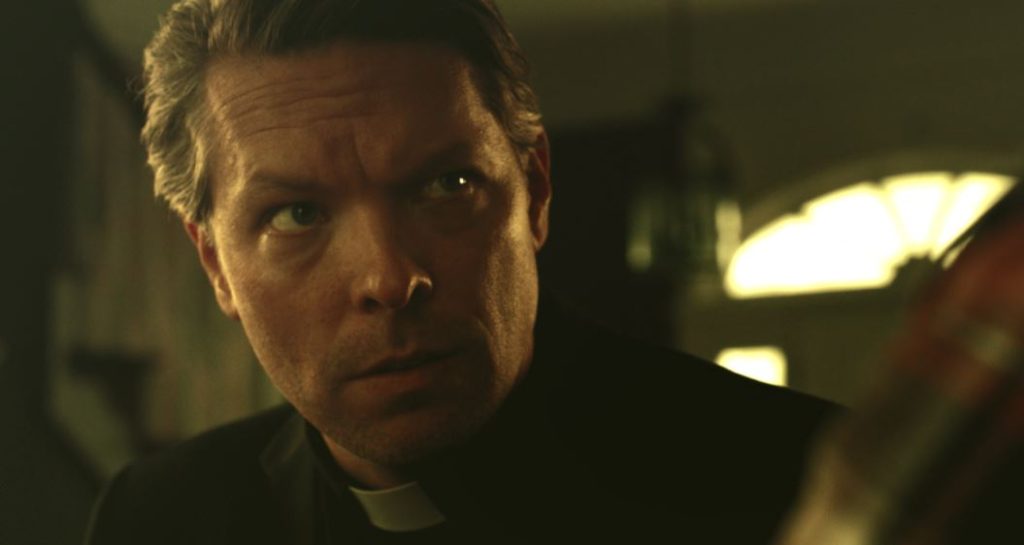 1. You made your film debut on Terminator 3: Rise Of The Machines. When did you decide that acting was something you wanted to pursue?
MD: I decided that acting was something I wanted to purse when I was six years old and saw Raiders of the Lost Ark in the movie theater for the first time.
Yeah, my dad took me to see that film at the old Party street cinema here at Hattiesburg, Mississippi and I was absolutely transfixed, I knew I had to be part of that world in some way. I very shortly thereafter started taking singing lessons and getting involved in live theater at every chance, I had. I was very fortunate even growing in the deepest part of the deep south to have performance opportunities, my local community theater, Hattiesburg Civic Light Opera afforded me an opportunity to be on stage and perform.
I had a great high school experience, coming through Hattiesburg high school when I was younger, we had one of the most formidable drama programs in the entire South East, we traveled all over the country for drama festivals and tournaments, you name it. The bug bit me pretty early on and some people find it hard to believe that being down here in Mississippi, all these performance opportunities were available to me, but they were and what an incredible thing! Every day I preach about how important arts are for young kids in their development and in forging better, more well-rounded, more conscientious contributors to society, and I feel that was absolutely true of me, if I hadn't been exposed to the arts at the young age, I would be a completely different person.
To answer your question about Terminator 3, I was just hired as background on that show and then they needed a stand in for a couple of the characters, one was … I can't remember the actor's name right now, but he was playing Claire Danes, Beyonce, and then the other was Nick Stahl's character and so I started doing some stand in for them and I wound up being about a month on that.
And it was really an eye opening experience, of course at the time that was an enormous Hollywood movie, I got to meet all these people who were living the proverbial dream, I'm sitting around one day under the tent and Claire Danes come over and says, "You look like an interesting person, how you're doing today?" And I'm just a lowly stand in, and I wound up having 40 minute conversation, which was really an unbelievable thing at the time, so that was my first foray into big budget Hollywood filmmaking, I was hardly integral to the film, but it was certainly a cool thing to be a part of at the time.
2. Your new film 'Demons' has been well received. Who or what inspired you to direct this movie?
MD: Well this is my third feature, I wanted to play in a different sand box this time, I had been reading about and hearing about how horror was the single most profitable narrative genre out there and my partner in life and crime, and dog rescuing Lindsay Anne Williams, who plays Kayleigh in the film, and was also a producer, was really kind of prodding me to write a horror film. So we put together this synopsis for Demons and we're circulating it around a bit and it started getting some play with some pretty major folks in the industry and one big time distributor was in particular like, "I want to see a script ASAP, maybe we can get this into our fall slate." I didn't have the script at the time so I sat down and I wrote one, very quickly, a little over a week.
It was the first time I have written a script on the timeline like that. My other scripts, they took as long to write as they took. That was just the nature of the beast and I knew that and acknowledge that, but this one I knew I had to sit down and force myself to write it and that was liberating in a way, I didn't second guess myself, I didn't overthink it too much. It was kind of like jazz in a way, that first draft. I was quite pleased with what the script turned into and that draft is more or less, little tweaks here and there, what you see in the movie.
So we didn't end up going with that big time distributor, we wound up going with Keith Leopard and Uncork'd through a distributor, who distributed our previous film, The Hollow, and we loved Keith and we loved Uncork'd and I loved the creative freedom that he gives to his filmmakers and as it turns out, the film is exactly what we envision it being. It was a very very interesting experience, the most truncated experience that we had making a feature to date. We were writing the script and maybe mid-September or so, and we were shooting by mid-December. It was a pretty abbreviated timeline but I'm really quite pleased with the final result.
3. How long was this project in development?
MD: Really not really long. I wrote the script about mid-December, we sent the scrip off to some folks who were looking at it, by the end of September they had, most of the big bigs has passed on it for one reason or another and then I sent it to Keith and Uncork'd and we started chatting about it and like I've said, we've worked on The Hollow together, and I said, "What do you this of this Keith?" And he said, "I think it's kind of great." And I said, "Well, you wanna partner up and do this again?" And he said, "Yeah, let's do it."
So we were rolling cameras in December. It was really a fast track kind of thing but incredibly liberating in a way, my first film, it was a fairly lengthy development process and in effect took probably a year or so in development and this one, we just pounded it out and we said, "We're making this movie." We look up and there we were, shooting the movie. It's very interesting to me because in some ways this is my favorite movie that we've done. I think it benefited in a lot of ways from that abbreviated timeline and that's not always the case. Sometimes it means you're unorganized and things fall through the cracks and whatever but this movie came together in such a way, everything was kind of kismet. It just fell together and we had precisely the right team, and precisely the right group of actors to perform these roles and the proof is in the proverbial pudding, I suppose. So I hope people like it.
4. Can you tell us a little about the casting process?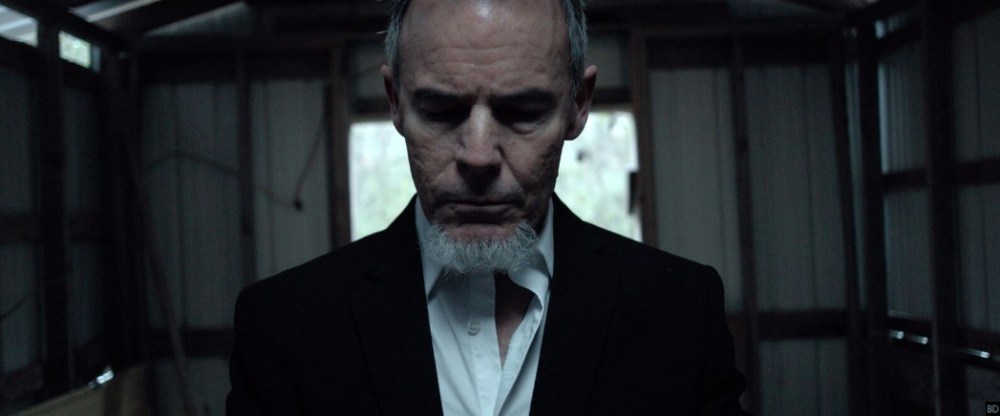 MD: The casting process on this was very interesting, because I knew that I had a shorter timeline to put this movie together, I had specific folks that I had worked with in the past, in mind to do some of these roles. The really fascinating thing is, some of those folks didn't work out, like William Forsythe for example, we were talking to William Forsythe about playing the role or Jasper, Will had been in our previous film The Hollow and we loved working with him. And it looked like he was going be able to do this but the things just didn't quite work out, schedules didn't work out but Will said, "I got this friend, Andrew Divoff, who is absolutely fantastic and you have to cast him in this role." So we immediately sent the script to Andy and it really resonated with him and within 36 hours Andy was on board and Andy was exactly the right guy to play the role of Jasper, which is such a complicated and layered and difficult role, and I knew it would require a very special actor to play it.
Everything kind of fell together that way, even if it wasn't precisely as I had envisioned at the outset, things just kind of fell into place. I originally wrote the role of Eddie for James Callis, well James had been in my last film The Hollow, James of Battlestar Galactica fame, and I had bene a big fan of his work, he played Gaius Baltar in Battlestar and to me he's the best thing on that show. Well he had played one of the leads in The Hollow and loved working with him and I've written this role of Eddie for James and turns out scheduling did not work out but James said, "Hey, talk to my buddy Steven Brand, he'd be absolutely perfect for this." And we reach out to Steven and Steven was able to do it.
When we were talking about casting Dr. Connor, didn't quite know where I wanted to go with that role and this film festival passes through town and it turns out the film festival is run by John Schneider and my wife and I run a film festival here in Hattiesburg and so John's people have reached out to us about to get some advice about the film festival crowd here in Hattiesburg and so I met John, we hit it off and we were in the embryonic stage of Demons, talking about Demons, I think script have just been finished and I said, "You know John, I've got this script." And he said, "Hey man, send it to me, let's talk." So I sent it to John, and we wound up getting John Schneider on the film.
And it just, like so many dominoes just like that. Of course, there're a number of wonderful actors in this film who are not necessarily household names like Lindsay, like Kristina Emerson, who plays Lara and Jessica Harthcock who plays Jewel and Megan Few and Yohance Myles. And every single one of them were 100% invested every day and that was the incredible thing. Gary Grubbs, who played Father Moran, Gary is fellow native of Hattiesburg, Mississippi and he and I had been wanting to work together for a long time. I tried to get him on every movie, and he's a busy guy too but everything sort of seemed to come together on this one and he was able to play that role.
What is always humbling for me, when I watch these actors come down here to Mississippi and we're working on these films together, and we have comparatively speaking very very small budgets, compared to what they're used to on these big Hollywood shows but they come down here and they're 100% invested and they're giving it their all and they're leaving it all on the field and that's certainly true of Andy and John, and Steven.
And I've been fortunate to have a lot of actors along that line, William Forsythe, William Sadler, Jeff Fahey, David Warshofsky, John Cullum and people say to me, "How do you get these actors to come to your movie?" And I say, "Well, I write complicated, fully fleshed out, living breathing human beings for them to play," and the fact of the matter is, that's not all that common in a lot of stuff you see out there. A lot of stuff is kind of one dimensional. So you give them rich character, you give them a quality script and they want to come down and do it. I guess that's why, they're certainly not doing it for the money, 'cause we don't have any. So hopefully in the writing of these films we're doing something right.
5. How excited were you to work with John Schneider?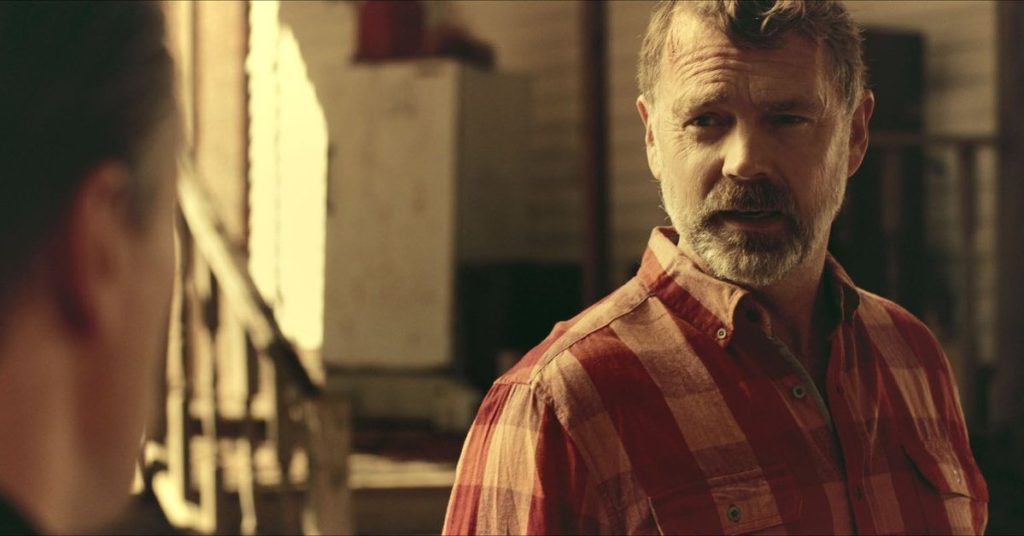 MD:Well John's a great guy, and he's a TV legend obviously with The Dukes of Hazzard and Smallville, and he's got a wicked sense of humor, which he brings to set every day and it was a really cool thing. I don't want to give anything away but I thought it was a really interesting prospect casting John Schneider in this role, because John has this kind of heroic personality and that's often the kind of roles that he plays and so casting him in something that was a little more conflicted or gray, or maybe not necessarily the hero, I thought was fascinating kind of thing and turns out John delivered famously. So it was great working with John.
6. You had roles on Sleepy Hollow, American Horror Story and The Magnificent Seven . Do you prefer roles on television or on films?
MD: I suppose it depends on the role. TV is so fast but I'm a bit used to that because I shoot indie films and that's also so fast, I just did an episode of the new CW series called Valor, actually just shot it yesterday, one episode and my scene was literally … I feel like they shot it in 20 minutes, I was, "Wait a minute, oh that's wrap, 20 minutes and we're done." It's just so fast. But as an independent filmmaker you're used to that kind of thing, I like the fact that movies take a little more time, my work on Magnificent Seven, which is effectively a scene and a half maybe, took two weeks, by comparison.
I had a good fortune to work on quality project both on film and in television and it's nice in television when you get to spend a little more time with the character, I did a show called Containment on the CW, where I had five episodes and I really got to play with the character, the character had a kind of arc. But a lot of television, at least in my experience, you're in and you're out, it's an episode or two episodes and you don't really have a lot of time to sit in it and develop that character and really let it stew.
It's all about the project, it's all about the character and there's fantastic television out there, of course, and in fact in many respects television is the equal of movies in some respects, is better than movies nowadays.
7. You directed a 30-second commercial for a dog park for your hometown of Hattiesburg, which featured Brett Favre. Would you consider yourself a football fan and if so do you have a favorite team?
MD: I'm absolutely a football fan, I'm a huge fan of New Orleans Saints, was living in New Orleans when the Saints won the Super Bowl, which of course was not that far removed from the tragedy that was hurricane Katrina. And I was in the super dome the night that The Saints beat Brett Favre's Vikings to win the NFC Championship game in overtime, which truly was one of the most orgiastic, gleeful, spiritual experiences of my entire life. And then being in New Orleans, I didn't get to go to the Super Bowl that year, but I watched it in the sports bar in New Orleans and I went partying to the French Quarter after the game, what an unbelievable experience. I mean, Brett of course is alumni of the University of Southern Mississippi and Brett lives here in Hattiesburg now so that was an interesting dive right?
With Brett playing Saints for that NFC Championship and was playing for the Vikings but it made perfect sense. Lindsay and I are a huge dog rescue people, we have five dogs and we believe firmly in dog rescue, we work with various organizations and help City Humane Society, which was doing that commercial and Brenda Sumrall, who runs that organization and who was also a local vet here, does so much good work for the animal community in this area. So when she reached out and asked me to do that, it was just an absolute no brainer, I was, "Of course I will do it, I will be thrilled to do it, I will be glad to do it." And then we get in touch with Brett and he was game as well so we went out to Brett's farm and we shot Brett with his dog and we won this award, which was so great but yeah, [inaudible 00:20:45] I'm an enormous football fan, my Saints have fallen on some hard times of late but they won last week and we're hoping that things are looking up.
It's one of those things, I feel like if you have cause that you believe in deeply and you have the power to affect change, you have power to do something positive for that cause, you need to do it. There're so many animals out there, who are neglected, who are on the streets. We have a dog right now we just adopted, who was on the streets for a year, had this infected stump of a leg and was finally found and brought into this clinic that Brenda Sumrall owns, she owns this veterinary clinic in addition to the help City Humane Society and they wound up having to amputate that stump and the first people that Brenda called about this dog are me and Lindsay, "You guys need to foster this dog." Well, we're the worst foster parents on the planet because we just wound up keeping them.
So fast forward to this week and this dog, who is an old, beautiful old black hound dog named Gus, is of course still in our house and I imagine he's here to stay. So yeah, that was a great thing, to do that commercial and win that award and make some money for the Humane Society. I sort of met Brett in passing but to hang out with him that morning and shoot at his place and whatnot, that was a lot of fun.
8. If you could give one piece of advice to prospective filmmakers what would it be?
MD:Be relentless, never take no for an answer and make your movie, make your movie. So many people wait and they ring their hands and they make excuses and whether the excuse is, "I don't have enough money," or, "I don't know the right people," or, "I can't get the best actors," whatever it may be, it's not enough. Make your movie. Because at the end of the day, if you're not making art and if you're not putting it out there, nobody's gonna see it.
You can wait your life away and my feeling is, and this is not just the case with my career as a director but as an actor too, when I decided, I'm gonna start making my own films, opportunities started popping up for me as an actor as well. I don't know if the universe just notices or … I don't know, but I do know when you stop depending on other people to open a door for you or to say, "You're enough," or, "I like you," or, "Please, come be part of my movie," or, "Here's the money to make your movie," or whatever. When you stop depending on other people and take your destiny in your own hands, things start to happen.
So the piece of advice I would give is, get out there and do it, you can do it if you have $10 or $10 million, you can find the way to make your money and make your voice heard and get your vision out there because that's the only way that anybody's gonna notice. If you haven't created something, there's nothing for anyone to notice.
9. Where can our readers see "Demons?"
MD: You can watch it on Amazon, iTunes, and Vudu.
10. What is on your radar screen for the near future?
MD:Well we've got all kind of potential things in the pipeline and a couple of things I can't talk about because of non disclosure agreements but I got a couple of short films in the offing that we're working on. We're sort of scheming and plotting on our next feature and there are a couple of scripts that we're looking at and trying to put together financing and that sort of thing.
So the answer is, stay tuned.
What's your thoughts?
Leave a comment below.
Popular posts like this
Interview With Horror Film Producer & Director P.J. Starks (VOLUMES OF BLOOD : HORROR STORIES)
Hollywood's Hottest Scream Queen VICTORIA DE MARE Talks About Her New Horror Comedy
From The Writer Of BEETLEJUICE And THE NIGHTMARE BEFORE CHRISTMAS Comes 'Cold Moon'
Tony Todd (CANDYMAN, THE ROCK) Stars In The New Comedy Horror Film #FromJennifer
Sexiest Women Of Horror
Comments
comments