So you've finally decided to Get Back In The Dungeon.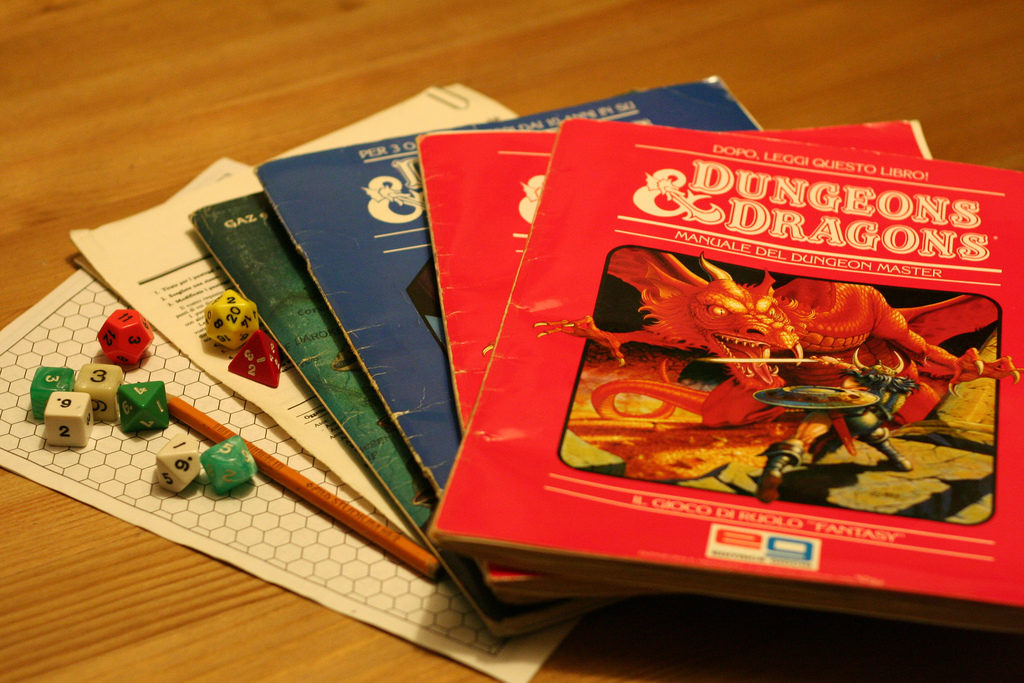 You've rounded up a group of players, appointed yourself Dungeon Master, and promised to deliver the best campaign experience ever. After reading through the rulebook, you're confident in your ability to adjudicate any rules dispute (or at least fake your way through it). The only task left to tackle is planning your campaign, the spectacularly epic campaign you've promised to your players.
Except when you sit down to actually write the damn thing you, all semblance of inspiration vanishes, leaving you staring at a blank page with a growing sense of dread.
Luckily for you, this is the 21st century. There are hundreds of would-be "DM gurus" with lengthy blogs, articles, and podcasts about how to plan and execute a great RPG campaign. You can certainly learn a lot from their advice, but today I'm going to suggest doing something a little different to help kick start your inspiration.
Just watch a movie.
No, seriously. Movies can be a fantastic tool for helping DMs to establish the tone and aesthetic for a campaign.
Sure, you could spend lots of time writing out a detailed description of what that walled, rural village looks like, or you could just describe the village of Bree from The Fellowship of the Ring off the top of your head when the players arrive there. Devoid of the original context, the players aren't going to know the difference and probably wouldn't even care if they did. Movies also help to put you in a frame of mind when you're working on the details of the campaign, which makes it easier to determine what feels "right" for the game.
Unfortunately, choosing an appropriate film can prove rather tricky. What you absolutely shouldn't do is watch the actual Dungeons & Dragons movie from 2001 because that will make you never want to play again. There actually aren't a lot of great fantasy films out there, and a lot of the ones that are good aren't always a good fit for an RPG campaign.
To give you a sense of what I think a "good" RPG movie looks like, I've compiled a short list of movies you should check out as you're planning your campaign.
The 13th Warrior(1999)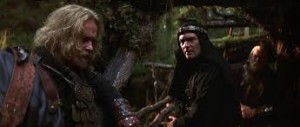 First of all, this is a criminally underrated movie. Don't let the fact that it holds the dubious distinction of being the biggest box office flop of all time scare you away. It's not a bad film by any means, and for an aspiring DM looking for inspiration, it's actually pretty great. The film's setup is something out of a classic D&D adventure module: a race of monstrous creatures in the nearby forest hold a petty, isolated kingdom in a grip of fear and the protagonists must deal with them. Now, it turns out that the "monsters" are actually a race of primitive humans, but you can easily squint and pretend that they're orcs, hobgoblins, gnolls, troglodytes, or any number of monstrous humanoids from the Monster Manual. More importantly, the main characters "feel" like a D&D party. They have distinct personalities and skills that seem drawn straight out of a rulebook. The film also strikes a good balance between action, suspense, and intrigue that could benefit any campaign.
King Arthur (2004)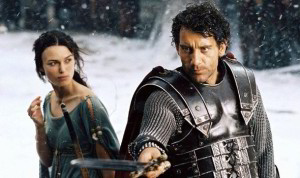 Another underrated pseudo-historical action film, King Arthur is mostly terrible as an actual King Arthur movie. As a D&D movie, however, it's fantastic. Much like The 13th Warrior, you can practically close your eyes and see the character sheet for each of the characters (oh, this is the guy who duel wields, this is the guy with the sword weapon focus, this is the guy with the punching daggers, etc.). The villains here are a horde of rampaging orcs — er, I mean Saxon barbarians — threatening to breach civilization's defenses (or as much civilization as Roman Britain had to offer). There are several great action set pieces that would play fantastically at the table, including a battle on a frozen lake, an ambush on a forest trail, and the requisite climactic field battle against the invading army. Once again, the setup is classic D&D: carry out a seemingly simple task in potentially hostile territory. To its credit, the film does actually introduce a few key moral quandaries that are perfect for a RPG. Most of these conflicts are rather simplistic (do we help these people or not, do we trust our former enemies, etc.), but you'd be surprised how much tension they can create at a gaming table.
Conan the Barbarian (1982)
Dungeons & Dragons draws a lot of inspiration from the works of Robert E. Howard, so it's probably no surprise to find the film adaptation of Conan on this list. Now, I could make the case that Conan the Barbarian is actually a great film (and I have), but we're looking at it here only for its D&D merits. Unlike the first two films on this list, Conan has actual magic and actual monsters (okay, just a giant snake, but I think that counts). James Earl Jones's Thulsa Doom is the archetypical D&D villain. He's ancient, inhuman, and evil in a way that seems almost elemental, like he couldn't be anything else even if he wanted to change. If you squint your eyes, he could be just about any lawful evil wizard or lich from a classic D&D adventure. While the movie does a good job of portraying the rough and tumble world of Conan, after the plot really gets rolling, the characters almost exist in their own universe. There's no running back to town to chat with the villagers Conan met in the first hour of the movie or long debates on what their next move should be. It's perilously close to railroading, actually, but the fact that the characters have a clear incentive to pursue the villain with single-minded ferocity shows why providing players with convincing motivations is so important to a campaign's narrative.
While you're at it, you should also check out the 1984 sequel, Conan the Destroyer. It's a terrible movie by any objective measure (unless that measure involves the incomparably beautiful Sarah Douglas), but it could absolutely be someone's mediocre D&D campaign. Destroyer is one of those weird movies that you come away from feeling like it actually could have been great if only it had a different director, cast, and art designer. Seriously, the basic plot is decent; it's the execution that sucks on just about every level. If you took the film's plot, filed off the serial numbers, and repurposed it in your campaign, I think everyone would have a pretty good time.
The Hobbit: Battle of the Five Armies (2014)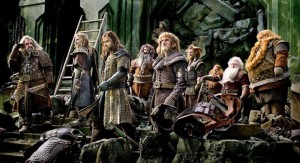 Okay, I know a lot of people don't like Peter Jackson's Hobbit movies. If you happen to fall in this category, try to set aside your Tolkien loyalties and hear me out for why BotFA is a good D&D movie. First of all, it's got a badass dragon laying waste to an entire town. Seems relevant, no? Second, there are armies of dwarves, elves, and orcs led by larger than life heroes who can lay waste to dozens (if not hundreds) of rank and file foes singlehandedly. In many ways, BotFA feels more like a Warhammer tabletop battle. The key point, though, is that the focus on the heroes never gets lost. Every battle turns on the actions of a few powerful individuals, which is often the very essence of an epic D&D adventure. After all, what good are the heroes if they can't prevail against impossible odds and save the day all by themselves? Sure, it's not very realistic, but when you're talking about armies of fantasy creatures, you've pretty much decided to chuck "realism" out the window.
Kingdom of Heaven (2005)
Sometimes, though, realism matters. Maybe you're playing an old fashioned D&D campaign in the Greyhawk setting or you love the idea of medieval political intrigue. For DMs in search of a bit more grounding, Kingdom of Heaven is the movie you're looking for. Set shortly after the First Crusade in the 12th century, the film focuses on the Christian efforts to defend Jerusalem from Muslim armies hoping to recapture it. Don't let the fact that Orlando Bloom is the main character (he's actually pretty good in it) or that it tends to be a little anachronistic in its treatment of religion scare you away. If you're tired of campaigns that focus on simply bashing in orc skulls or throwing down with dragons, Kingdom of Heaven provides a pretty good model for a game emphasizing the more human elements of martial life and politics in a medieval world. The incessant bickering between knightly orders could easily be transposed upon any number of organizations in a fantasy setting. Most D&D campaigns don't deal very well with religion, either as a social force or a source of character motivation. Kingdom of Heaven gives a reasonably authentic (if sometimes a bit too modern) portrayal of how religion in a medieval society is so firmly entwined with politics that its difficult to see where one ends and the other begins. If you're looking to make religion a bigger part of your campaign world, this is a good place to start. On a more visceral level, there are several great action sequences and the siege of Jerusalem could provide the inspiration for an entire campaign by itself. Just make sure that you watch the extended director's cut. It's far superior to the theatrical release.
The list could easily go on, but I think this is enough to get anyone started. If you think I've made some glaring omissions or you're outraged that some of these films made the cut, feel free to holler at me on Twitter (@bensperduto) to let me know. My big hope is that someone out there will find these suggestions useful, so be sure to let me know if any of these movies gave you the push you needed to get your campaign off the ground.
Popular posts like this
D&D Fans Check Out Our Interview With Michael Witwer, Author Of Empire of Imagination
Video Games to Tabletop RPGs: Making the Jump
Get Back In The Dungeon
What's your thoughts?
Leave a comment below.
Popular posts like this
D&D Fans Check Out Our Interview With Michael Witwer, Author Of Empire of Imagination
Video Games to Tabletop RPGs: Making the Jump
These Nerdy Girls Just Made Cosplay Sexy
Top 10 Arnold Schwarzenegger Movies
Greatest Movies of the 80s
Comments
comments